Here's a guide that'll take the guesswork out of pairing your favorite wine with Mexican food.
With an impressive array of dishes born in each of Mexico's 32 states, it provides us with an unlimited palette of delicious wine pairing possibilities!
But all those complex, spicy dishes can be intimidating for new wine buffs. However, with the right eye for ingredients, you can match these dishes beautifully.
And let's not forget that Mexico is also busy making some amazing wines of their own.

What Drink Goes Best With Mexican Food?
Traditional Mexican cuisine is composed of core ingredients like corn, beans, chilies, and spices. Each of their flavors create beautiful connections with different styles of wine, and results in mouth-watering pairings.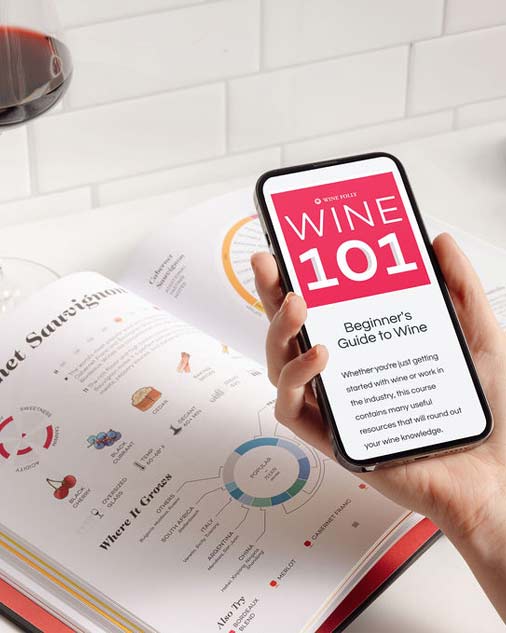 Buy the book, get a course.
Get the Wine 101 Course @ 75% OFF with the purchase of Wine Folly: Magnum Edition.
Shop Now
When pairing food in general, it helps to think of the wine itself as an ingredient, and that's no less true with Mexican food.
Wine with Mexican Ingredients
Here you can find the most suitable wines for some of the most common ingredients found in Mexican cuisine. Getting to know these ingredients will familiarize you with Mexican cuisine while helping you create complementary dishes of your own:
Beans: Medium-bodied reds.
Tomatoes, Onion, Garlic: Medium-bodied Reds
Chilies (Guajillo, Ancho, Chipotle, Pasilla): Medium-bodied reds, rosé.
Cilantro, Epazote, Avocado: Light-bodied whites.
Oregano, Thyme: Medium-bodied reds, rosé.
Cinnamon, Vanilla, Cumin, Clove, Cacao: Sparkling wines, full-bodied whites, medium-bodied reds, and rosé.
Corn: Typically more neutral, so refer to the other main ingredients of the dish on this one.
---
Pairing Wine with Mexican and Tex-Mex Dishes
Of course, it might be easier for some to start with popular Mexican dishes and their appropriate pairings before they go out and attempt their own.
So here are some classic Mexican and Tex-Mex dishes that'll give you a jump start!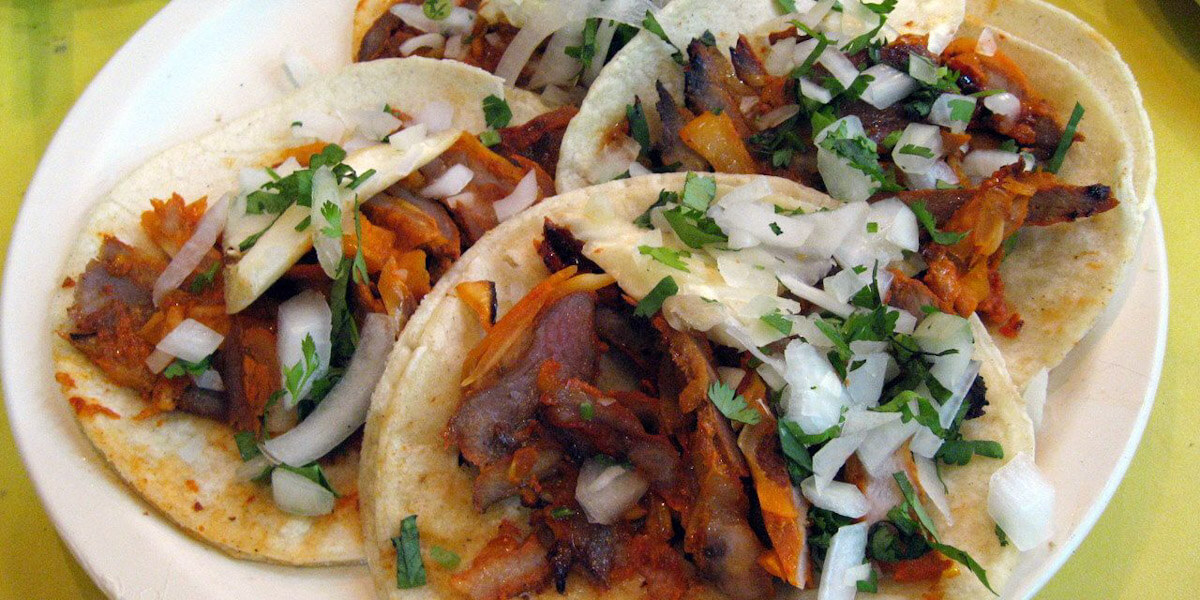 Tacos Al Pastor
Originally a Lebanese influenced taco, Tacos Al Pastor have become one of the most emblematic street food dishes of Mexico City.
Ingredients: Corn tortilla, pork marinated with chilies (guajillo, ancho and chipotle) and spices (clove, cumin, oregano), pineapple, onion, and coriander.
Pairs With: Bandol Rosé, Tavel Rosé.
Why It Works: A rosé with a good sense of body to it will complement the pork, spices, and fruit of Tacos Al Pastor, and avoid overpowering it.
---

Quesadilla
Found originally in Central and Southern Mexico, this grilled, cheese-filled tortilla has become ubiquitous with Mexican restaurants all over the United States and beyond.
Ingredients: Corn tortilla (though flour tortillas are increasingly common), cheese, green or red salsa, onions, and guacamole.
Pairs With: Riesling, Chardonnay, French Sauvignon Blanc.
Why It Works: Something crisp, with a high acidity will cut through the heaviness of the melted cheese in a quesadilla and keep your mouth feeling clean. The minerality found in these whites will also complement the onions and tortilla beautifully.
---

Fajitas De Carne
A very popular Tex-Mex dish, Fajitas were originally only prepared with beef. But nowadays, using chicken as the protein is also very common.
Ingredients: Beef, green bell peppers, red bell peppers, onion, and flour tortillas.
Pairs With: Mencía, Tempranillo Joven, Zinfandel.
Why It Works: Medium reds with lots of fruit are going to stand up to the powerful, savory flavors of beef, peppers, and onion. And they'll do a much better job of cutting the spiciness than something with huge tannins!
---

Guacamole
This humble classic has gotten a new life in recent years as everything from a dip to a topping (though sometimes only if you're willing to pay extra).
Fun Fact: The name for this popular and versatile dish comes from the Nahuatl words ahuacatl (avocado) and mulli (salsa).
Ingredients: Avocado, onion, tomato, cilantro, green chili (jalapeño or serrano), and lime juice.
Pairs With: Grüner Veltliner, Pinot Gris, or Sauvignon Blanc.
Why It Works: High acidity is going to cut through the fatty nature of avocado, and the citrus notes are going to hold their own wonderfully against the strong flavors of cilantro and onion.
---

Chips & Salsa
At its heart, what most Americans see as "salsa" refers to red, tomato-based sauces usually served with Mexican food. Perfect for an appetizer or even the whole meal.
Ingredients: Tomatoes, onions, cilantro, garlic, green chili, and olive oil.
Pairs With: Chianti, Sangiovese, Nero d'Avola.
Why It Works: If there's something that Mexican and Italian cuisine have in common, it's a healthy love for tomatoes. So what better wine to complement the ingredients of a salsa than a hearty, herbal red from Italy?
---

Tamales
These heavy corn-based staples can be filled with any number of ingredients from sweet to savory, but the pork tamale is a popular choice all over the Americas.
Ingredients: Masa (corn-based dough), pork, onions, red or green chili, onion, garlic, potato.
Pairs With: Pinot Noir, Beaujolais, Cabernet Franc.
Why It Works: The body of these wines is light enough to complement the braised or slow-cooked pork filling, and their earthiness will flow well with the dense masa exterior.
---

Ceviche
A popular dish from the Gulf and Pacific portions of Mexico, Ceviche is fish that has been cooked in the acidity of lime juice.
Ingredients: White fish, avocado, tomatillo or tomato, onion, cilantro, green chilies, olive oil, and lots of lime juice.
Pairs With: Albariño, Verdejo, Vermentino.
Why It Works: Not only are these wines brilliant with seafood, but they're going to match the acidity of the lime juice, bringing out extra citrus notes while they're at it.
---

Chili Con Carne
Most historians agree this dish is originally from San Antonio, Texas. But that hasn't stopped it from being linked in Mexican food in many minds.
Ingredients: Beef, beans, chilies, cumin, oregano, tomatoes and onion.
Pairs With: Chilean Carménère, GSM Blends, Lodi Zinfandel.
Why It Works: A big, hearty stew like Chili Con Carne deserves something with its own bold flavors, and pyrazine-heavy wines like Carménère will complement the peppery ingredients, to boot.
---

Mole
A traditional sauce found in Mexican cuisine, there are actually countless types of mole sauce found in Mexico. But for this pairing, we're referring to Black Mole: a classic from the state of Oaxaca.
Ingredients: More than 30 ingredients go into this sauce, including various types of chilies, nuts, spices, herbs, burnt corn tortillas, and chocolate.
Pairs With: Champagne.
Why It Works: This might be the most unexpected pairing on the list, but it truly works. Champagne brings out the toasty, nutty flavors of the mole, while the bubbles and acidity refresh our palates with every sip. And the elegance of the Champagne is only magnified by the complexity of the sauce.
---
Pairing wine with Mexican food might be intimidating at first. But don't be afraid!
Find some inspiration and try creative wine pairings of your own with Mexican cuisine. Hey! Mexicans are nothing if not fun, lively and original.
What are some great wine and Mexican food pairings you've experienced?