Pairing wine and Chinese food might not seem the most obvious choice in the world. But the right choices can push your takeout above and beyond!
Chinese cuisine is far from homogeneous. So it's a challenge to find a wine that can manage the complexity of its flavors.
Let's take a look at 7 of our favorite pairings, along with some advice on what goes best with a variety of choices. No guarantees about whether you'll be hungry for more after an hour.
---

One Wine to Rule Them All
Sometimes when you order Chinese takeout, the instinct is that more is better. So let's say you've picked up seventeen bags of food, but only have room for one wine to pair with them all. What's a wine lover to do?
Pairing wine and Chinese food can seem difficult with so many flavors to deal with. Spicy, sweet, tangy, salty, bitter, and umami can all be present in one dish. Good news: German Kabinett Riesling can handle it!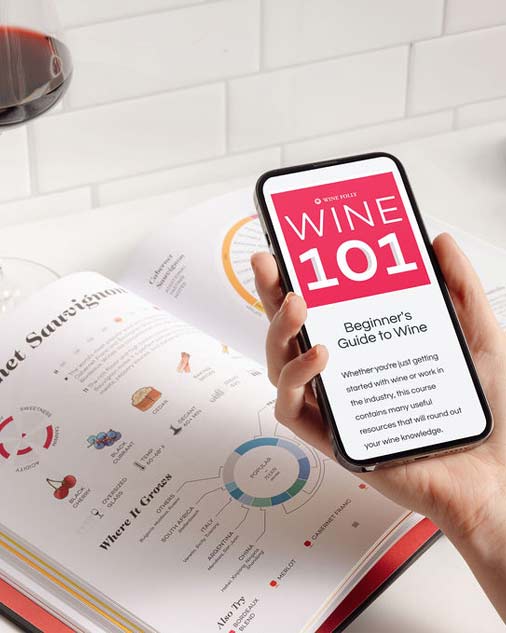 Buy the book, get a course.
Get the Wine 101 Course @ 75% OFF with the purchase of Wine Folly: Magnum Edition.
Shop Now
This comes from Riesling's aromatics, subtle sweetness, high acidity, and lighter body, which can stand up to the flavor profile of a variety of popular Chinese dishes.

Chinese takeout is often quite salty and fried, which calls for high acidity. And dishes that have a sweet and sour element pair with fruit forward wines.
However, if you're ordering something with heavier flavors (dark sauces, duck, or pork), consider going for a sweeter Spätlese for balance.
Got your heart set on red wine? Gamay-based wines like Beaujolais are a great choice. They've got low tannins, good acidity, and light body, which is ideal.
Plus, the fruity, earthy, and floral flavors can stand up to a wide range of dishes. A Gamay will also be lovely with mushroom or beef-based dishes that aren't too spicy.
---
Pairing Wine and Chinese Food
But what if you want something specific, or are just burnt out on Riesling (not that that could ever happen)? Let's have a look at 7 popular Chinese dishes and the wines that love them.

Egg Rolls & Fried Dumplings
Vegetables and various meats wrapped up in a crisp pocket, egg rolls and dumplings are a carryout classic.
Pairs With: Franciacorta.
Why It Works: Made using the same Traditional Method as Champagne, Franciacorta often has more obvious fruity notes such as lemon, peach, and cherry.
Low in alcohol and high in acidity, it's the perfect accompaniment to these fried appetizers. That high acidity will cut through the oil, and those bubbles are just begging for something deep-fried.
---

Crab Rangoon
Another pocket food favorite, Crab Rangoon is a crab puff filled with crab meat, scallions, garlic, and cream cheese.
Pairs With: Vinho Verde.
Why It Works: With notes of citrus, white flowers, and lemon zest, this high acid wine is a perfect match with this American-Chinese classic.
Vinho Verde is a fantastic wine with crab and seafood in general, and the acidity will balance the fat from the cheese and frying oil. Plus, the citrus flavors can stand up well to alliums like garlic and scallion.
---

Fried Rice
Generally accompanied by meat, tofu, or vegetables, fried rice is stir-fried in a wok with a base of eggs, oil, soy sauce, and garlic.
Pairs With: Lambrusco.
Why It Works: Lambrusco is all about fruit. Think strawberries, blackberries, and hibiscus tea with a hint of earthiness. So it's up for the job of competing with something salty, greasy, and aromatic, with a touch of umami.
The acidity, bubbles, fruitiness, earthiness, and low tannins will create balance and enhance the food.
With vegetable, tofu, and shrimp fried rice, go for Lambrusco di Sorbara. It's much more delicate and lowest in tannin. For chicken and pork, Lambrusco Graparossa's higher tannin can cut through that fat.
---

Kung Pao Chicken
Sweet, sour, and spicy: this Szechuan classic is flavored with chili, garlic, soy sauce, peanuts, vinegar, and sugar.
Pairs With: Alsace Pinot Gris.
Why It Works: Kung Pao sauce may seem like a nightmare to pair with wine. It's spicy, sweet, sour, and salty, with a touch of fat. Look no further than Pinot Gris from Alsace, France. You'll want a traditional, off-dry version.
The sugar, fruity flavors, structure, and high acidity will balance the aromatic and spicy qualities of the dish. The structure of the wine matches the structure of the dish, and the wine won't get swallowed up by the food.
---

Vegetable Chow Mein
A classic stir-fried noodle dish with noodles, onions, peppers, mushrooms, ginger, and garlic along with a rice vinegar and soy sauce.
Pairs With: Muscat Pet Nat
Why It Works: Pet Nat is the shortened version of Pétillant Naturel, a style of wine where the fermentation finishes in the bottle. This creates delightful natural carbonation without added yeasts or sugar.
Muscat or Moscato is an aromatic wine, and usually refers to Muscat of Alexandria or Muscat Blanc. Though different, both will give you dense tropical fruit, honey, citrus, and stone fruit aromas.
The aromatic nature of these wines matches the lighter nature of the vegetables. Plus, the acidity and bubbles balance out the salt and oil.
---

General Tso's Chicken
A spicy, deep-fried, aromatic, sweet and sour chicken dish most commonly served in North American Chinese restaurants.
Pairs With: Georgian Qvevri Rkatsiteli.
Why It Works: It may seem odd to pair a qvevri based wine with Chinese food. After all, the extended skin contact gives the wine tannins. That is true, but there are always exceptions to wine rules.
Amber wines are exceedingly food-friendly. When made well, qvevri fermented Rkatsiteli can have flavors of orange peel, sweet tea, honey, spice, and stone fruit.
These notes easily match the sweet and sour flavors of General Tso's. Also, these amber wines are usually full-bodied with higher acidity, perfect for standing up to that heavy sauce.
---

Chinese Spare Ribs
Pork ribs marinated in a sweet and smoky sauce made of soy, hoisin, honey, garlic, rice vinegar, ginger, and chili.
Pairs With: Grenache.
Why It Works: Grenache-based wines are some of the most food-friendly red wines in the world. They're easy to drink, and they usually aren't too bad for your wallet.
The flavor intensity of jammy strawberries and plums, leather, dried herbs, and blood oranges make these wines pair wonderfully with tangy Chinese spare ribs.
You might think with the addition of ginger and rice vinegar, an aromatic white wine might be best. But with marinated pork, a fruity red with lower tannins works best for balance and enhancement of flavor.
---
Chinese takeout is a classic comfort food, but that doesn't mean it can't pair beautifully with wine!
Of course, there are tons of different Chinese food options out there (I mean, have you seen a Chinese menu before?). So use this article as a jumping off point for figuring out your own wine and Chinese food pairings.
What are some of your favorites? Is anyone else hungry?