Pairing Wine and Steak is one of the essential match-ups in your wine journey. With so many different cuts and ways to prepare a steak, you can discover a few go-to dry red wines or you can dive deep into pairing nuance.
Everyone has their choice cut, and we've got the wines to pair with it. Tuck your napkin into your collar, grab your knife, and let's explore the best wine to pair with steak.

The Handy Guide to Wine and Steak Pairing
The rule of thumb when pairing with steak is to choose dry red wines – leaner cuts of meat pair with lighter wines, while richer, fattier cuts pair up with high tannin wines that can cut through the fat.
But the more tailored your pairing is to the cut of steak you're making, the deeper and more sophisticated your dining experience. We're calling out all the classic cuts and their respective wines.
Pro Tip: For leaner meats, aim for a rarer cook to keep them tender.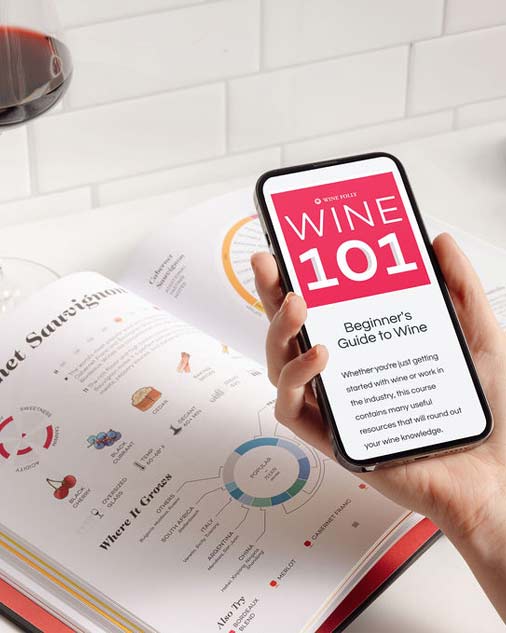 Buy the book, get a course.
Get the Wine 101 Course @ 75% OFF with the purchase of Wine Folly: Magnum Edition.
Shop Now
---

Sirloin
One of the most common steak cuts, fairly lean with light fat marbling and often cut with a strip of fat along the edge. Sirloin can be done on the grill, in the oven, or pan – but it shines on the grill.
Wines to Pick:
Why they work: The Sirloin is a work-horse cut that can be seasoned or sauced in a lot of ways, so we've aimed to provide flexible wines that can match whatever direction you're taking, but pay attention to how your seasoning changes the dish and choose accordingly.
---

Ribeye & Bone-In
One of the richest and tastiest cuts of steak. Lots of marbling and naturally tender, the Ribeye does well on the drier heat of a hot grill. The Bone-in verison follows all the same rules, but is cut to the width of the still attached rib-bone, making it trickier to cook well.
Wines to Pick:
Why they work: The higher fat content makes for a buttery, fatty flavor and requires either high tannins to cut the fat or stronger fruit flavor for contrast.
---

Porterhouse & T-Bone
While the Porterhouse and T-Bone are slightly different cuts, they both have the tasty combination of a tender filet side and a firmer, flavorful strip side. Can be done in a pan, but the grill is typically easier to keep the cook even.
Wines to Pick:
Why they work: The cuts on both the Porterhouse and T-Bone are tender, but fairly lean. Aromatic and flavorful reds will complement their combination of filet and strip.
---

Filet Mignon
The cadillac of steak cuts – incredibly lean, but tender and flavorful. Often served with sauces but also a choice preparation with a simple seasoning of salt and pepper. Pan seared and butter basted for the win.
Wines to Pick:
Why they work: The Filet has subtle flavor and all of these wines stay in their lane, delivering complementary flavors that assist in bringing out everything in this cut, and avoid stepping on its toes.
---

Strip
A popular choice for value and flavor, the Strip comes by many names (New York Strip, shell steak, Kansas City strip) and some of those names are the result of slightly different cuts and whether there's still bone-in. But all in all, you're getting a short loin cut.
The cut has more connective tissue, but it's still a tasty cut and tender when cooked properly. Do it up in a cast-iron pan, salted, basted with butter, and let it rest a little longer.
Wines to Pick:
Why they work: The Strip is flavorful and a thicker grain cut of beef, making it useful for several different methods of cooking, but it needs a wine that can complement the flavor AND cut through the fat. Our wine choices have strong fruit along with acidity and tannins that get the job done.
---

Rump
Rump comes from a harder working muscle, making it firm but also highly flavorful. It can benefit from marinating, but that can throw off your wine selection.
Wines to Pick:
Why they work: Since Rump is prepared in many ways to overcome the firm texture, we've got a few selections that can support your cook. Keep your sauces in mind when pairing and for the other parts of the meal.
---

Flank & Skirt
While not entirely the same, both Flank and Skirt can be cooked with the same technique. They'll marinate well, which makes them ideal for fajitas, but if you're looking to keep your meat eating experience purely Steak, they can be done on the grill with salt and pepper to season.
Wines to Pick:
Why they work: It's important not to overcook or else you're eating shoe-leather, but even done to perfection these cuts are tougher. Our wines aim to complement flavorful but chewy beef, taking it from a chore to a savory experience.
---

Brisket
By no means a common example of steak, Brisket is still worthy inclusion in the potential steak pairings. This is one cut that takes to low and slow cooking, especially on a smoker, like no other. If you don't have a smoker, maybe go get one (live a little!).
Your wine selection will be informed by what kind of fuel is in the smoker – we recommend wood chips, but there are many to choose from and each imparts something tasty and particular. Hickory is the most common recommendation for brisket.
Wines to Pick:
Why they work: Nearly all preparation of a Brisket is going to result in some smokey flavor and these wines complement and enhance smokiness.
---
Last Thoughts
These pairings are sure to be tasty but they may not be perfect – because everyone's taste is their own.
Don't be afraid to use our recommendations as a jumping off point for discovering wine pairings that are unique to you and your taste. There are no wrong answers if you're enjoying yourself.
And if you're hunting for possibilities for pairing with other meats, head over to our guide on pairing with Beef, Lamb, Venison, and more.