Pairing wine and spaghetti is one of the best food experiences you could possibly hope for – rich spices, fresh vegetables, endless variety. It's delicious eating Italian for the day, so dive in and explore the best wines for spaghetti.
The Best Wine For Spaghetti
Of course, you don't need a holiday like National Spaghetti Day (January 4th) to appreciate the finer things about this pasta and its wine-y companions, but it doesn't hurt as an excuse!
So what are some wine and spaghetti pairings that will leave everyone happy enough to sing Puccini around the dinner table? Here are 6 classics.
---

Spaghetti Bolognese (and Spaghetti and Meatballs)
Wine pairing: Chianti
Why it works: There is absolutely no reason to get too complicated when it comes to spaghetti and meatballs. It's a quintessential Italian dish, so go with the date you brought to the prom with a quintessential Italian wine.
Come on – it's a classic. Everyone with a grandmother who's even a quarter Italian has their nonna's meatball recipe available at all times. These same people will fight you if you even suggest that it isn't the single greatest meatball recipe in creation and for all eternity.
This rich, dark red complements the herbs and tomato sauce beautifully, while those heavier tannins are going to scrape your tongue clean of greasy beef with every sip.
---

Spaghetti alla Carbonara
Wine pairing: Soave
Why it works: In addition to a nice bit of acidity that slices its way through fat, Soave's got an unexpected bit of salinity to it, as well.
Loaded with eggs and bacon, Primavera Carbonara should probably have a "do not operate heavy equipment after consuming" warning label anywhere it's served. It's rich and incredibly filling: so the wine that goes with it is going to need to cut right through that.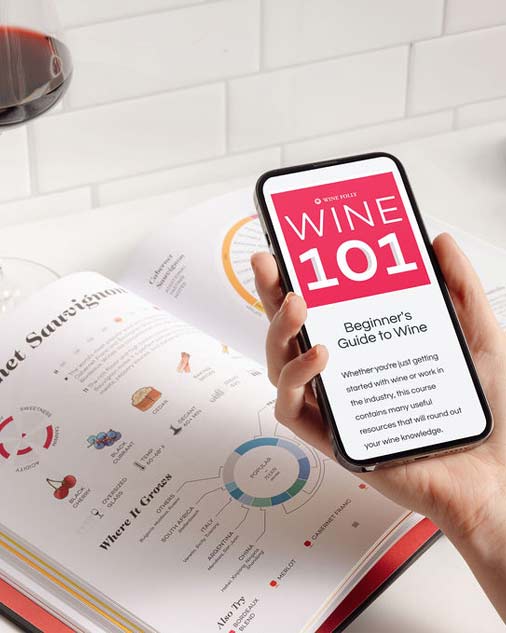 Buy the book, get a course.
Get the Wine 101 Course @ 75% OFF with the purchase of Wine Folly: Magnum Edition.
Shop Now
This pairs perfectly with a dish that sports some serious sodium. It's light and graceful: the opposite of how you'll feel after you finish a bowl of Primavera Carbonara. Plus, it's generally pretty inexpensive!
---

Baked Spaghetti
Wine pairing:Lambrusco Grasparossa
Why it works:Lambrusco Grasparossa is known for darker fruit flavor, along with stronger tannins: both of which are solid choices for a tomato-based sauce that you'll usually find in baked spaghetti.
Baked Spaghetti is for the brave (or insane) souls who think to themselves, "You know all that pasta and meat is pretty great. But how can I drench it all in cheese and cook it like a casserole? So I don't have to twirl my fork as much to pick up the pasta?"
The delicate carbonation that Lambrusco is known for pairs brilliantly with the richer level of cheese that you're going to find in this dish.
---

Spaghetti all'Arrabbiata (Spicy Spaghetti)
Wine pairing: Primitivo
Why it works: A lighter-bodied red with a cinnamon-like sweetness which should compliment the spice in this classic pasta.
For when you prefer your spaghetti with a little spice! Arrabbiata sauce is known for the heat of its chili peppers. And like a lot of spicy foods, this can mean a pleasant tingling sensation, or a 5-alarm emergency. You need the right wine to appreciate those flavors.
Primitivo (aka Zinfandel) is a multi talented wine: especially when it comes to spicier foods. It's fruity-spiced flavors help bring out all the complexity in chili pepper.
---

Spaghetti and Pan-Fried Zucchini
Wine pairing: Vermentino
Why it works: This simple-yet-flavorful spaghetti gets a boost of herbal-thyme-like overtones and richness from the wine's oily mid-palate.
Most of us know "Pasta Primavera" but it turns out that dish has American origins in the 1950s. So instead, lets dig into a vegetarian spaghetti (and sometimes linguine) that calls for zucchini that's pan-fried in olive oil, crushed walnuts, parsley, and flavorful chili flakes. This dish sounds simple, but it's simply is fantastic.
With all the green on the scene, lets try an Italian white that's known for it's distinct thyme-like flavors and oily aftertaste. Vermentino grows all over Italy, but you'll find some of the best examples in Tuscany and the Island of Sardinia.
---

Pasta Fra Diavolo Shrimp with Red Sauce
Wine pairing: Lambrusco di Sorbara (or a sparkling rosé!)
Why it works: A spicy red sauce and shrimp are too rich for whites but too seafood-buttery for a tannic red: we need rosé!
Lambrusco di Sorbara is the lightest of the Lambrusco varieties and naturally makes a very light rosato-colored red. The frizzante (slightly bubbly) nature of this wine should make the spicy tomato sauce sparkle sweetly alongside those tasty shrimps.
Technically, Pasta Fra Diavolo is an American invention originating somewhere in the tri-state area (New York, New Jersey, Connecticut) in the early 1900s. You can use clams, lobsters, or shrimp but what makes it unique is the addition of chili pepper to bump up the flavors.
---
There are probably as many spaghetti recipes as there are wines to pair it with, and we've barely scratched the surface with these six. What are some of your favorites? Tell us in the comments below!