Different countries and cultures ring in the New Year with the same hopes for luck and prosperity, and each has delicious traditions that demand a perfect wine. Find your favorite New Year's wine pairing tradition!

New Year's Wine Pairings From Around The World
Every culture around the world uses food as a way to celebrate and connect. So, we paired wine into the mix of several classic New Year's traditions from Canada to Japan.
---

Favorite New Year's Food in The United States
Food: Black-Eyed Peas and Collard Greens
Wine: Australian Shiraz
Black-eyed peas and collard greens with cornbread are a popular New Year's tradition in the South and across the nation. Pair up with an oak-aged Australian Shiraz – a full-bodied and bold with medium tannins and balanced acidity with fruity notes of blueberry and plums, tobacco, and pepper.
This dish's roots go back to West Africa, where enslaved people brought black-eyed peas to the Carolinas and grew them. This New Year's meal will bring good luck and fortune. "Peas for pennies, greens for dollars, and cornbread for gold."
The most traditional version is "Hoppin' John," an aromatic stew of black-eyed peas and bitter greens served with cornbread.
The collard greens add a layer of bitterness, and of course, the ham or bacon will give a salty, smoky edge, so you'll want a bold red wine to measure up and one that echoes the smoky notes.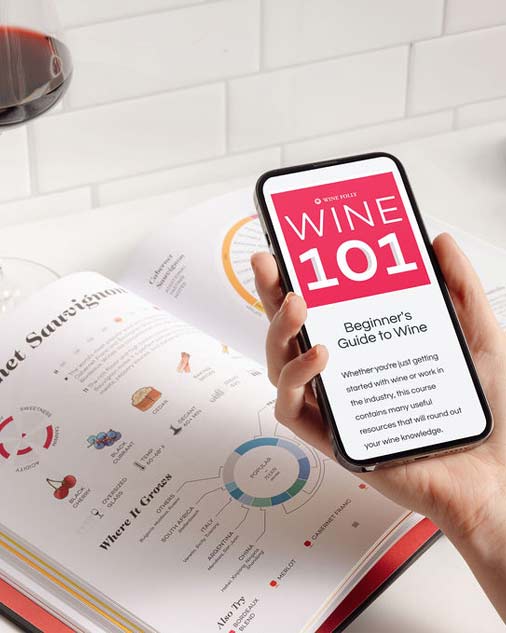 Buy the book, get a course.
Get the Wine 101 Course @ 75% OFF with the purchase of Wine Folly: Magnum Edition.
Shop Now
---

Dining on New Year's in Italy
Food: Lentils
Wine: Montepulciano d'Abruzzo
In many parts of Europe, such as Hungary and Italy, and even in some parts of South America (Chile and Brazil), Lentils are on the menu right after the clock strikes midnight.
Pair up with a Montepulciano d'Abruzzo – easy to drink, and their subtle tannins, fruitiness, and medium acidity can dress up a savory, meaty lentil dish without overwhelming the simple flavors.
Eating and gifting lentils to celebrate the New Year dates back to ancient Roman times. Romans believed that lentils looked similar to a coin and every lentil you eat will turn into a coin!
The most traditional incarnation in Italy is 'Lenticchie al Cotechino', or lentils with pork sausage.
---

A Swiss-Canadian Favorite
Food: Fondue
Wine: Sauvignon Blanc
Fondue is great for small New Year's house parties as it is a communal pot with melted cheese that is meant to be shared. This tradition is well-known in countries like Switzerland and increasingly popular in Canada.
Try Sauvignon Blanc! The fruitiness and acidity cut through the gooey saltiness. Sauvignon Blanc's aromas of gooseberry, passion fruit, and white peach are the perfect accompaniment to the decadent fondue, and the acidity will balance out the fat.
---

Summertime in Australia for New Year's
Food: BBQ
Wine: Zinfandel
In Australia, it's summer, so it is quite common to gather on the beach or backyard for a simple Barbeque, usually just meat, sausages, and shellfish like rock lobster or prawns.
Nothing will go better with an Aussie barbeque than a rich, jammy California Zinfandel with smoky notes to complement the BBQ smoke and spice notes to enhance the meat's seasonings. All that fat will soak up the high octane, full-bodied red wine.
Or, if you want to keep it fully Australian, seek out a true Aussie "GSM" blend (in Australian, this stands for Grenache-Shiraz-Mataro)
---

Celebrate New Year's Like They Do in Greece
Food: Vasilopita
Wine: Muscat of Samos
Vasilopita is a sweet, moist cake, which is baked with orange zest and sweet spices. A medium sweet Muscat of Samos has delightful sweetness and its flavors of marmalade and orange peel will complement the cake, tasting fresh and clean without being too cloyingly sweet on the palate.
The name of the cake is derived from Santa's name in Greek, "Agio Vassilis," who comes to Greece on New Year's Eve. A coin is placed in the cake, and it is covered in powdered sugar.
The white sugar represents the hope that no dark things will arise in the New Year. The person served the piece of cake with the coin will have luck for the rest of the year.
---

New Year's Noodles in Japan
Food: Soba
Wine: Garganega (aka Soave)
In Japan, the New Year is ushered in while enjoying a bowl of Toshikoshi Soba, a tradition that dates back to the 13th century, and like many others on this list, the noodles are thought to bring good fortune. Long noodles represent longevity.
This dashi broth-based soup is often topped with scallions, egg, and shrimp.
The umami character of Toshikoshi, along with the scallions, calls for a wine high in acidity like Garganega. Garganega is dry with mineral flavors noted from the volcanic soil which the grapes grow.
For this pairing, the acidity balances the salty/savory aspect, and the citrus flavors will enhance the scallions, while the minerality and salinity will complement the umami aspect of the dish.
---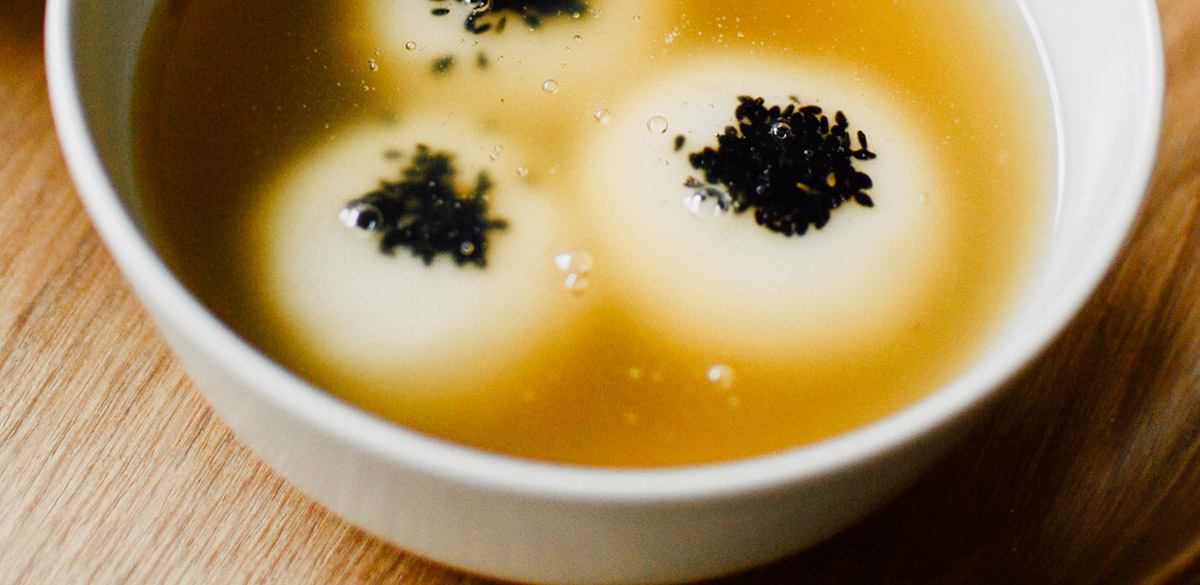 A Soup For the Lunar New Year in Korea
Food: Tteokguk
Wine: Ribolla Gialla or another Orange Wine
This comforting and complex rice cake soup from Korea brings prosperity and riches into the New Year, paired up with a Ribolla Gialla from Friuli Venezia Giulia for a symphony of flavor.
The body and tannin will balance the beef protein, while the flavors of dried fruits and honey will compliment the aroma.
Traditionally served for Lunar New Year, but adapted for New Years by Korean Americans for decades, there's a lot going on in this soup – fish stock, rice cake, green onions, eggs, beef, soy sauce, seaweed, sugar, and sesame oil.
An Orange wine will undoubtedly stand up to this dish in complexity and structure, and it will enhance the flavors, mirror the umami and earthiness, and balance the aromatics nicely.
---

Special Georgian New Year's Dessert Tradition
Food: Gozinaki
Wine: Tawny Port
Gozinaki is a traditional dessert made with walnuts, fried in honey, and often cut into diamond shapes. These candies are served at New Year's tables as a promise of a sweet life in the New Year. This Georgian candy will pair perfectly with a Tawny Port wine.
Tawny Port is sweet and full of nutty caramel flavors with enough acidity to balance the candy's sweetness and strong enough to stand up to the robust flavors of walnuts and honey.
---
Make Your Own New Year's Wine Pairing
Hopefully these famous traditions help to inspire you to create your own. And, if you have a wine-paired New Year's wine pairing tradition not included above, mention it in the comments below.
Best wishes, and salud to 2021!