These dessert and wine pairings are ideal for any dining experience: whether it's for a Valentine, an anniversary, or an indulgent meal!
When it comes to pairing food and wine, the secret is to consider wine as an ingredient. It adds the "extra." Wine enhances tastes, creating an entirely new flavor profile.
Desserts are no different. In fact, making the perfect dessert and wine pairing can be an incredible way to end a memorable evening.
So, take a look at these 7 amazing dessert and wine pairings and get ready to turn on the romance!
---

Strawberry Shortcake
Add sparkling fireworks to this creamy classic.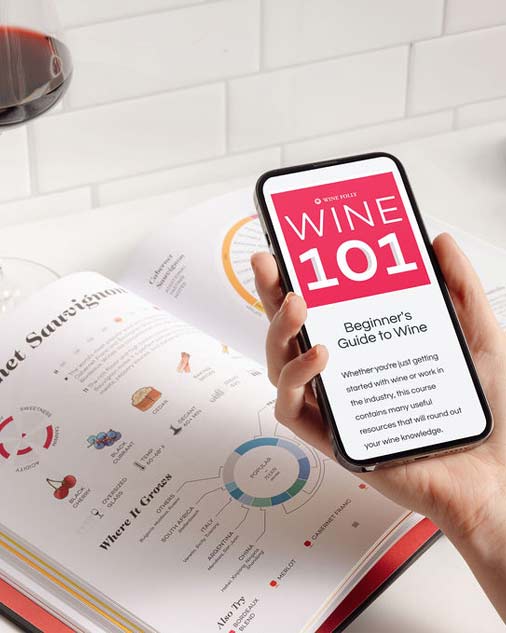 Buy the book, get a course.
Get the Wine 101 Course @ 75% OFF with the purchase of Wine Folly: Magnum Edition.
Shop Now
Vouvray Brut: Made with Chenin Blanc grapes, Vouvray is a crisp, mouth-puckering white wine that adds notes of green apple, pear, and honeysuckle.
If you're looking for something familiar but also unique, check out sparklers from South Africa, where Chenin Blanc is a super important grape!
Why it works: The acidic bite that comes from a Vouvray Brut slices right through the shortcake and the whipped cream, while the notes of tree fruit beautifully complement the fresh strawberry flavor.
Plus, many Vouvray Brut wines are made using the Traditional Method, which adds a biscuity note that tastes amazing with this treat's already creamy ingredients.
---

Peach Cobbler
Rich fruit and a welcome burst of acidity.
Dry Riesling: Germany's favorite wine, Riesling can run the gamut from sweet to bone dry, and carries some amazing notes of citrus and green apple with it.
Especially apparent in drier Riesling is a slatey sense of minerality, which only furthers its complexity.
Why it works: With its bright acidity and fruit flavors, a dry Riesling cuts through the syrupy sweetness of a peach cobbler while only enhancing the dessert's fruitiness.
The earthier tones that are present in German Riesling (like one from the Mosel Valley) will accentuate the flaky crust of a cobbler, while enhancing its more subtle sweetness.
---

White Chocolate
Balance subtle sweetness with decadently fruity notes.
New Zealand Sauvignon Blanc: Studies have shown that New Zealand brings out more of the telltale passion fruit aromas in wine than any other Sauvignon Blanc in the world.
The Kiwi standard for Sauvignon Blanc has far more fruit to it than its greener, Old World cousins, and that has a lot to do with why it's so popular today.
Why it works: All of those rich, fruity aromas take the understated balance of white chocolate and add a layer of fruit that doesn't overpower.
Take a sip of Sauvignon Blanc after a bite of white chocolate. Suddenly you'll swear you're enjoying a fruit cream mousse.
---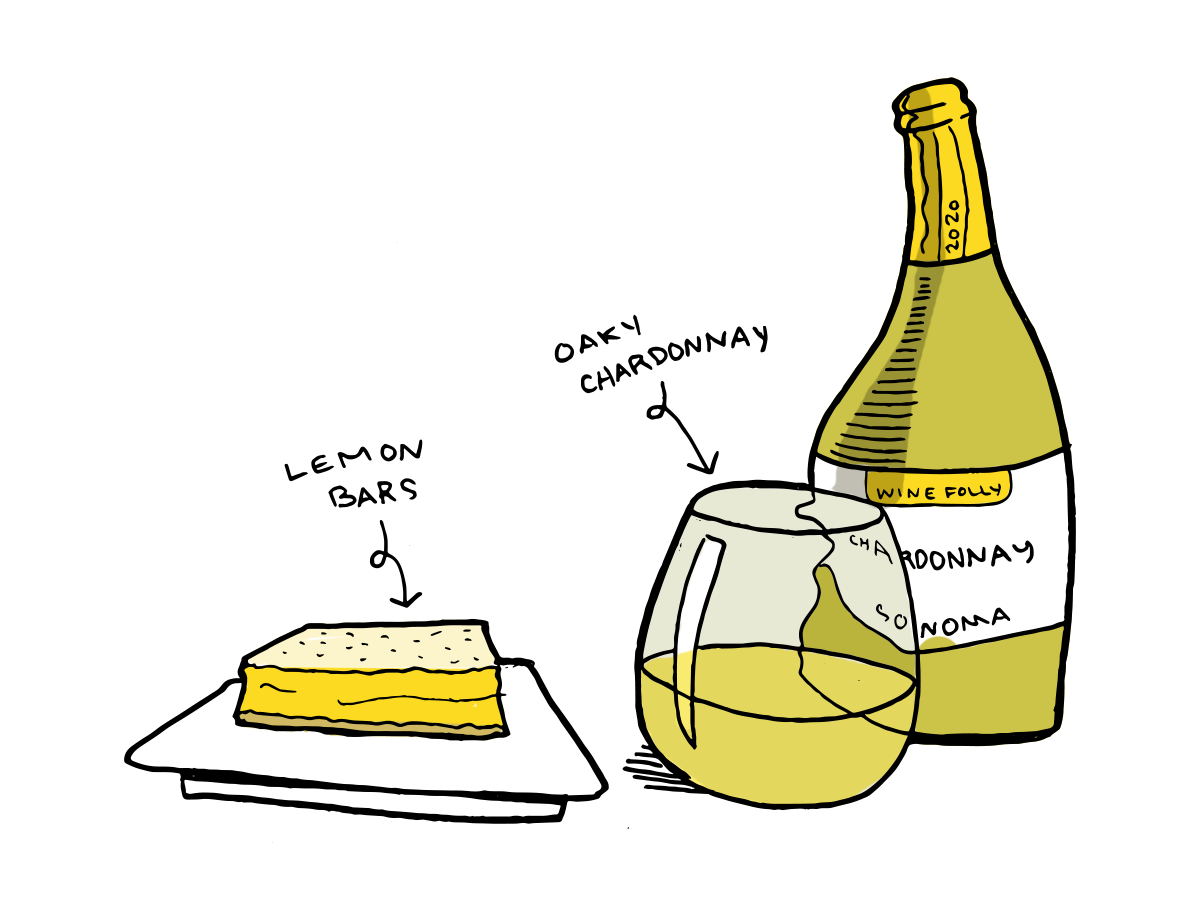 Lemon Bars
Match the sweet and the tart note for note.
Oaked Chardonnay: The creamy addition of oak to the bracing flavors of apple, pear, and lemon peel is quite polarizing for many modern drinkers who may have had one too many butter bombs to appreciate this style.
The truth, however, is that a great number of amazing oaked Chardonnays exist in the world, and their versatility is one of their greatest strengths.
Why it works: Pairing the shortbread crust and tang of a lemon bar with oaked Chardonnay is a truly complementary parallel.
The tree fruit and citrus of the wine bring out even more zip from the lemony top of the dessert, while the buttery oak is a natural companion to the rich, flaky crust beneath.
---

Carrot Cake
Spice and sweetness combined, with a little tanginess on the side.
Fino Sherry: The driest of Sherries, Fino Sherry lacks the heavy sweetness that many of its darker cousins are known for, taking on lighter, more subtle notes of almonds, salinity, and a touch of citrus.
While the heavier Oloroso Sherries often serve as dessert all on their own, Fino's understated flavors can be paired with foods far more easily.
Why it works: There's a spiciness to carrot cake that pairs beautifully with the nuttiness of a Sherry, and a Fino is dry enough that it won't taste cloyingly sweet on top of that inch-thick vanilla cream cheese frosting.
Additionally, many Fino Sherries have a tangy Jackfruit flavor that contrasts wonderfully with the earthier flavor of the carrot cake itself.
---

Chocolate Mousse
The richness of chocolate with lightning bolts of fruit.
Brachetto d'Acqui: With its lighter body and red berry notes, this semi-sparkling Italian red offers some sweetness without being too overpowering.
Frankly, if you don't have a dessert ready, a bottle of Brachetto can be perfect all on its own!
Why it works: Those sweet little bubbles are going to cut straight through the heavy creaminess of a chocolate mousse, while adding sharp texture and notes of candied fruit and red flowers.
It's like eating a chocolate-covered strawberry, but with more sparkle: chocolate and lightening bolts of fruit.
---

Apple Pie
Take this classic pie and add a dozen more fruits to it!
Gewürztraminer: Powerfully aromatic, Gewürztraminer is known for its perfume of lychee, roses, citrus, and spice.
Though it's generally acknowledged for being sweet, drier varieties can be found, and are often just as fragrant.
Why it works: Gewürztraminer combines fruit and spice in the same way that a warm apple pie does, making it one of the most obvious dessert and wine pairings on this list!
Apple and citrus, cinnamon and ginger, crust and lychee: it all combines deliciously without being an overpowering explosion.
---
While some wines make for perfect desserts all on their own, that's no reason not to look for the perfect after-dinner treats to complement them!
Tell us about your favorite dessert and wine pairing.