Looking for something fast and easy, but want some elegance? Worry not. Here are six simple wine dinners for when your wine cooler is full, but your refrigerator is empty.
---
Wine Dinners Made Simple: Elevate Your Meal
There are plenty of ingredients you likely have on hand that can make a great meal. And when paired with the right wine, that meal can become fantastic.
While some of us enjoy cooking and have wine dinners galore, others prefer to live the ramen and cereal life. As a result, no two pantries are alike.
For the former, this post can provide wine pairing inspiration for your kitchen creations. And for the latter, you now have delicious wine pairings and a grocery list.
Let's take a look at 6 wine dinners we can all make with easy-to-find recipes.
---

Pasta Puttanesca + Barbera
Pasta Puttanesca is an Italian dish originating in Naples: the land of brilliant wine dinners. This pasta is packed with savory basics like olives, capers, and anchovies.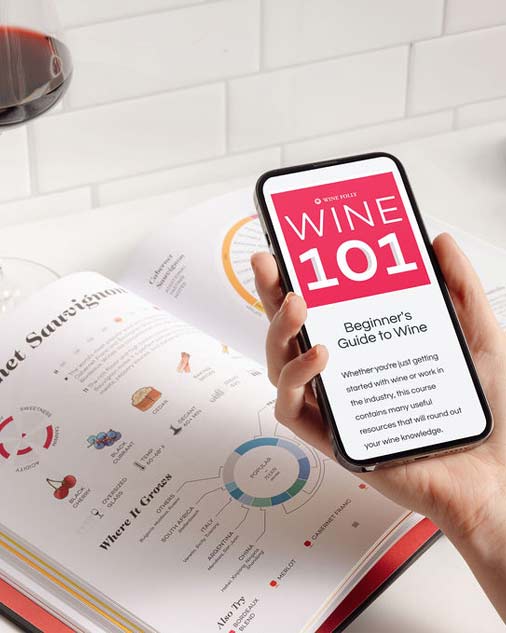 Buy the book, get a course.
Get the Wine 101 Course @ 75% OFF with the purchase of Wine Folly: Magnum Edition.
Shop Now
Ingredients: olive oil, garlic, canned diced tomatoes, anchovies, olives of choice, capers, spaghetti, salt, pepper, and red pepper flakes.
Wine Pairing: Barbera
Why it Works: Barbera is Piedmont's red wine meant for daily consumption in this Northwestern Italian region. So it needs a dish that matches its "everyman" persona.
The wine's acidity is a perfect match for the acidic tomatoes in this pasta. Also, the salty pantry staples in the Pasta Puttanesca will balance the wine's high acidity. Barbera's tart cherry and dried herb flavors will support this deliciously simple pasta perfect for any night of the week.
---

Southwest Sweet Potatoes + Zinfandel
These sweet potatoes are an easy meal to throw together with a couple of pantry-items and seasonings from your spice cabinet.
Ingredients: sweet potatoes, black beans, canned green chilies, canned fire-roasted tomatoes, canned corn, chili powder, cumin, paprika, black pepper, cayenne pepper, garlic powder, crushed red pepper flakes, dried oregano, and salt (optional fresh ingredients: lime, cheese)
Wine Pairing: Zinfandel
Why it Works: Zinfandel is a bold red wine characterized by jammy fruit flavors and spicy aromas. The flavor profile makes this wine a perfect match for barbecue and southwestern dishes.
Zinfandel has just enough tannins and body to pair with the rich sweet potato without overpowering the dish. The wine's jammy flavors will complement the sweetness of the potato, and the smoky aroma will match the stuffing's southwestern spices.
---

Garlic Herb White Bean Soup + Cinsault
This is the ultimate simple soup that is both filling and flavorful yet simple to prepare.
Ingredients: Olive oil, garlic, cannellini beans, dried thyme, dried rosemary, vegetable/chicken broth, salt & pepper, red pepper flakes, and bread.
Wine Pairing: Cinsault
Why it Works: Cinsault is a Southern Rhône Valley variety that is a minor grape in the blends of Châteauneuf-du-Pape. Also, California's Central Coast offers some exceptional single-varietal examples.
The fruit notes in Cinsault are a nice balance to the soup's garlicky flavors while the florals complement the soup's dried herbs. The light body and tannin of Cinsault are perfect for the simple flavors of the white bean soup.
With this dish, a grape that normally plays the supporting role can shine.
---

Tortilla Española + Cava
Tortilla Española is one of Spain's most treasured national dishes. This billowy egg, onion, and potato omelet are surprisingly delectable for how simple it is to put together.
Ingredients: Eggs, potatoes, onion, olive oil, and salt.
Wine Pairing: Cava
Why it Works: Produced in the traditional method, Cava is a Spanish sparkling wine that is ideal with tapas like tortilla española. And the high acidity and bubbles in Cava balance the salt, eggs, and fat from the olive oil.
The savory nature of the dish highlights the quince, apple, and citrus flavors of the Cava.
If possible, reach for a Cava Reserva, which spends a minimum of 15 months on the lees, offering more texture and added complexity.
Alternative: If you don't have eggs, place your thinly sliced onions and potatoes in a baking dish, cover with vegetable or chicken broth, and bake in the oven for Boulangère Potatoes.
Or fry your thinly sliced potatoes in olive oil for some tasty chips. They always make a great pairing for bubbles – the chip's salt and grease balance the sparkling wine's high acidity.
---

Shakshuka + Nerello Mascalese
A classic brunch dish that works just as well for a perfect wine dinner: Shakshuka is a one-pan meal of poached eggs cooked in a tomato-based sauce.
Ingredients: eggs, onion, a jar of roasted red bell peppers, a can of whole peeled tomatoes, chili powder, cumin, paprika, salt, pepper, and red pepper flakes (optional bread for serving.)
Wine Pairing: Nerello Mascalese
Why it Works: Nerello Mascalese is a Sicilian variety grown on the volcanic soils of Mount Etna that produces lighter-bodied red wines with high acidity. The cherry, thyme, and spice aromatics of Nerello Mascalese are an ideal match for the roasted red peppers, tomatoes, and spices in the Shakshuka.
The wine's acidity is high enough to meet the acidity of the tomato sauce. Plus, the low tannins and light body will not overpower the lightness of an egg-based dish.
Alternative: If you don't have eggs, try canned chickpeas instead (optional fresh ingredients: fresh cilantro, parsley, and feta cheese.)
---

Grilled PB&J + Rosé Port
This sandwich is a classic sweet and salty combo that actually makes for a great wine dinner. The real question is, crunchy or smooth?
Ingredients: peanut butter, jelly, and bread
Wine Pairings: Rosé Port or Lambrusco
Why it Works: Jelly is innately sweet and even peanut butter has some sweetness, too. So pair a PB&J sandwich with a wine that also has a bit of sweetness. If paired with a dry wine, the wine may seem overly acidic and lacking in fruit.
The strawberry, raspberry, and caramel flavors of a Rosé Port perfectly complement a PB&J sandwich's flavors. Plus, the Port's fruit notes enliven strawberry or raspberry jam, while the wine's caramel aromas work well with the salty peanut butter. A Rosé Port also offers enough sweetness to match the PB&J.
For those who aren't big on Port, there is Lambrusco. Produced in Italy's Emiglia-Romana, Lambrusco is a sparkling red wine bursting with notes of strawberry, blackberry, and rhubarb. As a result, it's perfect for a PB&J.
Grab a semisecco (off-dry) or amabile (semi-sweet) style to balance the sandwich's sweetness.
---
Making a Simple Meal Extraordinary
Cooking from your pantry with minimal ingredients is tough, but it doesn't mean you should miss out on savoring a fantastic wine pairing.
Next time you're staring into the abyss of an empty refrigerator, remember you have a range of ingredients in your wine cooler and pantry.
If you don't have the ingredients at hand to make any of these wine dinners, go to your wine cooler first. Pick a wine you want to drink and reverse engineer a dish based on the wine's aromas, flavors, and structure.
Tell us your favorite pantry staple dish and what wine you would pair it with in the comments below.