Because Thanksgiving is the perfect wine holiday.
Why? Well, it's the only holiday with a savory feast that happens right after the grape harvest. Not to mention the fall flavors pair perfectly with many great wines. So, let's find out which Thanksgiving wines to add to the table this year.
In This Article
Break the ice with something refreshing and celebratory like sparkling rosé.
Bring out the medium-bodied reds because they pair the best with turkey.
Bask in the glory of at least one special occasion wine (dessert wine or something stranger).

Sparkling Rosé
There's nothing better than arriving to a party and being handed a glass of something sparkly. It even works on little kids (but perhaps a shiny tumbler of Martinelli's instead?).
Sparkling rosé pays tribute to the changing seasons with its pinkish hue and the red fruit core that forecasts incoming cranberries for the holidays.
Here are a few sparkling rosé wine styles you deserve to taste at least once in your life: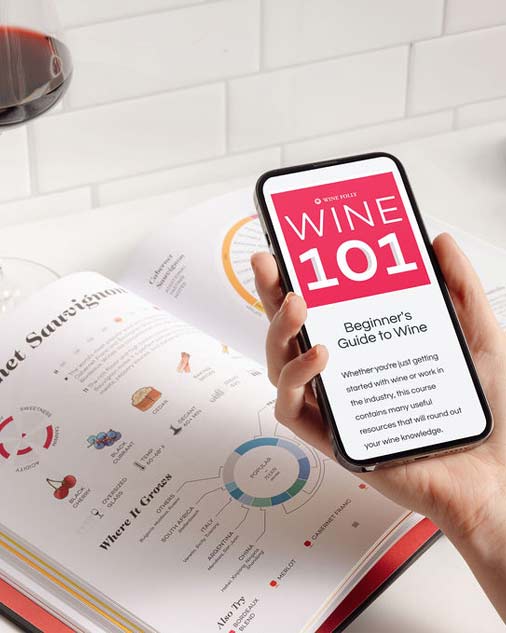 Buy the book, get a course.
Get the Wine 101 Course @ 75% OFF with the purchase of Wine Folly: Magnum Edition.
Shop Now

Lambrusco Rosé – This wine is often made with Lambrusco di Sorbara – the most delicate of the Lambrusco varieties. Expect delightful, fruit-forward aromas of pink grapefruit, watermelon, and rose candy.
Carafoli "Sensazioni Rosa" Lambrusco Rosé Extra Dry (~$10)
2018 Paltrinieri Radice Lambrusco di Sorbara Lambrusco di Sorbara (~$20)

Cava Rosé – A lean and dry style from Spain that usually includes varieties like Garnacha, Monastrell, Pinot Noir, and the rare Trepat. On the nose, expect forest berries, raspberry bramble, and wet stones. Bottles labeled "Reserva" will have been aged on the lees for a longer amount of time.
Llopart "Reserva" 2015 Brut Rosé (~$27)

Italian Metodo Classico – Two regions in Italy rival Champagne: Franciacorta in Lombardy, and Trento in Trentino-Alto Adige. These wines are quite fine (and priced accordingly). Expect tiny, creamy bubbles and cherry driven aromas.
Ca' del Bosco "Cuvée Prestige" Franciacorta Rosé (~$65)
Ferrari "Perle" Trento Rosé 2013 (~$65)

Bugey Cerdon Rosé – One for the wine geeks! A richer, darker rosé from the foothills of the French Alps and made using a very ancient sparkling wine method. You'll find the local varieties of Poulsard and Gamay are often used and deliver aromas of peonies and forest berries.
Patrick Bottex "La Cueille" Bugey Cerdon Rosé (~$20)

Tasmanian Rosé – The rare and exciting sparkling wines of Tasmania are finding their way into US stores. The producer we found (Jansz) had super compelling aromas of bitter-sweet red fruits and subtle smoky, yeasty notes. Easy on the palate.
Jansz "Premium" Brut Rosé Tasmania (~$20)
FUN FACT: Wine sales for Thanksgiving are the highest of any single holiday.
---
Medium-Bodied Reds
If you're looking to pair wine with poultry, it's important to think about intensity. Sure, you could blow down the house with a big, bold-faced Bordeaux, but it's not going to do your beautiful bird any justice.
Fortunately, there's a segment of red wines with more juicy fruit and brown spice subtleties. The following medium-bodied reds pair really well with turkey, gravy, and roasted winter vegetables:

Carignan – Loaded with cherry fruit and spiced tobacco flavors, Carignan is meant for turkey. Seek out old vine wines from places like California, Chile, and Languedoc-Roussillon France.
Lioco Sativa Carignan 2016 (~$31)
Zinfandel – With tasting notes akin to cranberry sauce (e.g. "spiced red fruits"), Zinfandel will moisten even the driest slice of turkey. We're really delighted by the subtle white pepper, sage, and volcanic subtleties that Zin delivers from Napa Valley. Zin might just be the most ideal of the Thanksgiving wines.
D-Cubed Cellars Napa Valley Zinfandel (~$35)
Lagier Meredith Mount Veeder 2013 Tribidrag (~$40)
Garnacha – So juicy and pure, Garnacha from Spain delivers sweet red fruit and citrus notes on top of dusty minerality. The best part is that you'll find many of the buying options to be shockingly affordable. If you want to bump it up a notch (and taste some serious versions), look for Garnacha from the Vinos de Madrid area.
Marañones "30,000 Maravedies" Vinos de Madrid 2015 Garnacha (~$16)
Comando G "Rozas 1er Cru" Vinos De Madrid 2017 Garnacha (~$45)

Pinot Noir – The classic go-to red for Thanksgiving. Honestly, it's hard not to have a bottle or two of these lying around.
Frederic Magnien 2017 Bourgogne Rouge (~$25)
Blaufränkisch – It's hard to stumble upon greatness for under $20 if you're perusing the usual suspects. Instead, look for something like the lesser known Blaufränkisch. The Austrians obsess over this red because it delivers rich, black fruit flavors, spice, and food-friendly acidity. This is a great choice for dark meat and wild rice stuffing.
Markowitsch Carnuntum 2016 Blaufränkisch ($18)
Beaujolais – We're sure to be roasted on a spit if we forget to mention the classic Francophile-Thanksgiving favorite: Beaujolais. Long ago, the Beaujolais grape (Gamay) was banned in Burgundy, but that didn't stop it from existing – and thriving – in neighboring Beaujolais. Wines are beautifully floral (think violets and peonies) with soft, luscious, berry-driven fruit, and a subtle bitter note on the finish. Look for a Beaujolais Cru for superior quality.
Yohan Lardy Moulin A Vent 2015 (~$22)
Mencía – When people finally figure out how exceptional Mencía wine is, we'll no longer be able to get is so cheap! Imagine a wine with the dark fruit of Malbec paired with the delicacy and complexity of high-end (high tannin) Pinot Noir.
Losada 2016 Bierzo (~$20)
La Vizcaina El Rapolao Tinto 2016 (~$40)
---

Special Occasion Wines
There's no better time to share something rare and unique than during the holidays. Some wines are just too much a delicacy to hoard alone. Here are a few special wines to consider:
Sercial Madeira – This very rare single-varietal Madeira wine can be served chilled and makes for an amazing match with pumpkin pie. It's not too sweet and exudes toasted walnut, burnt caramel, and peach notes.
Blandy's 10 Year Old Sercial Madeira (~$28)
Pedro Ximinez – Forget dessert when you can drink something so sweet and rare as a 90-year old Solera dessert wine from the Montilla-Moriles region in southern Spain. This very sweet wine offers fig, molasses, and nutty-coffee notes. We're honestly shocked that it's so nicely priced.
Alvear "Solera 1927" Pedro Ximenez (~$30)
Vin Jaune – Truly golden-yellow in color, you've never had anything like Vin Jaune before. Vin Jaune is a true geek wine with arresting flavors of linseed oil, pear, and preserved lemon. Despite its bizarre aromatic structure and saline taste, it pairs fantastically well with pumpkin pie.
Domaine Rolet Arbois Vin Jaune (375ML half-bottle) 2011 (~$37)
Tokaji Aszú – Hummingbird elixir.
Kiralyudvar Tokaji Aszú 6 Puttonyos 2007 (~$79)
Regardless of what you choose for Thankgiving wines and foods. We hope you have a marvelous holiday (and try not to eat too much!)