Get inspired by these everyday food and wine pairings. For example, love chicken tacos? Try them with white Vinho Verde wine!
Food Wine: A wine that makes food taste better.
Cocktail Wine: A wine that tastes best when drunk on its own
You already know cocktail wines. They are the quintessential "100-point" wine. A drink-your-dinner wine. Something that's so insanely complex and complete that food would just sour the experience.
But we can't survive on wine alone, even if it sounds like a good idea. Fortunately, there is a whole class of wines out there–the food wines–that are designed for this purpose. Food wines are rapidly growing in popularity. Not only are they affordable, but they will make things taste better.

20 Amazingly Simple Food and Wine Pairing Ideas
Chicken Tacos and Vinho Verde
Cheesy Puffs and Chenin Blanc
French Fries and Sparkling Wine
Buffalo Wings and Lambrusco Dolce
Fried Chicken and Moscato
Fish and Chips (England Style w/ Tartar Sauce and Mushy Peas) and Chilled Sercial Madeira
Red Bean Chili and Cava
A BLT Sandwich and White Zinfandel
Meatball Sandwiches and Carménère
Pulled Pork Sandwiches and Petite Sirah
Lamb Gyros and Nebbiolo
Chicken Salad and Grüner Veltliner
Veggie Macro Bowl and Vermentino
Steamed Pork Dumplings and Gewürztraminer
Moo Sho Pork and Riesling
Vietnamese Fresh Rolls and Furmint
Sushi and Muscadet
Asian Barbecue and Red Zinfandel
Beef Brisket and Red Bordeaux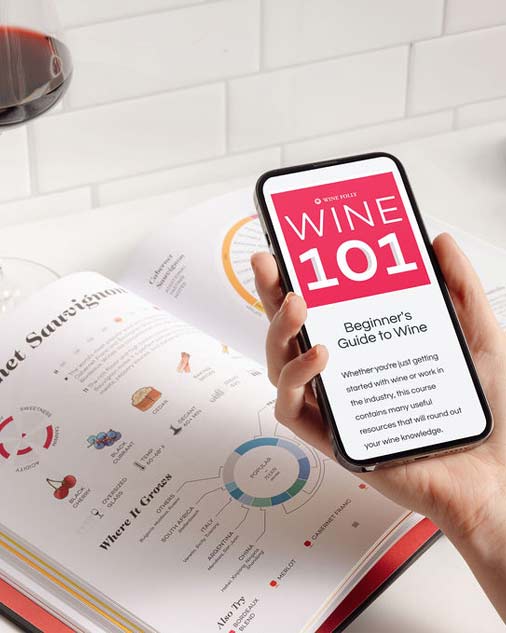 Buy the book, get a course.
Get the Wine 101 Course @ 75% OFF with the purchase of Wine Folly: Magnum Edition.
Shop Now








Defining Characteristics of a Food Wine


Food wines generally have higher acidity. They also tend to be less complex with a focus on a singular flavor that can be paired, similar to a seasoning in a dish. This is not a bad thing, in fact it serves a purpose. For example, Zinfandel often has a subtle note of cinnamon which works amazingly with Asian dishes where 5-spice powder is used. Additionally, the 2013 vintage of Chablis, which at the basic AOP level springs forth dry crispy flavors of star fruit and meyer lemon, flavors perfectly alongside delicate flaky white fish.