I reference it constantly. The book even helped me win a blind tasting contest.
William H. | Read more reviews

Get the Collector's Edition
The collector's edition box includes Wine Folly: Magnum Edition, fine Austrian crystal glass, a wine journal, and more.
A major upgrade.
Since the first edition, we rebuilt Wine Folly from the ground up, with over two times the content.
Explore the world of wine while you taste and gain deep and practical knowledge using Wine Folly's revolutionary visual learning method.
This is a great book for all levels of wine expertise, but I have found it to be especially good for teaching our new employees… while we taste wines with our crew.
Dan M. | Read more reviews
More Details

Wine Folly: Magnum Edition offers actionable information on how to taste wine and develop your palate. Learn the 4-step tasting method and how to identify wine faults to better discern quality.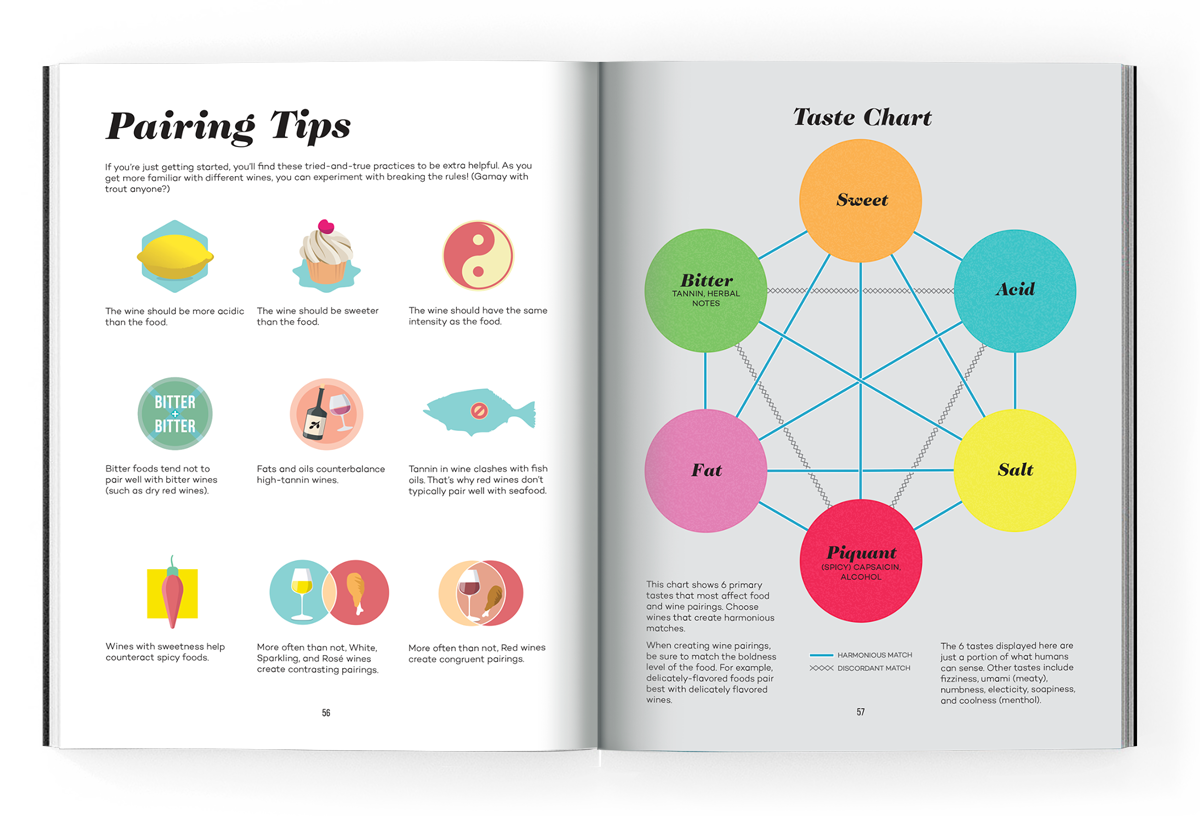 Experience the fundamentals of wine and food pairing with tips, tricks, and a do-it-yourself tasting exercise.
Need more? Check the charts on "Pairing with Cheese," "Pairing with Protein," and "Cooking with Wine" to find exactly what you need.

An enthusiast-level reference guide including:
310 color pages–full of rich visualizations
100 wine profiles
35 regional wine maps
14 wine country profiles with statistical data on the top 52 wine countries
246 regional wine profiles
Hundreds of wine terms and classifications
I just finished taking the WSET level 3 class and this book covers a lot of what I had learned from the class. Definitely worth every penny!
Eric C. | Read more reviews

About The Authors
Madeline Puckette is a sommelier, visual / UX designer, writer, and co-founder of Wine Folly. Puckette was awarded 2019 Wine Communicator of the Year by International Wine and Spirit Competition (IWSC.)
Justin Hammack is a digital strategist, technical advisor, and entrepreneur. He co-founded the Wine Folly learning platform and developed the first proposal of the Wine Folly book series.
This work wouldn't have been possible without the help of a passionate team!
Illustrations, infographics, and maps are by Madeline Puckette and Federica Fragapane.
Topic editors included Hilary Larsen, Kanchan Schindlauer, and Haley Mercedes.
Data preparation and editing by Mark Craig and Vincent Rendoni.
Business development and analysis by Ben Andrews.
Cover art by Nick Misani.