When it comes to the New World vs Old World argument, terroir really makes a difference in the wine you're experiencing.
And that goes double for lesser-known varieties that still might have something to prove in the popular wine consciousness.
That's where the Roussanne blend comes in. In this weekly wine tasting, we'll be trying an American spin on a blend more commonly known in France, and seeing the difference a bit of geography can make.
What is the Tasting Challenge? The challenge is a way to improve your wine palate each week with 34 wines from 12 countries — The Wine Tasting Challenge.

Roussanne isn't one of those grapes you hear about too frequently: even among white wine fanatics.
A lot of that has to do with how tough it is to grow: fungus and mold are huge fans of their grapevines. As a result, it's tended to play second fiddle to other grapes in France, where it's permitted in several blends, including Châteauneuf-du-Pape.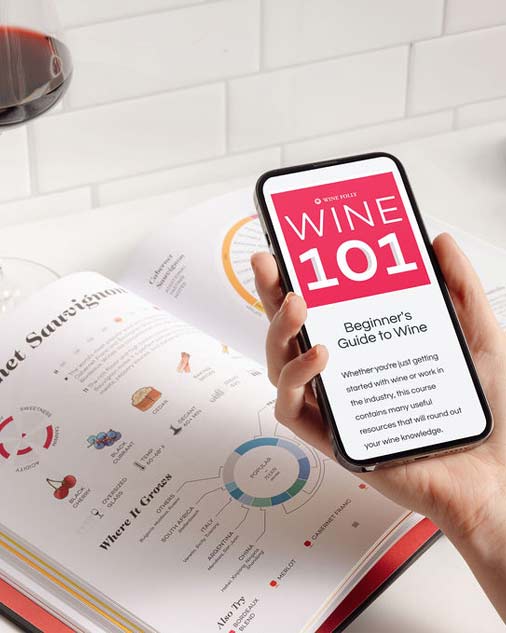 Buy the book, get a course.
Get the Wine 101 Course @ 75% OFF with the purchase of Wine Folly: Magnum Edition.
Shop Now
However, in recent years Roussanne has begun a new life in the Central Coast of California, where the climate and oak-aging allow it to take the lead with a richer, rounder feel, along the lines of Chardonnay.
And frankly – that comparison had us curious.
For this tasting, we went with a Roussanne blend from Ballard Canyon, an AVA within the Central Coast's Santa Barbara County region. With 88% Roussanne and 12% Chardonnay, there's no doubt we're going to get a feel for what this grape has to offer.
---

2017 Stolpman Vineyards Roussanne
Look: Deep gold.
Aromas: Yellow apple, canned peaches, brioche, rhubarb, pear, honeysuckle, and green tea.
On The Palate: Initially full and round, it becomes sharper and more astringent on the way to the finish. Notes of lemon and apricot. Coats your mouth like lemon bars or shortbread.
Food Pairing: This would be so good with lobster or crab cakes. It would also work beautifully with roasted pork.
---
What We Learned About California Roussanne
Even in the world of white wine lovers, Roussanne is rarer than you'd expect. Fuller bodied and bold, it's the sort of thing you'd expect that a generation of California Chardonnay-loving wine drinkers would scramble for.
But more frequently than not, Roussanne is recognized as a blending grape in the Old World.
Traditionally, Roussanne is best known for coming out of Southern France – most frequently blended with Grenache Blanc, Marsanne, and Viognier.
In the Rhône region in particular, Roussanne is usually paired with Marsanne, though it rarely makes for the majority of the blend due to how difficult it is to grow.
Recently, we're seeing a bigger life in Roussane in warmer sections of the world: including California, Australia, and South Africa. Its natural body and perfume makes for a heartier wine: the sort of white wine that a red wine lover can enjoy more readily.
---
Last Impressions
Roussanne might be the most obscure grape we've covered during this tasting challenge, but it doesn't deserve to be. Anyone who loves something fresh and full-bodied should really enjoy this.
Beyond all that, Roussanne exists as one of those many grapes that took on a new life when the terroir changed from one place (France) to another (California). Just like our recent excursion into Italian Primitivo, we've learned that the same grape can express different characteristics based on where it grows.
It's good for seafood, but complex and interesting enough to drink all by itself with some hastily scribbled notes. What's not to love?
---
What Roussanne blend did you go with? Did you find something where it took the center stage, or was it part of more of an ensemble blend? Let us know in the comments!