Having a bad reputation doesn't mean you can't turn over a new leaf. This is the theme that everyone needs to remember while tasting Pinotage. After all, if Scrooge, The Grinch, and Severus Snape can change their colors over time, why not wine?
What is the Tasting Challenge? The challenge is a way to improve your wine palate each week with 34 wines from 12 countries — The Wine Tasting Challenge.

Pinotage is a South African cross between Cinsault and Pinot Noir that originated in the 1920s. Both grapes are known for making lighter-bodied wines, but their offspring had a point to prove – Pinotage is big and bold!
In the past twenty years or so, Pinotage has gained a reputation for being cheap and… sorta bad.
But recently, South African winemakers have taken more and more pride in their national grape. As a result, that reputation is slowly improving, one bottle at a time.
Naturally, that had our interest piqued.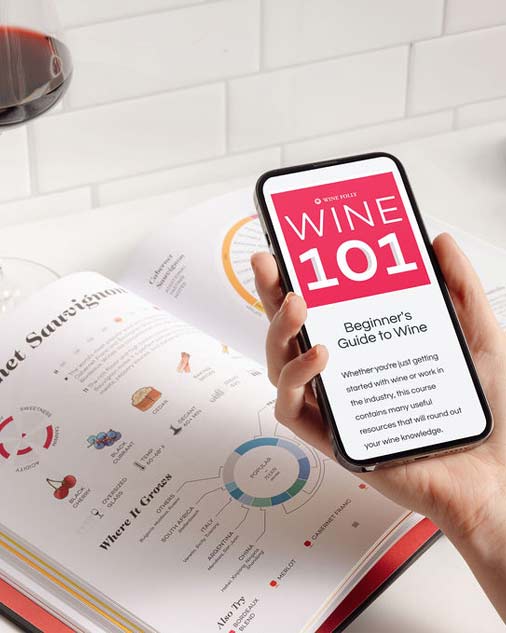 Buy the book, get a course.
Get the Wine 101 Course @ 75% OFF with the purchase of Wine Folly: Magnum Edition.
Shop Now
For this week's challenge, we went with a Pinotage from Walker Bay, a sub-region of the Cape South Coast in South Africa. This area is known for balanced and aromatic wines, and we're more than a little excited to try them out.
---

2017 Beaumont Family Wines Pinotage
Look: Medium Ruby.
Aromas: Black cherry, menthol, olives, blackberry, dark chocolate, and a meaty, umami note.
On The Palate: Smoky, with flexible tannins that don't dry you out harshly. Notes of cherry cola and dark plum.
Food Pairing: Some sort of roasted duck with plum sauce would be amazing. Not to mention game or roasted pig.
---
What we Learned About South African Pinotage
The whole motivation behind the creation of Pinotage was to combine the tastiness of Pinot Noir with the productivity of Cinsault. Pinot Noir is notoriously fickle, and the climate of South Africa made it even more so.
And the inventor got what he wanted. Sort of. While Pinotage grows like a wildfire in South Africa, it lacked the more delicate nature of Pinot Noir.
Despite that, its ease of maintenance made it the 2nd most planted grape in South Africa. And that's where the reputation started.
When you've got a ton of easily-grown grapes, the tendency is to make as much wine as possible and sell as much as possible. And that's how Pinotage became synonymous with cheap and easy for the majority of its life.
But in recent years, we're seeing more and more quality from Pinotage.
Its smoky, fruity characteristics make it unique, easily one of the better wines out there for heavy, smoked meat. And this wine delivered on that in a big way.
---
Last Impressions
We were intrigued by all the different aromas that could be packed into this humble grape. Like its Pinot Noir progenitor, it displays some fun, fruity flavors.
And like Cinsault, it offers smokier characteristics. But unlike either of them, Pinotage offers a delicious smack in the mouth that'll leave you wondering what hit you.
Learn more about the amazing wines that are coming from South Africa, with our dive into the Stellenbosch District.