As far as fortified wines are concerned, Port is probably the most famous.
And all this from a climate that was originally so inhospitable that to hear of it, you would think it shouldn't be able to grow anything at all.
Nevermind the grapes that create some of the richest, most memorable wines in the world!
This week, we'll be tasting Tawny Port, and discussing the region that's led to this highly prized dessert wine.
What is the Tasting Challenge? The challenge is a way to improve your wine palate each week with 34 wines from 12 countries — The Wine Tasting Challenge.

Like the Spanish Sherry that we tasted previously, Port is a fortified wine, meaning it's been fortified with spirits. This allows for a higher body and alcohol content, leading to a rich (and intoxicating) experience.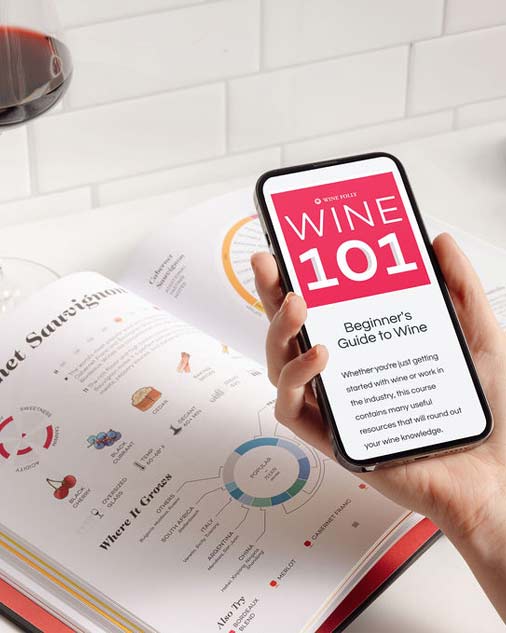 Buy the book, get a course.
Get the Wine 101 Course @ 75% OFF with the purchase of Wine Folly: Magnum Edition.
Shop Now
A key difference, however, is that while Sherry tends to be dry, Port tends to be sweet. That doesn't mean that it lacks variety, however. There are several styles: from Tawny to Ruby, and even White and Rosé Ports!
And that's to say nothing of all the classifications in between.
For this week's challenge, we tasted a Tawny Port – one of the most common styles of Port, but still has a terrific level of variety that makes it a little different from one bottle to another.
---

Broadbent 10 Years Tawny Porto
Look: Medium Tawny.
Aromas: Stewed cherries, candied orange, caramel, walnuts in honey, raisins, chocolate, and baking spices.
On The Palate: A thick, almost syrupy body. Notes of spiced red fruit on the attack: like Christmas dessert. Toasty, toffee, and nut notes on the finish.
Food Pairing: We happened to have some milk and dark chocolate on hand, and both were brilliant pairings with this Port. It should also go perfectly with salty cheeses: maybe some Stilton!
---
What We Learned About Tawny Port
Port is probably the most well-known and well-liked fortified wine in the world. In 2013 alone, over 8.7 million cases of sweet stuff were shipped all over the world.
And all of that comes from one little country: Portugal. And it all comes from one little stretch of land: the Douro Valley.
And while Portugal itself has a variety of climates and terroirs to choose from, the Douro Valley might take the cake in terms of a climate and locale that has no interest whatsoever in being hospitable.
The soil itself is schist baking in 100° degrees Fahrenheit (38° Celsius) during the dry summer months. It took a huge amount of expansion and ground stabilization during the 18th century to allow for land that wouldn't just let rainwater slide right off of it.
But if there's anything we've learned about grapevines over the centuries, it's that they thrive on neglect. So even in those early days, grapevines could survive and bear fruit. And in Douro, that led to over 50 grape varieties that are currently permitted in Port wine!
So it's no surprise that Port comes in a variety of styles, that each has its aromas, flavors, and winemaking rules.
---
Last Impressions
Much like Sherry, Port is one of those wines that has enough variety to satisfy just about any palate.
If you don't like Tawny because it doesn't have enough fruit, try a Ruby. If you want something a bit lighter, buy a bottle of White Port.
There are plenty of options when it comes to Port, despite the grapes being grown in an area that would kill just about any other crop.
Looking for more details on Port? Check out our guide!
What sort of Port did you go with for the challenge? Let us know in the comments!