When it comes to rosé, France is often the first place people think of. The ever-present, bubble-gum pink wines of Provence have seen to that. But some of the best rosé wines aren't coming out of France. They're coming out of Spain.
Spanish Rosado is a rosé that wine lovers adore, and might just want to keep all to themselves.
But like all great wines, this one needs to be seen! But what is it about this Spanish form of the pink stuff that makes it so unique when compared to Provence, Bandol, or Tavel? This week we're going to find out.
What is the Tasting Challenge? The challenge is a way to improve your wine palate each week with 34 wines from 12 countries — The Wine Tasting Challenge.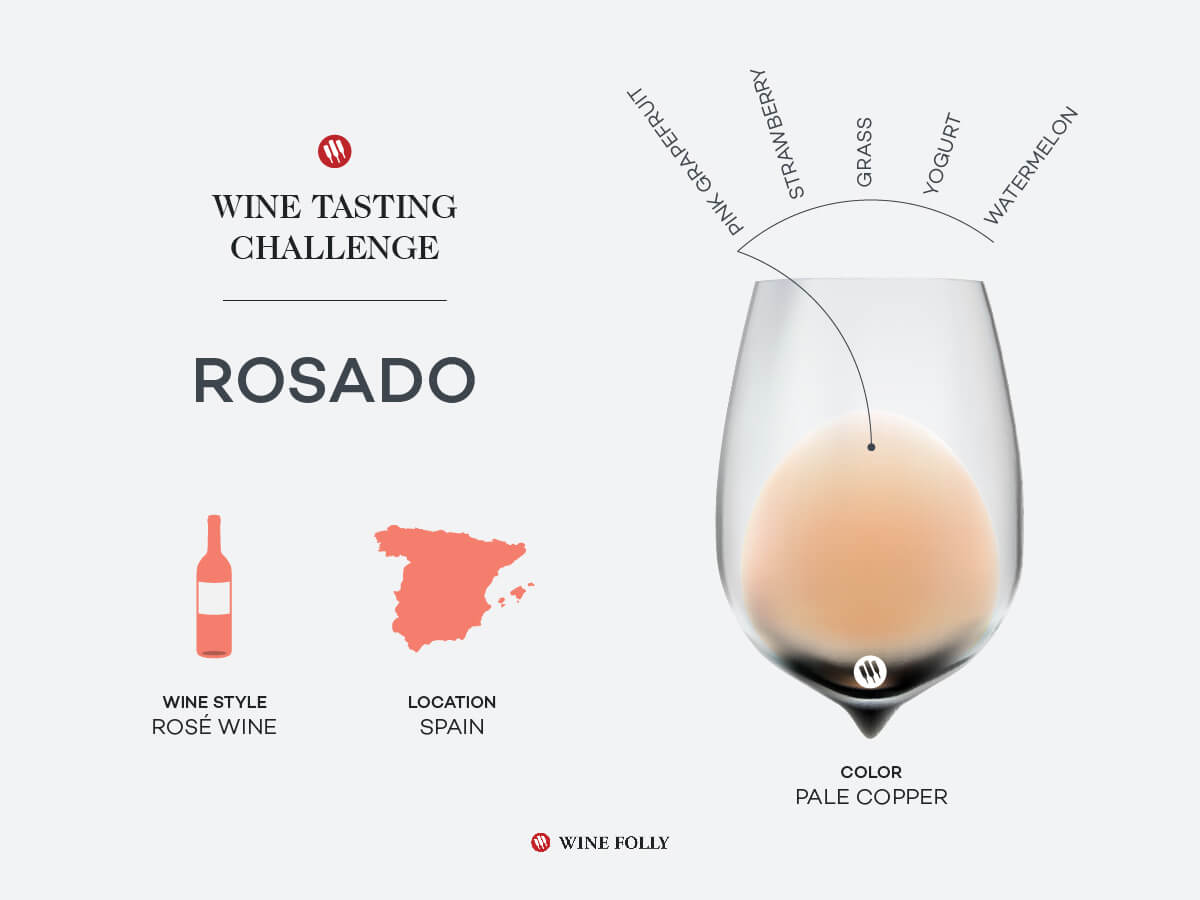 If you're going to stand out from the French herd, a good place for winemakers to begin is grapes. And the rosado we went with is made up of three of the most Spanish grapes out there: Tempranillo, Garnacha, and Viura.
To top it off, this bottle comes from Rioja, where some of the most celebrated wines of Spain originate.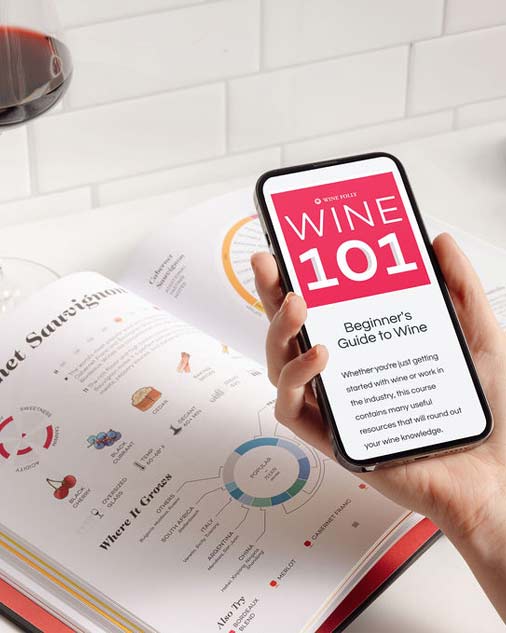 Buy the book, get a course.
Get the Wine 101 Course @ 75% OFF with the purchase of Wine Folly: Magnum Edition.
Shop Now
The only way this wine could be more indicative of Spain is if we served it with tapas. Which… yeah, we might need to do that.
---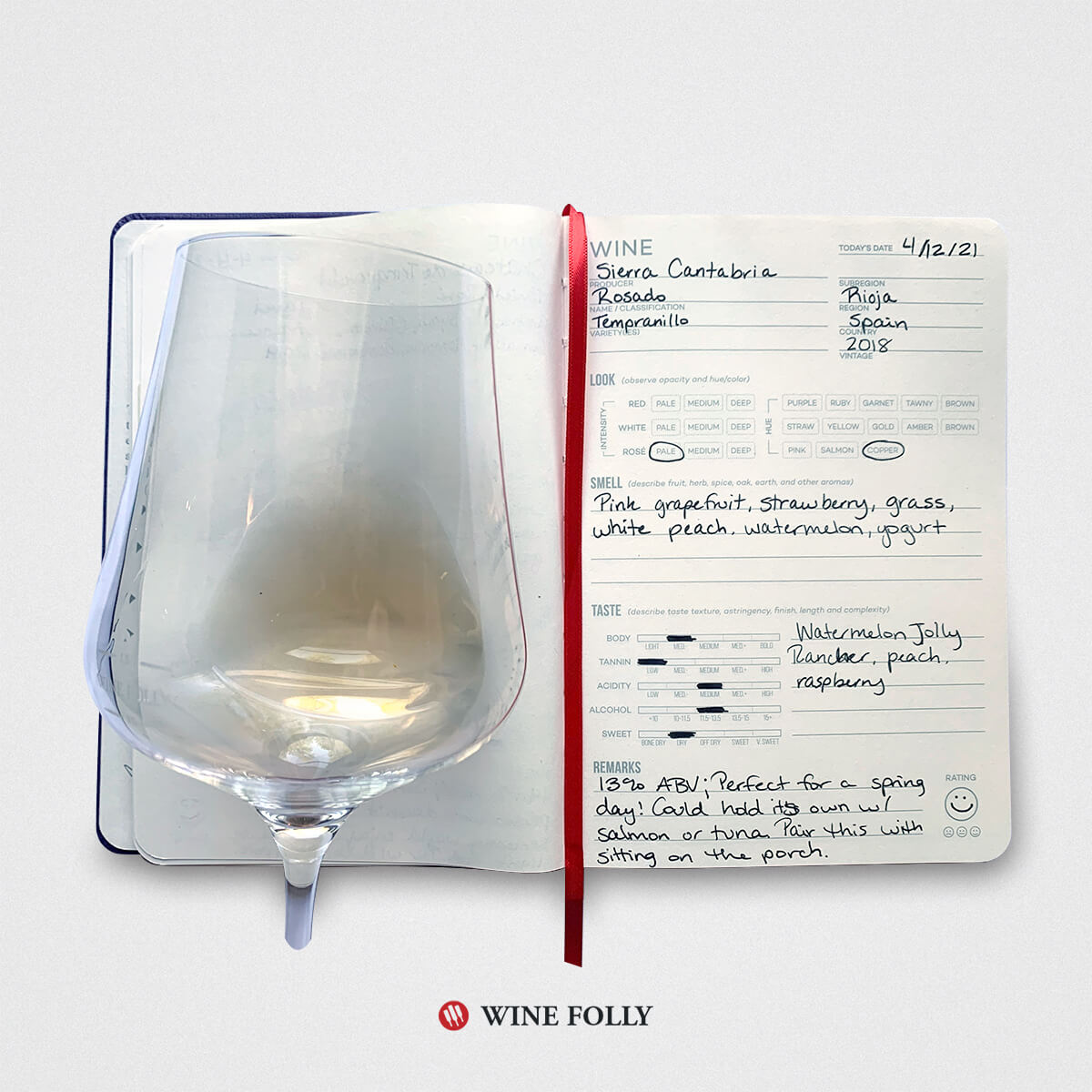 2018 Sierra Cantabria Rosado
Look: Pale copper.
Aromas: Pink grapefruit, strawberry, grass, white peach, watermelon, and yogurt.
On The Palate: Watermelon Jolly Ranchers, with peach and raspberry, and some grassy green on the finish.
Food Pairing: First and foremost: what this wine pairs best with is a spring day on the porch. It's light and acidic enough for flounder or shellfish. But it also could hold its own with the likes of tuna or salmon.
---
What We Learned About Spanish Rosado
As we discussed during its Tasting Challenge, Spanish Tempranillo is well-known for big, powerful notes of dark fruit, and mouth-drying tannins.
And there isn't a ton of it in this blend, but it's still not exactly what most would have in mind when it comes to a light, refreshing glass of rosado.
On the other hand, it's blended with Garnacha, which is known for bright red fruits. But the majority shareholder in this wine isn't a red grape at all: it's Viura (aka Macabeo), the primary blending grape in Cava (which you might remember as our very first entry in this challenge).
And that's the miracle of the winemaking process: one wine can be transformed in a number of fascinating ways. Mix the bright acid and citrus of Viura with the red fruit of Garnacha and a splash of the boldness of Tempranillo?
Well, that's exactly what you want in an expertly-crafted blend. And it's that sort of combination that sets a Rosado like this one apart from the famous rosés of France. It's inextricably linked to Spain and Spanish winemakers.
---
Last Impression
Tasting this rosado got us thinking about different kinds of rosé. It's made all over the world, but many people still refuse to see it as much more than just "the pink stuff."
The next time we sip a glass on a warm spring or summer day, it'll be worth it to take a look at what grapes are going into the bottle. How do they differ from other countries? What can you get out of this blend that you can't from another?
That way we avoid condescending to a style of wine that deserves way more attention and respect.
If you're looking for other examples of rosé that might surprise you, have a look at these 6 that we absolutely fell in love with.
This particular bottle of rosado came to us from Wine Access: take a look at their selections of rosé and see if you find what's right for you.
---
What Rosado did you go with this week? What grapes? What regions? How did they hold up to the old French guard of rosés you've had before? Tell us in the comments below!