In any given time or place, if a person's reaching for a sparkling wine, the odds are that they're grabbing a Prosecco.
Some would say this has everything to do with price, but Prosecco is about way more than just cheap bubbles.
During this week's challenge, we'll be tasting Prosecco, talking about how it's made, and the different classifications that can greatly increase the quality of what you're drinking.
What is the Tasting Challenge? The challenge is a way to improve your wine palate each week with 34 wines from 12 countries — The Wine Tasting Challenge.

Over the years, Prosecco has gained something of a reputation as a sparkler that doesn't take itself too seriously. Part of this has to do with just how much Prosecco is out there. In 2019, the Conegliano Valdobbiadene Prosecco wine region alone sold 92 million bottles of the stuff!
Prosecco is everywhere, and that makes it easy to overlook as wine that can be sipped and savored, even at lower prices. And like we learned with Beaujolais, some of Prosecco's best regions can be purchased at well below Champagne prices.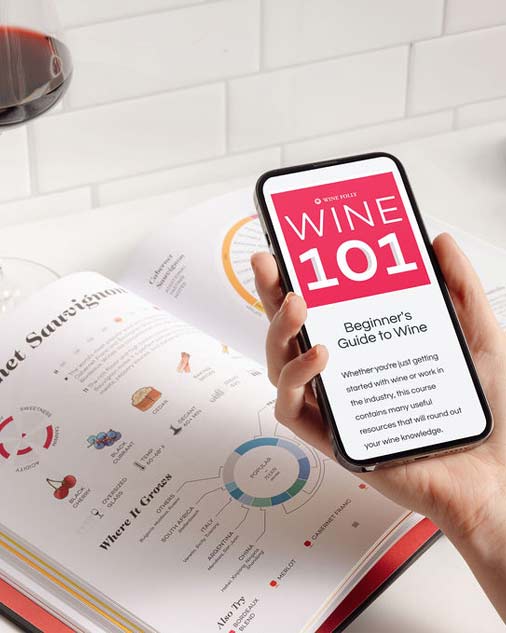 Buy the book, get a course.
Get the Wine 101 Course @ 75% OFF with the purchase of Wine Folly: Magnum Edition.
Shop Now
To get a look at some of the best this Italian region has to offer, we picked up a Conegliano Valdobbiadene DOCG, a single tier from the top ranking Prosecco in the world!
---

Nino Franco Rustico Prosecco Superiore
Look: Medium straw.
Aromas: Lime, granny smith apple, cinnamon, honeydew melon, and a little bit of buttery quality.
On The Palate: Tart! Like biting into a sour apple. Pear and pineapple. Has a bit of a beer-like, lager quality to it, with some creaminess on the finish.
Food Pairing: Would pair so well with sesame chicken and lo mein, fish tacos, fish and chips, lemon pepper wings… the list just keeps going.
---
What We Learned About Prosecco
First and foremost, there's no grape named "Prosecco." Prosecco is made from a grape called Glera.
Like Bordeaux or Champagne, the name Prosecco itself refers to a region. Specifically, a large stretch of land in northeastern Italy covering nine provinces.
And while a huge amount of the wine that comes out of this region is known for being simple and inexpensive, Prosecco itself has an entire classification system designed to separate the plonk from the quality.
Unlike Champagne or Crémant, where the wine is aged in bottles on the lees, Prosecco is made in huge tanks. This process takes away some of the more biscuity qualities that traditional method sparklers are known for, but also makes producing it cheaper and easier.
There is, however, a small segment of winemakers who make their Prosecco "Col Fondo," allowing the wine to be bottled with sediment, creating a cloudy, very unique sparkling wine experience. This can be tough to find outside of Europe, but it's worth the look!
---
Last Impressions
While Prosecco might have a bit of a reputation as the cheap and easy, the upper echelons of this sparkling wine are able to offer you a complex and enjoyable experience without making you wonder how you're going to pay your electric bill next month.
Looking for the right wines for future tasting challenges? We picked up this bottle at Wine Access: take a look at what they have to offer!