It's a beautiful thing to taste a wine that transports your senses to its place of origin. That unique sensation on your palate tells you a story of where a wine is made and all the challenges it faced.
This week we'll be tasting Greek Assyrtiko, a wine that truly tastes of the world in which it was raised.
What is the Tasting Challenge? The challenge is a way to improve your wine palate each week with 34 wines from 12 countries — The Wine Tasting Challenge.

In the sun-drenched coasts of Greece, you need a wine that's going to pair effortlessly with seafood of all kinds. And Assyrtiko fits that bill. Some would say that it's born for that role, in fact.
Assyrtiko is a grape that originates from the famously beautiful island of Santorini. That's right: it's an island wine. They say that when you look very closely at a bunch of Assyrtiko grapes, you can actually see individual grapes putting suntan lotion on each other's backs.
Okay, that's not true. But it really is an impressive grape that makes for an impressive wine.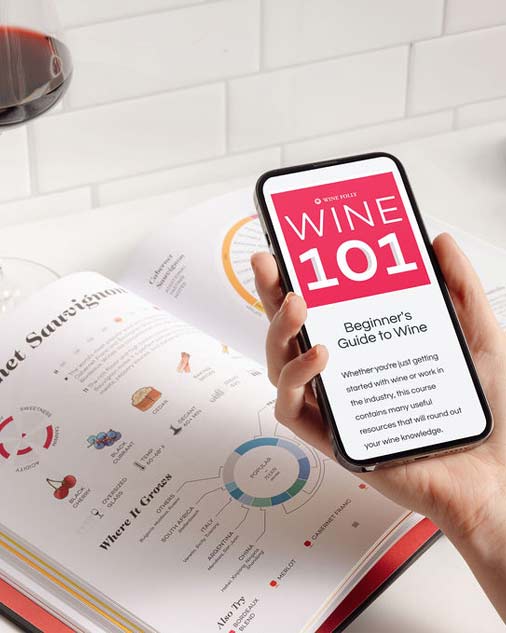 Buy the book, get a course.
Get the Wine 101 Course @ 75% OFF with the purchase of Wine Folly: Magnum Edition.
Shop Now
For our purposes, we had little choice but to go with a bottle straight from the source: the sandy soil of Santorini itself. We stopped just short of taking the bottle to the beach, but I promise we thought about the waves a lot while we sipped.
---

2019 Ktima Tselepos Santorini Assyrtiko
Look: Medium straw.
Aromas: Very pungent! Lemon, lime, saline, oyster shell, honeysuckle. A very savory quality.
On The Palate: It has a real kick of acidity that smoothes down to honey and lemon sherbet on its way to the finish. Very hot with alcohol!
Food Pairing: I mean, it's pretty much obvious: shellfish. Shrimp, oysters, scallops: all with pasta and buttery, lemony sauces.
---
What We Learned About Greek Assyrtiko
In the sunken, volcanic island of Santorini, water is a precious commodity. Most of it, in fact, is brought in by boat. Even the tap water has a distinctly salty quality! How on earth is anything expected to grow there?
Well, if we've learned anything from this Tasting Challenge, it's that grapes truly thrive when you punish them: whether that punishment comes from sun, disease, or drought. And Assyrtiko is a terrific example of this masochistic crop. But this grape exceeds all expectations.
Cool climates tend to bring out the higher acidity in a grape, but Assyrtiko is prized for its ability to retain heavy acid, even in such a hot region. And Santorini's lack of rainfall has a lot to do with that.
In a region that gets a mere 11 inches of rain in a good year, those grapes grow up tiny and tart, hanging on to every bit of moisture that they can get.
And while it may be tempting to suggest that the saline quality you get from an Assyrtiko comes from the salt water itself, it's more likely that this has to do with the acidity, which can give a puckering quality similar to salt.
When you taste Assyrtiko, the bright acid makes you think of sunshine, salt, and even the mineral quality of oyster shells and beach pebbles.
Basically, it's all about the acid.
So, just like how your favorite wine that smells like raspberries contains no raspberries, Greek winemakers aren't pouring seawater and sand into their fermentation vats.
---
Last Impressions
When it comes to wine taking you a place, Santorini's Assyrtiko might be the best example of them all. It's easy to pair a wine like this with shellfish, feta cheese, and lemon-garlic dishes. But you know what's even easier?
Pairing it with sunshine and salt air. Because pairing wine doesn't have to stop with the food!
If you're looking for a closer inspection of Assyrtiko and Greek wine in general, start here.
What Assyrtiko did you try? Did it take you to the beach? Tell us in the comments below.