What if the French wine you're tasting has a distinctly German vibe?
You're likely drinking Gewürztraminer. This week we're going to find out how a German grape becomes most famous in a French region.
What is the Tasting Challenge? The challenge is a way to improve your wine palate each week with 34 wines from 12 countries — The Wine Tasting Challenge.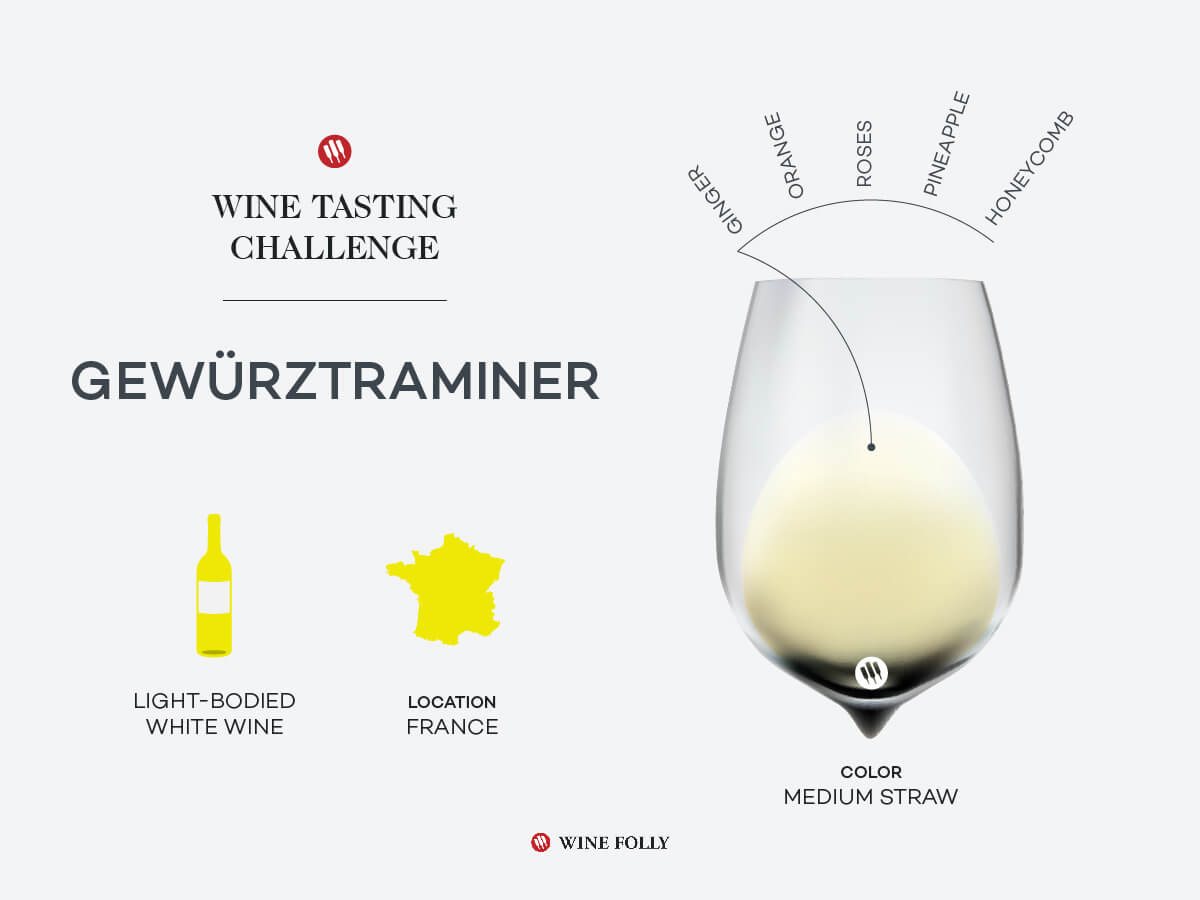 Gewürztraminer stands out as a unique white wine.
With telltale aromas that are difficult to find anywhere else, a craving for Gewürztraminer is difficult to ignore: nothing else comes even close.
For our tasting purposes, we went with a bottle of Gewürztraminer from Alsace: a Germany-bordering region in France that's easily the most respected place in the world for this floral grape.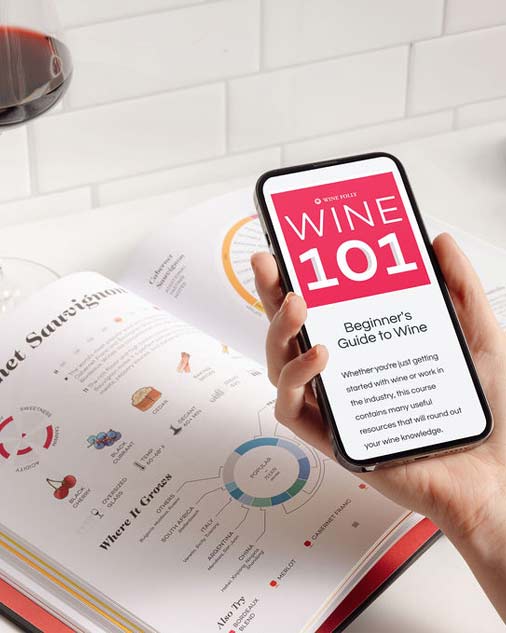 Buy the book, get a course.
Get the Wine 101 Course @ 75% OFF with the purchase of Wine Folly: Magnum Edition.
Shop Now
---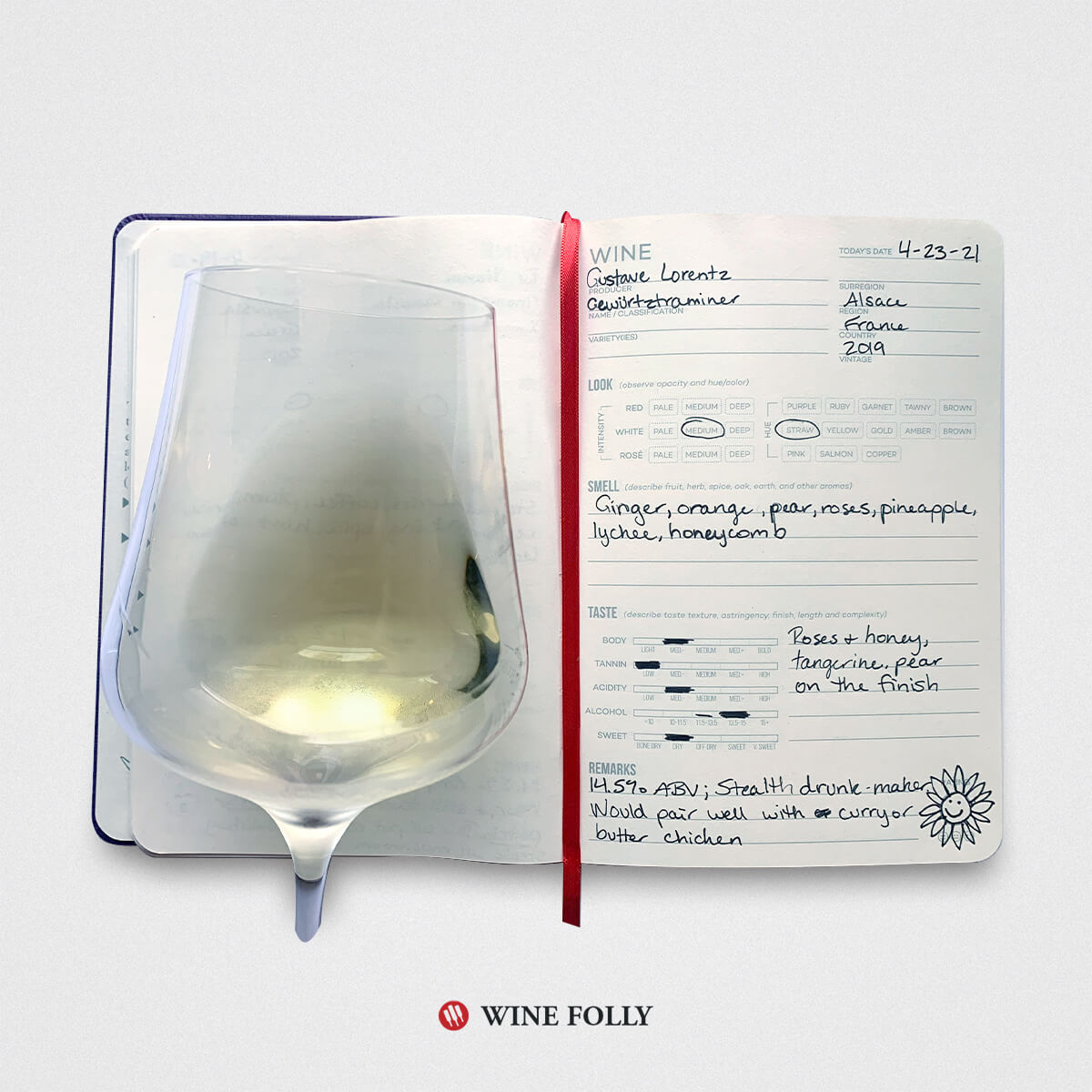 2019 Gustave Lorentz Gewürztraminer Reserve
Look: Medium straw.
Aromas: Ginger, roses, lychee, orange, bear, pineapple, and honeycomb.
On The Palate: Roses and honey, with some tangerine, and pear on the finish.
Food Pairing: The spices and floral aromas would go amazingly with butter chicken or a yellow Thai curry.
---
What We Learned About French Gewürztraminer
What sets Gewürztraminer apart from other whites has a lot to do with its telltale tasting note of lychee and roses.
That floral, tropical aroma is unmistakable. In fact, those aromas make Gewürztraminer one of the most recognizable aromatic wines in the world.
Though Gewürztraminer is originally from Germany, it might come as a surprise to budding wine lovers that France's Alsace region has made a gold star name for itself with this spicy, floral grape.
The French, using the grapes (and umlauts) of another country? Perish the thought!
This makes a little more sense when you realize that Alsace is right on the German border. In fact, through several centuries and countless treaties and wars, Alsace has gone from being German to French and back again.
Many Alsatians speak a dialect of their own, making the region a bit French and a bit German.
And although Alsace is loved for its Gewürztraminer, it's far from the only place that grows it. California, Australia, Italy, Romania, and (of course) Germany are just a few of the places that Gewürztraminer has made itself popular among winemakers.
---
Last Impressions
In a challenge where you're trying to taste your way through different countries, Gewürztraminer almost feels like a two-for-one special.
With both French and German influences, it's easy to see how some wine enthusiasts have become particularly intoxicated by this pungent wine, and we're no different.
Want to learn more about this aromatic beauty? Check out our full guide to Gewürztraminer.
Where did your Gewürz come from? Let us know in the comments below!