When it comes to wines that are tough-as-nails survivors, you might not immediately think of the fresh, flowery aromas of Viognier.
But the truth is that Viognier was nearly extinct 50 years ago! And after a few glasses of this perfumy white wine, you'll wonder how we were meant to live without it.
During this week's challenge, we'll talk about French Viognier, one of the best springtime wines out there. Plus, we'll learn how close we all came to never getting a chance to taste it in the first place.
What is the Tasting Challenge? The challenge is a way to improve your wine palate each week with 34 wines from 12 countries — The Wine Tasting Challenge.

The majority of the world's Viognier comes from France, particularly in appellations of the Rhône Valley such as Condrieu.
The steep, stony hills found here lead to a Viognier that is explosively floral and rich in body: like Chardonnay's dolled up cousin.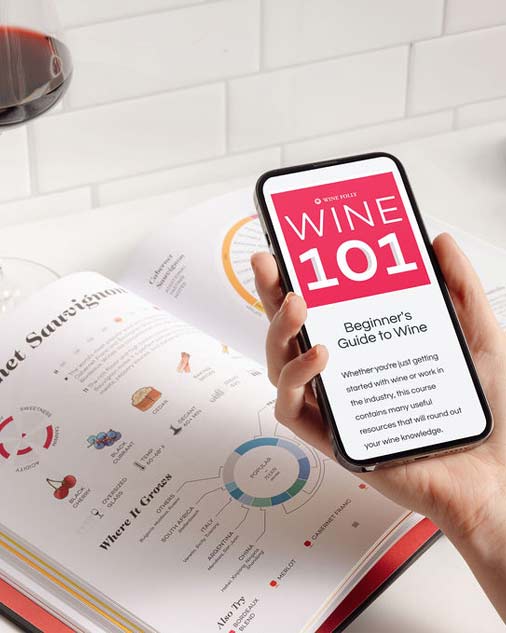 Buy the book, get a course.
Get the Wine 101 Course @ 75% OFF with the purchase of Wine Folly: Magnum Edition.
Shop Now
And while Viognier is currently being grown in California, Australia, Italy, and many other bulwarks of the wine world, France is still largely recognized as the authority on this particular grape.
With that in mind, the choice for which Viognier to drink this week was fairly obvious: we had to hit the Rhône.
And while Viognier is still uncommon enough to command intimidating prices in Condrieu and the Côte Rôtie at large, we were still able to find one that fit into our Tasting Challenge's price range.
---

2018 M. Chapoutier La Combe Pilate
Look: Medium Gold.
Aromas: Honeysuckle, light citrus, pineapple, mango, rose, almond extract, nectarine, anise.
On The Palate: Hot! The alcohol was sitting in the back of our throats throughout the entire tasting: pleasant, but it was like we could breathe fire. Citrus rind and dried flowers on the attack, with a fuller, almost oily body.
Food Pairing: This is tough, considering just how many floral aromas and flavors were involved. It would be great with roast chicken – especially one that had been stuffed with lots of aromatic herbs and citrus. A baked brie with stone fruit would be amazing, too!
---
What We Learned About French Viognier
With aromas and textures as unique as Viognier, it's no wonder that it's a pain to grow. It's fickle and often gives incredibly low yields. So, you can understand the point of view of many wine growers in the late 1960s who had just given up on the idea of growing Viognier.
The problem was that they'd given up on the idea so universally, that a mere 30 acres (14 hectares) existed worldwide. Fortunately, a sudden influx of interest in Viognier saved the grape, and it now can be found planted all over the world.
The subregion within the Rhône that's best known for Viognier is called Côte Rôtie, or "the Roasted Coast."
Everything you need to know is right there in the name. And when you've tasted Viogner, it makes sense. While the grapes themselves have a delicate, floral aroma and flavor, they've been grown in a warmer climate, giving them a one-two punch of body and alcohol.
These strange contradictions are what make Viognier such a memorable grape and wine.
Last Impressions
If there's any wine in the world that's perfect for spring, it would be Viognier. With its powerful body and alcohol levels dancing in sync with the bright, floral notes of roses and honeysuckle, it feels like you're drinking in the sun and breeze of a spring day.
It only makes us want to know more about the Viognier that can be found outside of France.
Intrigued by this tasty wine but need help figuring out how to buy or how to pair? Read up with out Viognier Wine Guide and pick a winner.