Chilean Cabernet Sauvignon has become a real force to be reckoned with in the world of South American wine and beyond.
Chile is considered an ideal place to grow many of the most popular Bordeaux-style grapes. So what are the details behind this South American refuge of Old World styles? In this final installment of the Tasting Challenge, we'll find out.
What is the Tasting Challenge? The challenge is a way to improve your wine palate each week with 34 wines from 12 countries — The Wine Tasting Challenge.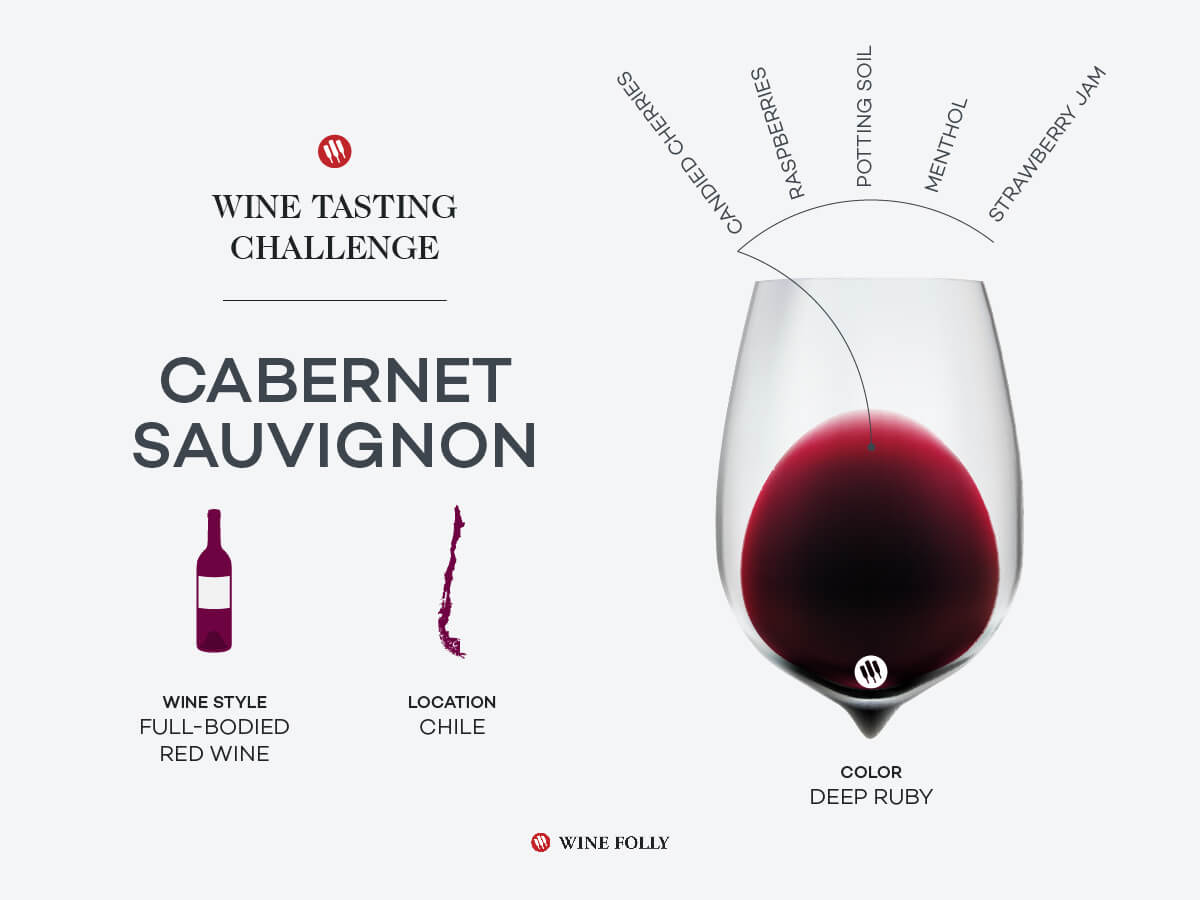 Chile is known for its full-bodied wines, encouraged and nurtured by its warmer, mediterranean-style climate.
The Maipo Valley in particular has gained a reputation for Cabernet Sauvignon that are similar to those of Napa Valley, with notes of black currant, black cherry, fig paste, and baking spices.
I mean, how were we not supposed to go for that? In the interest of trying something that could be compared to one of the best known Cabernet regions in the world, we jumped at the opportunity to grab a bottle from the Maipo Valley region.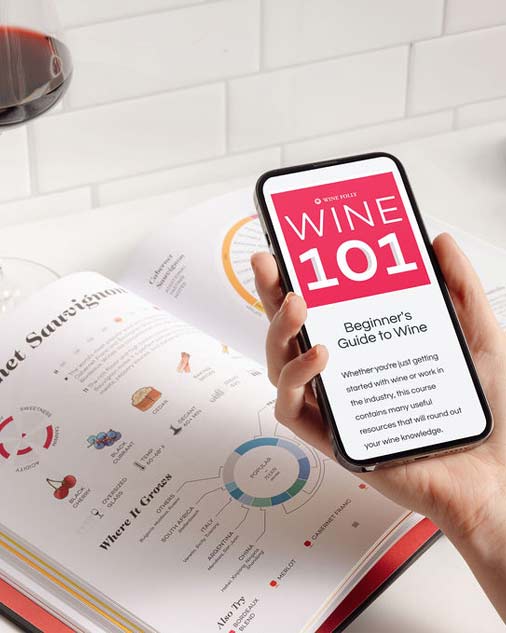 Buy the book, get a course.
Get the Wine 101 Course @ 75% OFF with the purchase of Wine Folly: Magnum Edition.
Shop Now
---

2016 Cousiño Macul Dama de Plata
Look: Deep Ruby.
Aromas: Candied cherries, raspberries, potting soil, menthol, cut wood, and strawberry jam.
On The Palate: Full bodied with BIG tannins. Notes of blackberry, campfire smokiness, wood, and dark chocolate on the finish. It's Nick Offerman in a glass!
Food Pairing: All I can think of here is steak with reduction sauce and mushrooms. In fact, the wine itself would make a tasty sauce.
---
What We Learned About Chilean Cabernet Sauvignon
For a long time, the main grape of choice for Chile was one called Pais: which was the Chilean name for the Spanish grape Listán Prieto.
The Spanairds were planting wine grapes on the hills of Chile as early as the 16th century! These wines were (and still are!) dense, meaty, and full of tannins. Think of Pais as the early "house wine" of Chile.
Eventually, however, winemakers began emulating the styles of France: particularly Bordeaux. And in the 20th century, Chile gained a reputation for fruity, easy, inexpensive Cabernet and Merlot.
And that reputation hasn't exactly gone anywhere, despite the fact that the quality levels of Chilean wine is steadily on the uptick: with their bold, complex Cabernet Sauvignons being invested in by some of the most lauded French wine producers in the world.
---
Final Impressions
After tasting the complexity and velvety texture of a Chilean Cabernet Sauvignon, it's easy to see why some many Bordeaux-loving tasters have been drawn in Chile's direction.
The warmer climate of the Maipo Valley, for example, encourages the increased body and sugar that lead to the big, bold red wines we've come to expect from Napa, Bordeaux, and many other hot climate wine regions.
And the best news: while the rest of the wine drinking world catches up, people in the know (i.e. you and me!) are able to get our hands on high quality reds from Chile that are comparable to some of the best wines in the world at a fraction of the price. And that's always worth celebrating.
---
And that brings us to the end of the 34 Wines 34 Weeks Tasting Challenge. Did you manage to keep up?
Remember: just because this series is over, doesn't mean you can't keep going (or even start over!).
Who says it has to be the 34 Wines in 34 Weeks Challenge? Maybe you want to make a full year of it and go for 52 Wines in 52 weeks. Nothing's stopping you! And we definitely have some amazing wines we had to choose between.
Want some examples? Here are some other regions and grapes to try out as you continue:
Portuguese Vinho Verde
Hungarian Tokaji
German Spätburgunder
And that's just a drop in the bucket. We want to see what else you're drinking: keep this challenge going, and make sure to use the hashtag #34Wines34Weeks when you do it!