When it comes to red wine, many people think of the lush, dark wine that comes out of warmer climates like California and Bordeaux. But what happens when red grapes are grown in higher altitudes and cooler climates?
To find out, you need to taste Austrian Zweigelt.
This week we're talking about Zweigelt: Austria's flagship red that sets itself apart with some explosive attributes.
What is the Tasting Challenge? The challenge is a way to improve your wine palate each week with 34 wines from 12 countries — The Wine Tasting Challenge.

If Grüner Veltliner had a fraternal twin, it would be Zweigelt.
While they might look different, both can express terroir and bring mouth-puckering acidity. But Zweigelt sets itself apart with distinct flavors of rich, red fruit.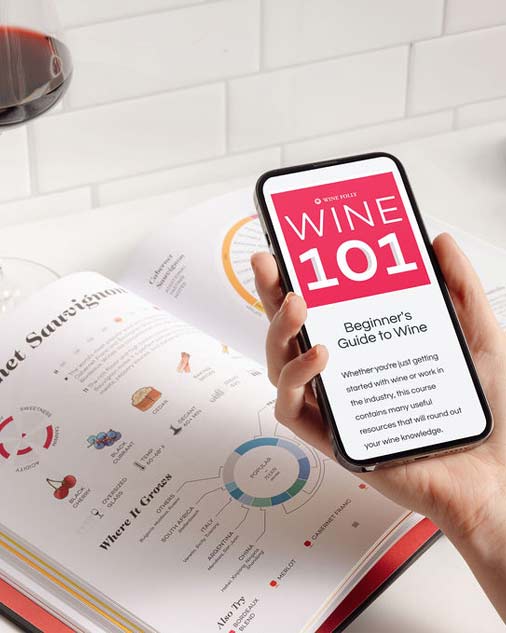 Buy the book, get a course.
Get the Wine 101 Course @ 75% OFF with the purchase of Wine Folly: Magnum Edition.
Shop Now
If there's one region in Austria best known for its red wine, it would be Burgenland: so that's where this week's bottle came from.
For an added tasting bonus, this wine is made with organic grapes, which can add some fun aromas and flavors that you wouldn't otherwise have the opportunity to taste.
---

2016 Heinrich Zweigelt
Look: Medium ruby.
Aromas: Raspberry, cherry, black pepper, dill, and some funky, cured meat (likely the result of brettanomyces).
On The Palate: Sour cherry candy and unripe raspberries on the attack: wow, that's tart! But it somehow smoothes out to a dark chocolate finish.
Food Pairing: Some grilled chicken or duck would be nice: the acid should cut through the fat! Also had a roasted tomato soup with grilled cheese in my head. And now I'm hungry.
---
What We Learned About Austrian Zweigelt
Consider these two facts: Zweigelt is Austria's most-planted red grape and the product of two distinctly Austrian grapes (Blaufränkisch and St. Laurent). Based on that, it's easy to make a case for Zweigelt being the most Austrian red grape of all time. But it goes way further than that.
That huge hit of acidity from Zweigelt is due, in large part, to the climate. By itself, the Burgenland region in Austra might be considerably warmer than the rest of the country, but cool air from the north and Lake Neusiedl keeps grapes growing at a rate that keeps their acidity strong.
This is part of what it means when a wine can "express the local terroir," and it's what keeps Zweigelt so unique.
And while Zweigelt might most commonly be known for being tart and fruity, it's also known to be very versatile, with some being barrel-aged into dense, luscious wines with more body.
---
Last Impressions
Pound for pound (or should I say "kilogram for kilogram"?), Austria is a wine country with real variety that is all too often overlooked by the general public of wine drinkers. On one hand, that's good for those of us who appreciate a bottle of something unique and cost-effective.
On the other hand, Austria absolutely deserves more attention from wine drinkers overall. And Zweigelt is a huge part of that.
Where did you get your Zweigelt from? In addition to Austria, you can find this tart, red wine in Germany, Hungary, and even Japan! Let us know what you thought in the comments.
Looking for more in-depth info on the wines of Austria? Check out this guide.