Sparkling Red Wine is thrilling and often misunderstood. Likened to cloying hard candy or frothy soda, in reality, some of the finest styles are bone-dry, swinging from ethereally light to robust and bold.
Dangerously easy to drink and best served chilled, Sparkling Red is a diverse aperitif and dinner time companion; it can even accompany a luscious dessert.
Discover 4 styles to blast away past myths.

Sparkling Red wines are made the same way as sparkling white wines (which are popular, right?) But they don't share the same world-wide adoration that many sparkling white wines enjoy. Their reputation took a beating, but don't listen to old hype – let's go through the big names and big flavors.
---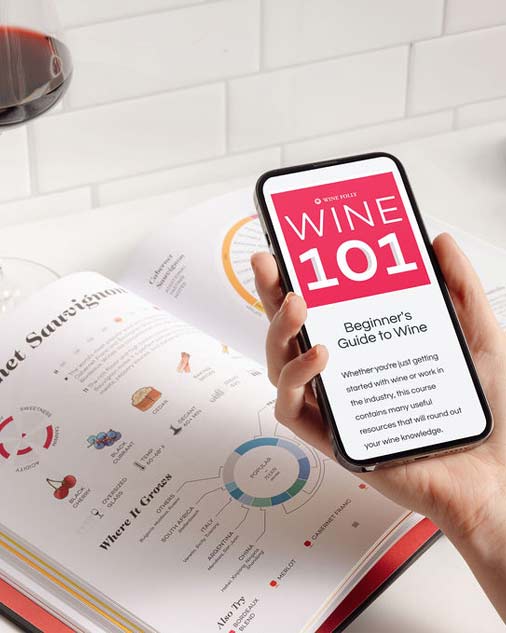 Buy the book, get a course.
Get the Wine 101 Course @ 75% OFF with the purchase of Wine Folly: Magnum Edition.
Shop Now
Lambrusco
Region: Emilia-Romagna, Italy
Pairs with: Drink lighter styles with figs wrapped in prosciutto or parmigiano cheese. Quaff a bold style with rich bolognese pasta. Sweeter wines love cherry pie.
Ahhh… Lambrusco. The culprit that made 'sparkling red' a dirty word. Cheap Lambrusco flooded the US in the 1970s as a sugar-fuelled party drink, but much of the finest Lambrusco is dry.
Lighter-bodied wines burst with wild strawberries, sour cherries and blooming violets, soft tannins, and fresh acidity. Bolder styles give intense blackberries and boysenberries, structured tannins, and bright acidity with a savory finish of bitter chocolate and herbs.
Both the collective term for a family of grapes (60+ varieties) and the wine itself, Lambrusco has five DOC regions. Selecting a bottle may be a challenge, but don't let that stop you.
As a general rule, Lambrusco Grasparossa di Castelvetro makes the boldest styles – dry, brawny, and intense. Lambrusco di Sorbara produces delicate, and light wine. Labels showing just 'Lambrusco' are typically simple and often sweet wines.
Ranging from dry (Secco) to off-dry (Semisecco), sweeter styles are called Dulce or Amabile. Lambrusco is lightly sparkling (Frizzante) and made to be drunk young.
Lambrusco is the eminent grape in Emilia-Romagna, one of the oldest varietals in Italy, and akin to the Godfather… demands respect.
---

Gamay
Region: Beaujolais, France
Pairs with: Despite complementing any menu, locals swear by it as a standalone drink – before the food appears. Rousing the appetite, it's a mouth-watering flag for what's to come.
Glossy red with lavender foam, violets and lilies punctuate crunchy cherries, cranberries, and brambles. Delicate body, gentle tannins and dazzling acidity, finishing with a hint of earth.
Move over Beaujolais Nouveau there's a new kid in town. Well, not new (Sparkling Gamay has been made for years), but it's a relatively unknown style. An emerging trend, it's made in the Traditional Method and is most often dry, unoaked and an unsung revelation.
The lion's share of Gamay comes from Beaujolais. Of that, just a small percentage is sparkling. In terms of classification, the label may read Gamay Vin Mousseux, Vin de France. That's because it's not an official category recognized by French Appellation Law, but that doesn't mean it's not being made. It's worth seeking out.
---

Baga
Region: Bairrada, Portugal
Pairs with: The Portuguese love it with fatty suckling pig, but a roasted pork chop with crackling would do just as good.
Ruby-black hue, heady mix of damsons, cherries, and blackberries with grippy tannins and sharp acidity. A refreshing gravelly finish with hints of bitter cocoa. Some call it the Nebbiolo of Portugal!
You've probably tasted Baga but been blissfully unaware. It's the main grape in the popular Mateus Rosé Original – a semi-sweet, fun wine. But that's merely one side of this grape. Sparkling Baga is dry, generously bodied, with serious acid and tannin.
An indigenous grape, Baga is big in Bairrada. Locals embrace the chalky clay, sandy soil, and maritime climate to produce outstanding wine, both still and sparkling. Limited bottles leave the shores of Portugal, so if you have the chance, grab one!
---

Shiraz
Region: Australia
Pairs with: Get the BBQ out. Lamb chops and grilled halloumi meet their match. Better still, grab your favorite curry. Hefty fruit cuts through heat, the spicy notes play well, and the relief of chilled fizz is the ultimate palate cleanser.
Stop the show – the star has arrived: Australia's Sparkling Shiraz is iconic as Bondi Beach. The powerful fruit, acidity, and tannin you expect from Shiraz, but with a cold blast of effervescence. The finest versions are bone-dry to dry. Perfect for red wine drinkers on a hot summer's day.
Explosive blueberries, blackberries, cherries, and layers of rich chocolate. Spicy plum sauce and fruitcake balance well-rounded tannins and brisk acidity. Lusciously full, black pepper and cigar box deliver an intense, lingering finish.
Oh, and save a glass for later, it's also best friends with chocolate and frozen berries.
Grown in South Australia, the best Shiraz comes from ancient vines that escaped the global devastation of Phylloxera in the late 1800s. Aussies combine the deft use of new and old-world methods to create this unique beauty.
---
Plenty of Choices
Before you race to anoint your taste buds, know there are many compelling varieties produced worldwide. Just ensure to check the alcohol/sugar levels to understand what you're getting. So shake off any misconceptions and give it a go! Sparkling Red Wine deserves a place in your glass.
Want to learn more about wine? Subscribe to Wine Folly for more great educational content.