The 7 Best Pinot Noir Regions in the World
A look at pinot noir and where in the world it grows best with a list of the 7 best pinot noir regions in the world.

A Fickle Grape That Likes Dank Weather
Pinot noir as a grape is much more delicate than cabernet sauvignon. It has a pale color in the glass and zesty acidity. With thin black skinned grapes in tightly wound bunches it struggles to gather precious sun in the valleys it grows best. Of all the wine growing regions of the world, pinot noir prefers areas with a long spring and fall. These interim months of spring and fall also bring troubles to pinot noir vineyards such as rotting or freezing but the extra effort is worth it when the resulting wine is so complex and interesting.

The Taste of Pinot Noir Regions
With flavors ranging from cranberries to black cherries, pinot noir has great variation. One of the major factors that affects the taste of wine is aging it in oak. Long aging in oak adds richness, tannin and vanilla aromas whereas less oak aging lets the bright cherry flavors of pinot noir show through. Region affects pinot noir perhaps more than any other grape. From France, pinot noir is rustic, earthy and acidic. From Sonoma it's lush with rich black cherry flavors and higher in alcohol than French pinot noir. Here is what you can expect from different regions that produce pinot noir: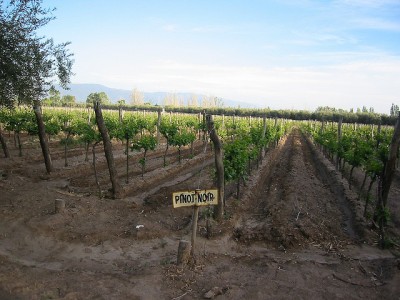 Argentina
This is a brand new growing region along the Rio Negro river in Argentina. These wines tend to be priced from $15-$25 and have a lot of spice and black cherry flavors to them. Argentina pinot noirs bring in the sun in a glass, when there's none outside!
(Argentina Pinot Noir photo credit Tjeerd)
California
A hot area for growing pinot noir, these wines get black cherry and raspberry flavors. The higher priced wines from Sonoma tend to experience longer time in french oak which adds a vanilla flavor. Because Sonoma is popular, expect to pay about $30. A Sonoma pinot noir is great in the evening of a cold spring day.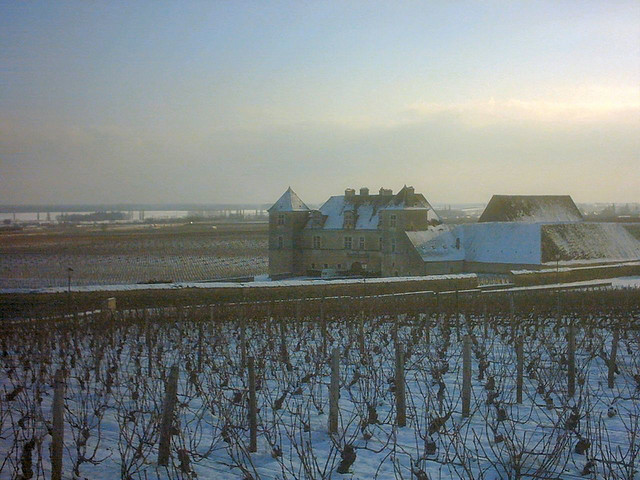 France
(Clos Vougeot photo credit Musigny)
Burgundy is known as the original cultivation area for pinot noir so these wines are in very high demand. Introductory value wines from this region have tart cherry and earthy flavors with a green stem note to them. They are one of the hardest wines to get into after drinking American wine, however once you do they are delightful. Look for a primier cru (1er cru) Burgundy which start around $34. A drizzly day wine to contemplate.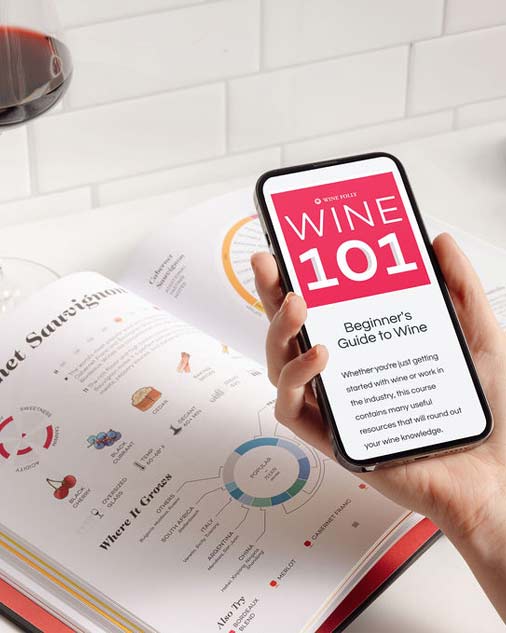 Buy the book, get a course.
Get the Wine 101 Course @ 75% OFF with the purchase of Wine Folly: Magnum Edition.
Shop Now
Germany
The great pinot noirs (aka Spatburgunder) from Germany hail from a region called the Ahr, which is warmer than other wine regions in Germany and able to ripen pinot with plum-like flavors, earth and fruit. German pinot noirs start around $13 and are perfect to drink right when the sun bursts through the clouds.
(Germany Vineyards photo credit Wolfgang Staudt)


Italy
Northern Italian pinot noir aka pinot nero have similar earthy notes as in France, but they get a bit riper. These wines are darker, rich and earthy. These Italian pinot noir are a good value around $20 but range to upwards of $70. Perfect for a sunny spring day.
New Zealand
The darkest pinots from New Zealand come from the Central Otago and have cherry, baking spice and cola-like finish. A decent pinot noir from New Zealand will be about $25. With more power in its punch, a NZ pinot noir will keep you warm in the late afternoon on a gray day.
(Italian Marche Region Vineyards photo credit Darkmavis)
Oregon
Fruity, light and tasting anywhere from cranberry and pomegranate to dark cherry. Although there is quite a range of intensity to Oregon pinot noir depending on how much you spend, the Oregon pinot noirs that start at around $20 are not too complex and are perfect on a brisk but sunny day.

Try a Bottle of Pinot Noir This March
Delight yourself and your close friends this month and try a couple of different pinot noirs from around the world. You'll be surprised at how unique they taste from different regions and how fun they are to drink. And remember to not despair! There are many excellent pinot noirs on the market for only about $20 a bottle. If you need recommendations, ask me.
This article was originally featured on The Menuism Blog called "Pinot Noir, King of Spring" by Madeline Puckette