Oregon has proven itself to be a top producer of Pinot Noir. Still, the region is pretty intimidating to explore. Truthfully, it's one of those regions that you'll really want to visit to really understand.
In the mean time, here are some useful tips on how to suss out the best Oregon Pinot Noir. (Current vintage notes below!)

On Finding The Best Oregon Pinot Noir
Where to Look?
Nearly 90% of the Pinot Noir made in Oregon comes from the Willamette Valley AVA. And, within the Willamette Valley, there are 6 (plus 1 pending ) smaller sub-regions that have become the epicenter of the Pinot winemaking scene in Oregon.
A Trick To Finding Top-Ranking Vineyards

The best vineyards are nearly always found on south or southeastern-facing slopes. Oregonians have the French to thank for this, after observing the success of Burgundy–the original homeland of Pinot Noir. The Burgundians realized through trial-and-error that their best vineyard plots were on slopes facing southeast. A brief look on Google maps in the Dundee Hills AVA shows us the same situation is true for Oregon's top vineyards. What's cool about this is that even though the wines from Dundee are already pretty expensive, there are many other wine regions in Oregon to explore and discover.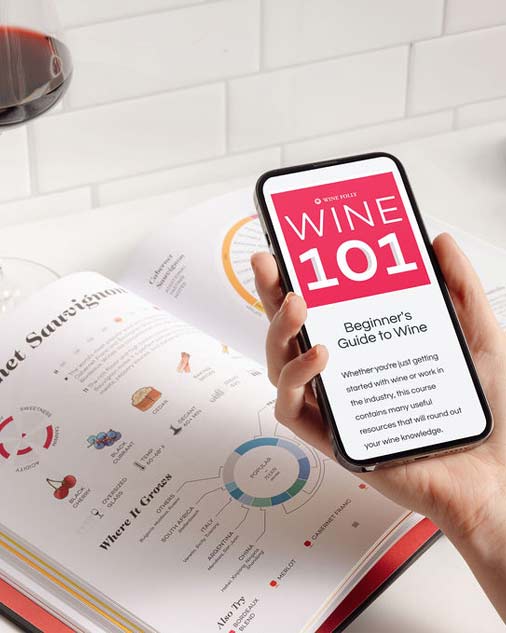 Buy the book, get a course.
Get the Wine 101 Course @ 75% OFF with the purchase of Wine Folly: Magnum Edition.
Shop Now

A zoomed-in terrain view looking on the Dundee Hills AVA with vineyards shown in dark green. You can see how some of Oregon's top vineyards including Maresh (sounds like "Marsh"), Domaine Serene, Domaine Drouhin, Sokol Blosser, Archery Summit, etc are all located on southern-facing slopes. See region on google maps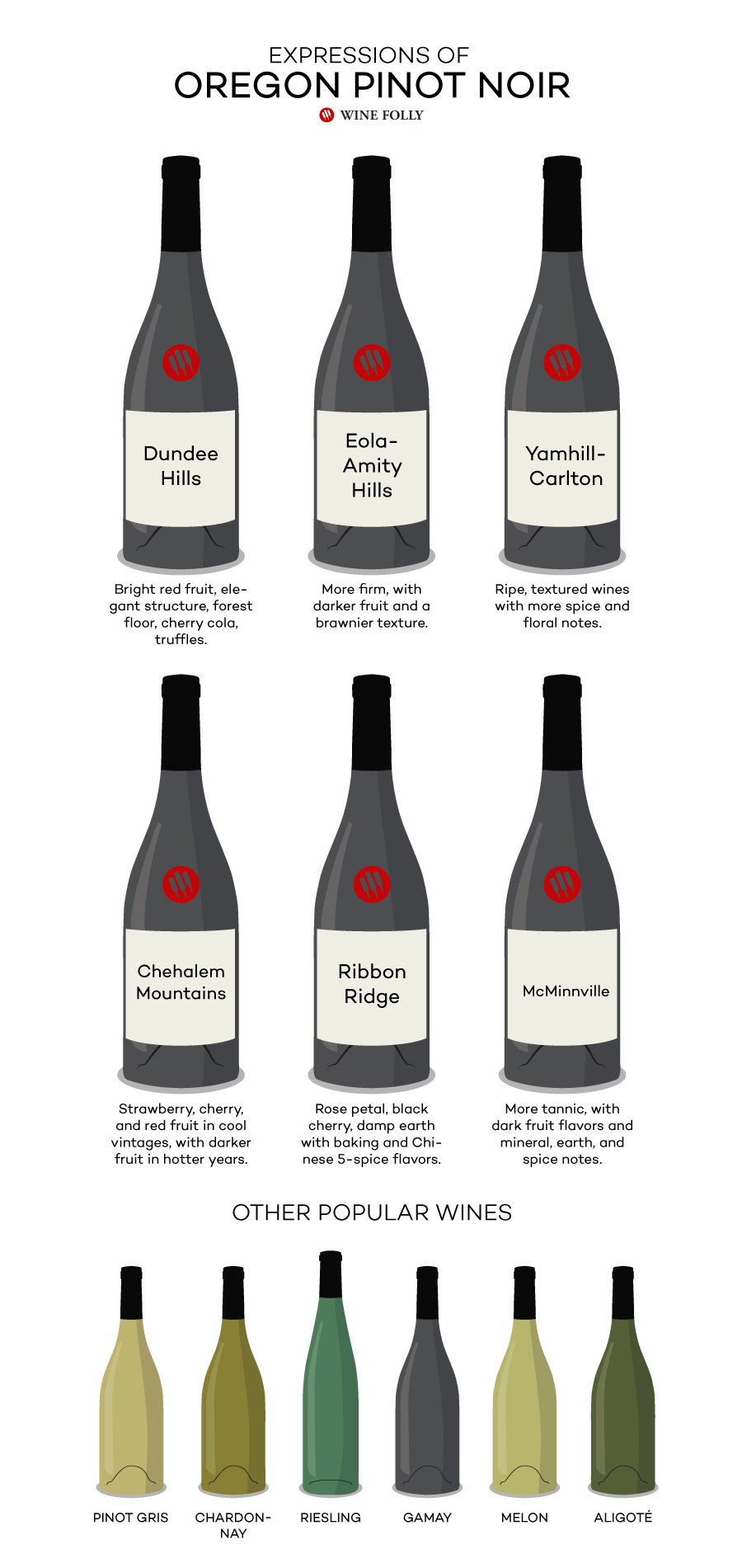 Vintage Notes for Oregon Wines
Another important thing to keep in mind about finding great Oregon Pinot Noir is paying attention to the vintage. Unlike some hotter climate areas, Oregon wine is very dependent on the weather. The difference in taste can be great between vintages and, while some love this about both Oregon and Burgundy wines, it can be surprising if you're not aware of what to expect. Cooler vintages produce more tart, elegant, lean wines that will age well, whereas hotter vintages make richer, fruitier and more opulent wines.
2022 Spring frosts meant a late start to the growing season but warm temperatures brought pick times to average. What it meant was larger berries because there was a lower overall fruit set – you might see lighter-colored Pinot Noir wines as a result, but still with great flavor and ripeness.
2021 A warm vintage with both ripeness as well as acidity balance. A return to normal.
2020 A nearly perfect vintage except for the serious wildfires that smoked up the valley into harvest. It mostly affected white wines.
2019 Bad wildfire year in Southern Oregon. The Willamette Valley faired well with a hot vintage resulting in riper, softer styles of Pinot Noir.
2018 Ripe, quality vintage all around but hotter than normal. These wines taste great on launch, but look for wines with more whole cluster usage if you're looking to age your bottles.
2017 A wetter start and extreme heat/cool shifts in 2017 resulted in a highly variable vintage with what growers describe as sugar accumulation disorder (SAD – grapes shrivel, lose color, and stay sour). Additionally, smoke taint from forest fires was a concern. Fortunately, good growers took special care this vintage. Seek quality.
2016 The earliest harvest on record means fruit set started early but expect harsher, greener seed tannins and higher overall acidity. Good producers will excel in this vintage and offer age-worthy wines and value options are likely to be variable.
2015 Dry, warm weather all year will yield rich, full-bodied Oregon Pinot with lots of color. Expected to be similar in style to 2014 but low rains and record-breaking hot temperatures may lead to fatter wines.
2014 A picture-perfect warm-climate vintage, producing rich, full-bodied Pinot Noir with larger-than-ever production.
2013 A very hot year, similar in style to 2006 and 2009 but late rains caused many wines to lose concentration (depending on the producer).
2012 A warm harvest year, producing rich, full-bodied Pinot Noir but with a smaller production overall.
2011 A very cool year producing lean, elegant wines for aging.
2010 A cooler vintage with reduced yields, lighter colored wines that may have been tart on release but will improve with aging.
2009 A hot, dry year producing rich but sometimes fat wines with lower acidity (and thus less age-ability).
2008 A warm year producing bold, fruit-forward Oregon Pinot Noir wines often noted for subtle cinnamon-spice characteristics.
2007 A dry, hot summer followed by rains during harvest produced wines with lower acidity but also without the concentration needed to impress.
2006 A hot, dry year producing rich but sometimes fat wines with lower acidity (and thus less age-ability).
2005 A warm vintage producing fruit-forward wines that impressed drinkers for 5 or so years.
---
Take this information with you and start looking up where your favorite Oregon Pinot Noir wines come from and then zoom-out to the bigger picture of the region to look for similar areas–you might be surprised at the delights you'll find.