Improve your ability to pick out aromas in a glass of wine with the use of an aroma kit. There are many wine aroma kits available but most cost well above $100; we put this kit together for around $30. The aroma kit uses several common household spices, so you might already have some of the ingredients.
Make Your Own Wine Aroma Kit

The ingredient selection of this kit is designed specifically for red wines.
What You'll Need
We used dry spices for this kit because they last longer.
Spices
Anise
Oregano
Black Peppercorn (Tellicherry, if you can)
Vanilla
Nutmeg
Dill
White Pepper (optional)
Black Cardamom (optional)
Other
Dried Mushrooms
Dirt
Dried Tobacco (optional)
Cedar Chips (optional)
What to do
Put spices and other materials in jars.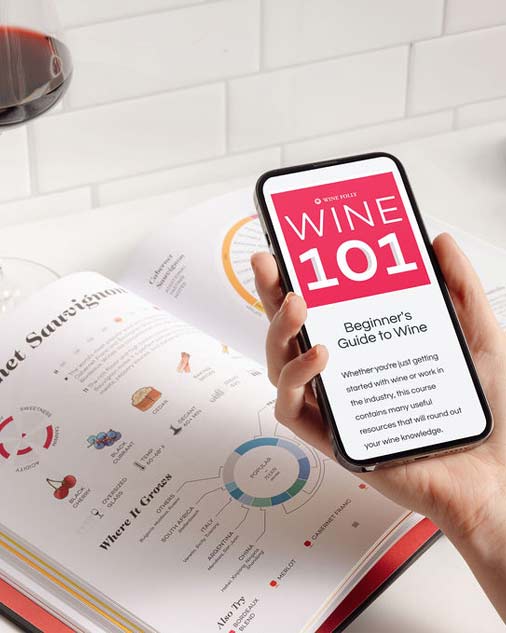 Buy the book, get a course.
Get the Wine 101 Course @ 75% OFF with the purchase of Wine Folly: Magnum Edition.
Shop Now

We found jars at World Market for $1 each and a little bamboo spice jar holder for $8.
How to use a wine aroma kit
There are two methods for using your kit:
Blend with Wine: Blend single aroma kit ingredients into a small portion of wine (in a glass) to understand how aromas interact with the volatile compounds of wine (a.k.a. alcohol)
Smell Aromas: Smell an aroma in its jar and then smell a wine. This overloads your senses with the selected aroma and opens up your ability to smell the wine in a different context. By smelling the aroma from the kit first, you effectively remove that aroma from your sense of smell for a short period of time and suddenly you'll smell different things in the wine that weren't as obvious before.
Spices need something to volatilize aromas into the air. By crushing, cutting or rubbing spices you can smell them more easily. The best trick is to add the spice into about an ounce of wine in a wine glass. The spice will 'flavor' the smell of the wine. This technique works particularly well on spices like anise and green peppercorn. If you don't want to ruin your wine with spices, just smell them inside the jars.

TIP: Professional tasters usually use a system of taking 2 short sniffs followed by a longer slower sniff. The short sniffs help to 'prime your nose' and the longer sniff helps you 'observe' the aroma.
Spice Aromas in Red Wine
Anise

Associated with several medium bodied wines such as Barbera and Zinfandel

Oregano

A classic 'cool climate' aroma familiar to wines from Tuscany and Bordeaux, among others

Black Pepper

A particularly strong characteristic found in Cabernet Sauvignon and Mourvedre although noted in several other bolder red wine varieties.

Black Cardamom

An aroma that is strangely similar to Brettanomyces or 'Brett' which is an earthy-smelling yeast that affects many Old World regions such as Côtes du Rhône and even some wineries in Napa

Dried Mushroom

A very earthy smell often associated with the Pinot Noirs of Burgundy. Sometimes called "Baby Diaper"

Dirt

The 'earth' element often called out on many Italian and Spanish red wines.

Vanilla

Oak characteristic. Found with wines that have been aged in French and Hungarian oak.

Nutmeg

Oak characteristic.

Dill

Oak characteristic. When you smell Dried Dill it sometimes comes across as coconut. Commonly found in wines aged with American Oak.

Allspice

Oak characteristic but if you really sniff this it has a similar note to "Volatile Acidity" which is a fault in wine.