Improve your wine smarts in one month with the following 4 useful tips.
Want to know more about wine? Getting into wine is challenging because there's no rule book or set of steps to become a wine expert. For some people (maybe you?) this is part of the fun, although mostly it makes wine feel like a foreboding cliff of knowledge. Also, everyone has a different method of learning! So instead of giving you a set of rules to follow, I want to show you how to think like a wine expert. This way, the information will stick!
First things first, start exploring wine by comparison and perspective.
COMPARISON When you taste a wine in an isolated circumstance, it's hard to understand how it relates to other wines. When you drink a wine and are able to compare it to other wines, you will develop a more keen palate.
PERSPECTIVE Wine is more than just fermented grape juice, it's history, culture, location, and personality all wrapped up in a bottle. The next time you drink wine, take a moment to find out where it was made on a map.
---
4 Tips to Improve Your Wine Smarts in 1 Month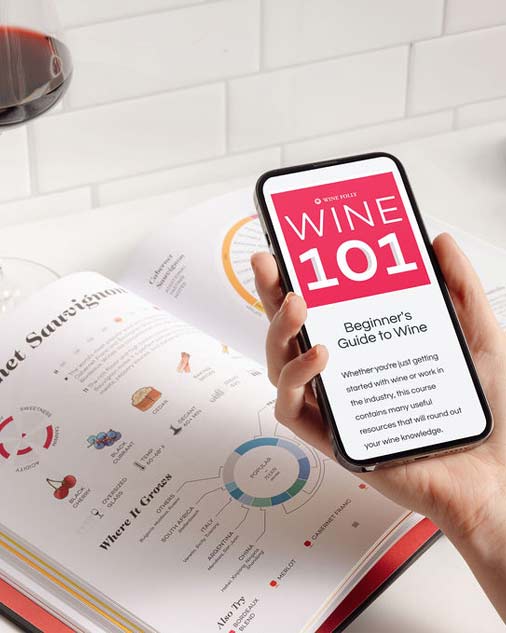 Buy the book, get a course.
Get the Wine 101 Course @ 75% OFF with the purchase of Wine Folly: Magnum Edition.
Shop Now
1. Try the same wine from 2 different countries


Vallée du Lot, Cahors, France by Lapastore Didier . Bodegas Salentein, Mendoza, Argentina by Tony Bailey

Grab a bottle of Argentine Malbec and a bottle of Cahors (the French appellation of Malbec from the Sud Ouest) and taste them side by side. Comparing identical wines from different regions will tell you loads about how the region affects the taste of wine. If you decide you don't like one of the wines, don't worry, it will probably make excellent Sangria.
---
2. Try a wine that's similar (but different) than your favorite


Are you a Pinot Noir addict? Or perhaps auto-ask for Sauvignon Blanc without even looking at the wine menu? If you want to improve your wine smarts, it's important to diversify your palate. Fortunately, you don't have to change your preferences to try something new that you'll love. Start by finding alternatives to wines that you already love. Pick out 4 wines; one-per-week.


Need some additional support with suggestions for alternatives to popular wines? Check out the different types of wine infographic for ideas!
Different Types of Wine Infographic


---
3. Read about a small wine region and then taste a wine from there
Start with a small region. Learn where the region is, a little bit of its history and then buy the wine they specialize in producing. There's nothing more satisfying than being able to taste the spoils of your wine smarts!
Here are some examples of great valued regions worth investigating.
Alsace, France (known for white wines)
Ribera del Duero, Spain (known for savory red wine)
Paso Robles, California (known for fruity bold red wines)
Pelopennese, Greece (reds and whites)
---
4. Host a small wine tasting party at your place


A wine tasting dinner party somewhere in First Hill, Seattle.

Wine is for sharing, it's sized perfectly to enjoy with 3-4 people. With that in mind, host a small wine tasting party at your place and challenge your friends to bring a wine based on the themes above. If you plan on hosting a larger party, we recommend you check out this guide on hosting your own wine tastings.


Don't forget to grab and print out wine tasting placemats.
Free Wine Tasting Placemats