Blending is Best
Some of the most famous wines in the world are blends. For example, pretty much all wines from Bordeaux are blends of Merlot and Cabernet Sauvignon. Even the white wines from there are blends. But why do winemakers blend?
Wine Quiz
Which grape variety in Bordeaux contributes body and smooth tannins, creating a rich, luscious mouthfeel, with flavors typically including red fruits like cherry and plum, along with notes of chocolate?
Scroll down to find out!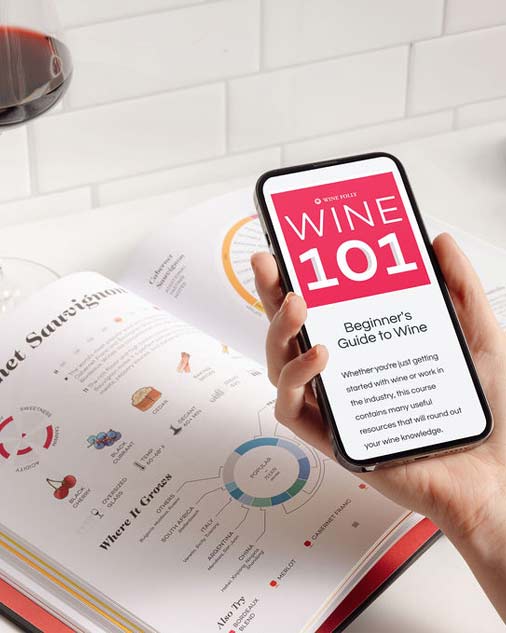 Buy the book, get a course.
Get the Wine 101 Course @ 75% OFF with the purchase of Wine Folly: Magnum Edition.
Shop Now

Smooth Operator
Did you know that Merlot is the most planted grape variety in Bordeaux? Merlot gives generous fruit flavors and polished, refined tannins to Bordeaux blends. Some of the finest Merlot in the world can be found on the Right Bank of Bordeaux.

Bordeaux Made Easy
Ever wondered what makes Bordeaux wines so unique, so sought after, so…irresistible? Or ever felt confused by a Bordeaux Wine Label? Check our Bordeaux 101 to learn more!

Perfect Pomerol
Some of the best, if not the best, Merlot in the world comes from Pomerol. Lush and plush with silky tannins, floral nuances, and a mix of meatiness and chocolate notes with age.
Wine Quiz Answer
Answer – #2 Merlot
Merlot plays a crucial role in the Bordeaux blend, often counterbalancing the more robust and tannic Cabernet Sauvignon.
Cabernet Franc adds floral notes, red fruit, elegance, and acidity. Cabernet Sauvignon adds tannin, structure, and cassis notes. Petit Verdot adds lots of tannin, acid, color, and a spicy note; it's only used in small amounts.