In 2011, Madeline Puckette was a 20-something sommelier serving wine across the bar when the idea popped into her head: "I should start a blog to help people learn about wine!"
Ten years, over a thousand articles and two award-winning books later, Wine Folly continues to be a platform dedicated to helping people discover wine.
Then in 2019, Wine Folly merged with Global Wine Database to create Folly Enterprises. While the company name has changed, the mission remains the same: make the complicated world of wine easy to access.
Wine Regions open back up in 2021
In 2021, the team created freely accessible wine region guides to help wineries and wine regions hit by the pandemic.
Now that wine travel is resuming, Wine Folly celebrates 10 years with the top 10 wine destinations to visit in 2022.

Top 10 Wine Destinations for 2022
1. Alto Adige, Italy
The world's most beautiful wine region that you've never heard of? Welcome to Alto Adige, Italy's best-kept secret.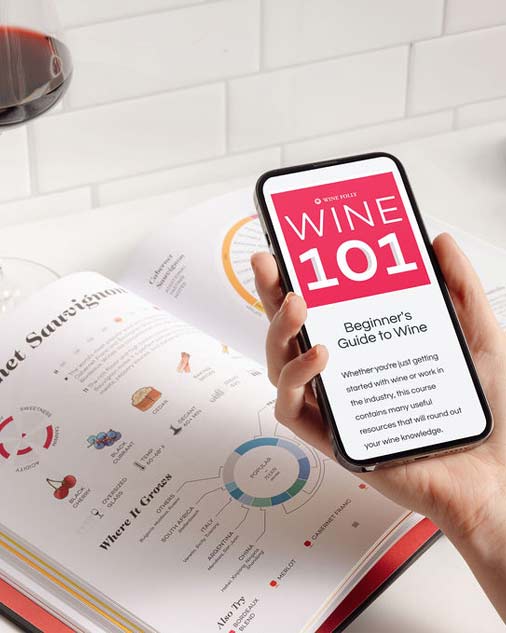 Buy the book, get a course.
Get the Wine 101 Course @ 75% OFF with the purchase of Wine Folly: Magnum Edition.
Shop Now
Where is it? Nestled deep into the Italian Alps on the border with Austria and Switzerland. The capital city, Bolzano, is the best place to jump-start your Dolomite wine adventure.
Why you should go: This is where North meets South – Germanic, French, and Italian grape varieties, Austro-Hungarian architecture, Alpine mountain culture all lit up with Italian Sprezzatura; Alto Adige is one of a kind. And so are the wines! You'll discover unique local grape varieties found nowhere else (such as Schiava and Lagrein), with a backdrop of snow-capped peaks and sun-drenched piazzas.
Want to see more? Check out Wine Folly's freely available Alto Adige wine guide.
---

2. Western Cape, South Africa
Where else can you find Penguins, Baboons, Lions, and grapevines all within a stone's throw from each other? The Cape Winelands, including Stellenbosch Cabernet Sauvignon, Constantia Sauvignon Blanc, and Walker Bay Pinot Noir, are all within an hour or two of the Cape Town waterfront.
Where is it? Situated at the southern tip of Africa, where the Atlantic and Indian Oceans meet, the Cape winelands are a must visit. Cape Town is a great base to visit the major vineyard areas.
Why you should go: It's one of the most diverse and beautiful parts of the world with some of the most scenic and awe-inspiring views. Everything from one of the world's most famous sweet wines to fresh and exciting Chenin Blanc and big, bold, tannic Cabernet Sauvignon. A place where old meets new.
---

3. Walla Walla Valley, USA
Washington state tries to keep a low profile, but as the 2nd largest wine producer in the United States, it's hard not to notice what's going on here. Walla Walla Valley is a treasure trove for lovers of bold red wines to uncover Cabernet Sauvignon, Syrah, and Merlot (among others).
Where is it? Sitting on the very eastern edge of Washington, Walla Walla Valley straddles the border into Oregon and makes wines in both states.
Why you should go: What's happening in Walla Walla Valley right now is an explosion of wine country growth and potential. The producers who are selling today will be the future collected wines in the Northwest. Now's the time to get in on the ground floor, meet the producers, and make new friends.
Excited to explore? Walla Walla Valley's region guide includes 120 wineries.
---

4. Napa Valley, USA
America's best known wine region for good reason – California's answer to Bordeaux; bigger, bolder, and just as exciting.
Where is it? A quick northbound jaunt out of San Francisco, lands you in Napa Valley, just off of the San Pablo Bay.
Why you should go: If you want to have a really plush wine excursion and taste stand-out Cabernet Sauvignon, Chardonnay, and Merlot, then you have to visit Napa Valley. Napa Valley kind of invented wine tourism – this, combined with excellent food, great amenities, and laid-back California style, means you can't go wrong.
Headed to Northern California's wine mecca? The Napa Valley wine guide has a useful travel guide made by wine experts.
---

5. Mendoza, Argentina
Having the second highest mountain chain as your tasting room backdrop should be enough to visit Mendoza, but if you're looking for something else, let juicy Malbec lead the way to Mendoza.
Where is it? 600 miles (1000 km) west of Buenos Aires, in the foothills of the Andes, Mendoza is Argentina's wine producing powerhouse.
Why you should go: What happens when you can combine altitude and experimentation? Some of the world's most interesting and unique wines. Yes, Malbec is king here, but you'll find some amazing Chardonnay, Syrah, and Cabernet Franc, just to name a few. Wine is the culture here, so go immerse yourself in it!
Looking for an endless summer? Mendoza in March and April is peak harvest! See the Argentina region guide to learn more.
---

6. Bordeaux, France
Perhaps the world's best known wine region producing some of the world's finest wines. Bordeaux is a must visit for any wine lover, a pilgrimage of sorts, to see first hand what makes it the most emulated wine in the world.
Where is it? Located next to the Atlantic Ocean, 500km (300 miles) south-west of Paris, France, Bordeaux is an enormous wine-growing region to explore.
Why you should go: The world's best Cabernet Sauvignon and Merlot blends, that have influenced winemakers the world over. Not only that, there's amazing rare sweet and white wines too. Throw in amazing gastronomy, history, and UNESCO world heritage sites, and there's not much more to wish for.
Ready for your Bordeaux pilgrimage? Learn the appellations and wineries to see in the freely accessible Bordeaux wine guide.
---

7. Southern Chile
The Bío-Bío, Itata, and Malleco Valleys are en route to Patagonia – expect to find some of the most beautiful and down to earth vineyards in Chile, with grapes you're not expecting.
Where is it? Located more than 400km south of Santiago, east of the town of Concepción, on your way to Patagonia.
Why you should go: Looking for something different? Southern Chile has it – this is where viticulture started in Chile, and this is where some of the most interesting and atypical wines are coming from too. Awesome Pais, Carignan, and Moscatel just to name a few, and lots of natural and skin contact wines too. On top of that it's a beautiful and very welcoming place.
---

8. Mosel, Germany
If you have vertigo then beware the Mosel Valley in Germany. With the world's steepest vineyards sitting at 65 degrees, you might want to pack your grappling hook and crampons.
Where is it? This winding river starts in France, and creates part of the border with Germany and Luxembourg, but for wine lovers, the best bit is found between Trier and Koblenz in Germany.
Why you should go: Germany's oldest wine region has a lot of experience producing the world's finest Riesling. Hang on tight as you look over the world's steepest vineyards, towering above picturesque villages. A must visit for Riesling petrol heads.
---

9. New Zealand
Much more than just Sauvignon Blanc. Pretty much the whole country is amazing to visit, but for wine hit up Auckland and Waiheke island, Hawke's Bay, and Martinborough, and South Island visit Marlborough and Queenstown for some of the best that NZ has to offer.
Where is it? Sometimes forgotten on world maps, New Zealand is one of the most isolated countries out there. Find Sydney Australia, and take a plane 3 hours South-East and you'll hit Auckland. What you'll find when you land is well worth the long journey.
Why you should go: It's like visiting the whole World, but within one country. Picturesque mountains, sandy beaches, fjords, lonely islands, active volcanoes – it's not just the diversity of landscape but of wines too. Sure, Sauvignon Blanc, but also some of the world's finest Pinot Noir, Chardonnay and Syrah.
---

10. Margaret River, Australia
Yes, it's far away from everything, but you'll be rewarded here because you can't find a bad wine from Margaret River, and being surrounded by wild, natural beauty and the Indian Ocean isn't bad either.
Where is it? Even Australians feel like Margaret River is far away. The closest city, Perth, is a 3 hour drive to the north and is considered the world's most isolated city.
Why you should go: Hard to reach, but you might like the isolation. The beautiful Indian Ocean meets boutique wineries producing world-renowned Cabernet Sauvignon, Chardonnay, and Sauvignon Blanc-Sémillon blends.
---

10 Wine Cities
Some cities have created a special wine culture like no other. These places will show you something new about the wine world when you visit there.
Beaune – The most beautiful city in Burgundy – let the Chardonnay and Pinot Noir flow as you eat and drink well in this majestic town.
Porto – Walk through the many warehouses for wine tours, or just along the Quai in Vila Nova de Gaia and taste all sorts of Port but also dry, non-fortified wines from the Douro too.
Jerez de la Frontera – An amazing city for food, culture and wine accessibility. Great for visiting Bodegas, tasting amazing wines, and experiencing Anadalusian culture.
Florence – the main city of Tuscany, you can experience everything this beautiful region has to offer from this masterpiece of a city.
Barcelona – With a number of iconic wine regions just around the corner, Barcelona is a great place to immerse yourself in Catalan and Spanish wine culture.
London – Not known for wine production, but amazing for sheer choice of style of wines no matter where they are from. You can immerse yourself in the world of wine in this world city.
Melbourne – Known for its coffee culture, Melbourne also has an amazing wine vibe, with some amazing vineyards just down the road.
Santiago (Chile) – Mountains and vineyards surround the city, but you won't have to venture far to experience them all in this wine focused metropolis.
Haro – If you like Rioja, then Haro is your homebase to explore this iconic region.
Catania – Active volcano, Etna, looms over the city, but it's also the source of some amazing Sicilian wines. A great place to start your Sicilian wine journey.