Name the 2 top wine varieties you can think of right now, off the tip of your brain. What are they?
If you guessed Cabernet Sauvignon and Merlot you are dead on. They are the top two most planted grapes in the world. Why? Perhaps it's because of their inherent quality. In truth, quality is only half of the answer; there's more to this story than meets the eye.

In an alternate reality, Touriga Nacional is the king of wine.

Let's explore the top wine grapes of the world and why they are at the top. You may be surprised at how much influence France has had in shaping the wine world. Imagine instead if Portugal (which was an equal wine nation to France during the Age of Conquest) spread its grapes to the New World. What would the most popular wines be then?
The World's Most Planted Grapes

Why is Cabernet Sauvignon on Top?
People talk a lot about quality and age-worthiness when it comes to wine. No doubt Cabernet Sauvignon has amazing attributes, but there are many wines that have complex flavors and age equally as long. So why is Cabernet Sauvignon the most popular?
One word: Marketing It's weird to think that agricultural products fall into the same traps as manufactured products, but they do. For example, think about apples: Pink Lady, Gala, and Granny Smith are common preferences, but there are hundreds of thousands of different types of apples that you probably haven't had the opportunity to try. Limited options reduce the opportunity for diversity.
A lil' history on why
Bordeaux was perhaps the very best region to market their grapes. Cabernet Sauvignon, Merlot and Sauvignon Blanc originate from this region. The fact that you may already be exclusively familiar with these wines just shows you how integrated they've become. Another example is Burgundy: the original home of Chardonnay and Pinot Noir. Now imagine for a minute, that instead of France's wines taking over the world, that Portugal did instead. What would be the top wines of the world in this mirror universe?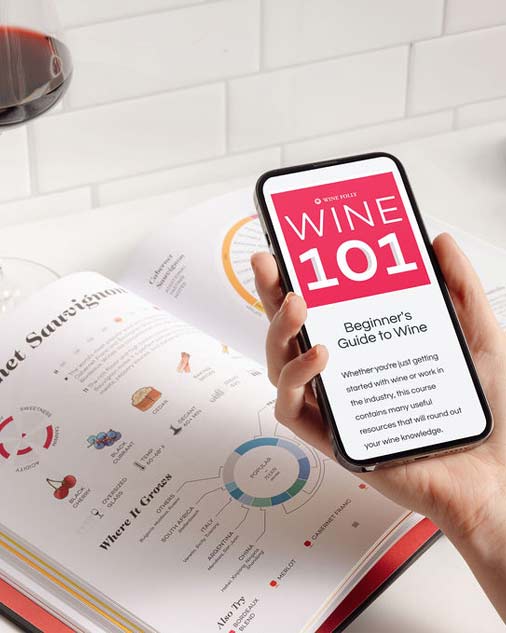 Buy the book, get a course.
Get the Wine 101 Course ($50 value) FREE with the purchase of Wine Folly: Magnum Edition.
Shop Now
---
Alternate Reality
If Portuguese wines ruled the world, what would we be drinking?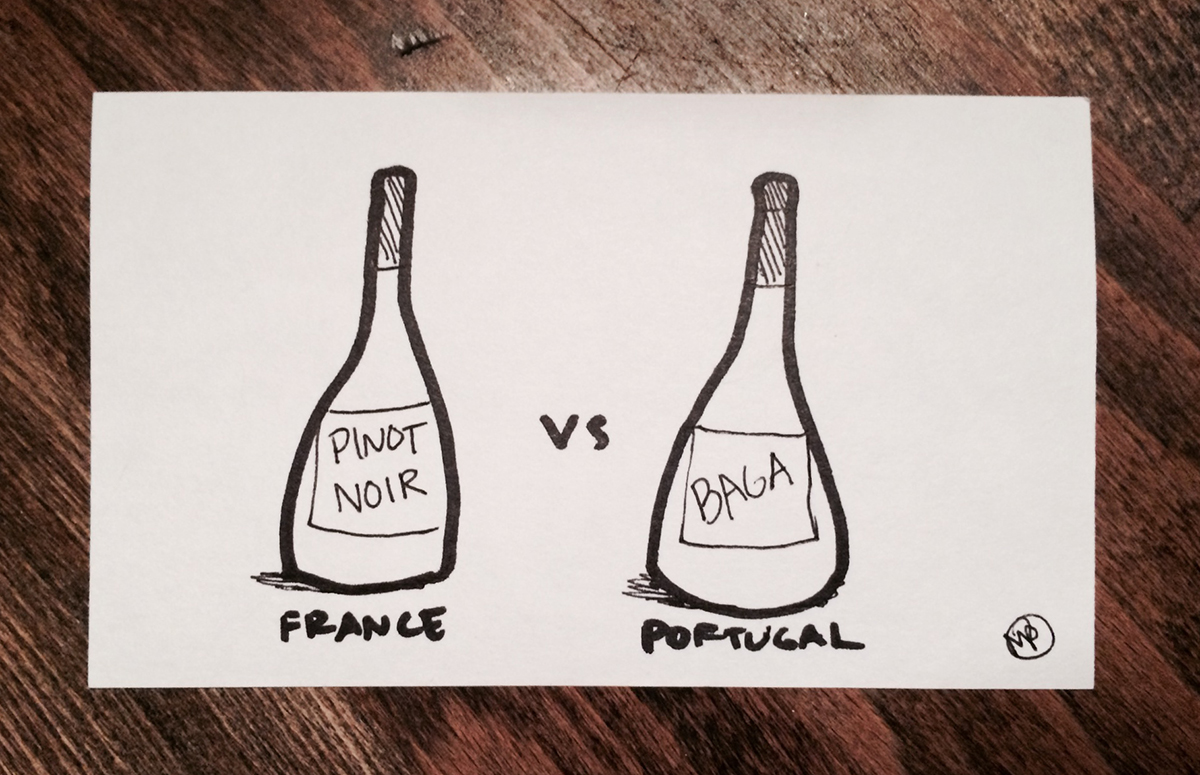 Why Portugal?
Portugal has over 250 different types of indigenous grapes in an area less than half the size of Washington State. The reason to choose Portugal is because it's one of several countries (including Greece and Italy) that make a lot of wine but most of us haven't even heard of their top ten wines! So for fun, I will paint you a picture of the commonly available wines today and what their Portuguese equivalents are in terms of flavor and style.
Imagine an alternate universe where Portuguese grapes rule the world.
Cabernet Sauvignon vs. Touriga Nacional

Traditionally used for Port wine making, Touriga Nacional is deep, dark and lusty with notes of violets, currants and plum. It ages well and grows in one of the most breathtaking wine regions of the world: The Douro

Merlot vs. Touriga Franca

Touriga Franca is a grape variety with a little more acidity and fruitiness, similar to how Merlot is to Cabernet Sauvignon.

Chardonnay vs. Encruzado

Both Encruzado and Antão Vaz would take the role of the baked apple and lemon flavors in a rich Chardonnay. Just like with Chardonnay, the amount of oak aging used on these varieties will change the flavor from zesty to buttery.

Syrah vs. Jaen

Jaen (more commonly known as Mencia in Spain) is a grape with a lot of up front flavor, similar to Syrah. It can be made both bold and sweet, like Shiraz in Australia; or savory and earthy like the Syrah from the Northern Rhône.

Pinot Noir vs. Baga

For the longest time, Baga was a throwaway grape because it was poorly farmed. Surprisingly, it can produce both delicately light and smooth red wines as well as wonderful sparkling wines. If more Portuguese wineries invested in making quality Baga, it would be as good as Pinot Noir.

Pinot Gris vs. Alvarinho

Alvarinho (a.k.a. Albariño) is a refreshingly acidic white wine that puts out fruit characteristics of lemon, peach and flowers in the same way that Pinot Gris does.
What are the wines I don't know on the top 10 list?
There are two wines mentioned in the infographic that are not commonly known:
Airen & Trebbiano
Both of these wines are medium bodied white wines that were planted heavily in Spain (Airen) and Italy (Trebbiano) during the early 1900's. This was due to their drought resistance and ability to produce quantity grapes for brandy production. Today, hundreds of thousands of acres are replaced every 10 years to plant with more popular varieties.