It's not often that the fine wine business comes together on anything. In fact, their differences are what define them.
So, it was delightful to see the world's top wineries contribute together to the Golden Vines Charity Auction (you can see the impressive lots here) – all in the name of increasing diversity in the wine business.

Diversity Scholarship Winners Announced
The first ever Golden Vines Diversity Scholarship announced two winners this evening at London's cushy Annabel's Private Members Club.
The two winners for 2021 are Angela Scott from the United States and Dr. Erna Blancquaert from South Africa.

A scholarship to encourage talent with diverse heritage
The Taylor's Port Golden Vines Diversity Scholarship was created by Liquid Icons and the Gerard Basset Wine Education Charitable Foundation in the hope of increasing the diversity of black and ethnic minority students and professionals in the wine industry.
The internship and mentorship award includes £55,000 (~ $75,000) each for two recipients who are currently pursuing Master of Wine or Master Sommelier programs. Winners receive course scholarships followed by a 12-month internship at a winery.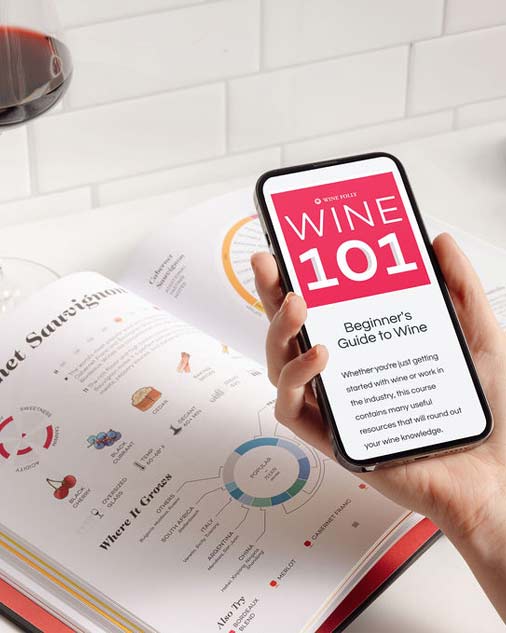 Buy the book, get a course.
Get the Wine 101 Course @ 75% OFF with the purchase of Wine Folly: Magnum Edition.
Shop Now
Basically, it's the funding you would need to fully immerse yourself into the world of wine!
---
We had the opportunity to ask the winners of the scholarship to communicate their thoughts. Here's what they said:

Angela Scott wants to encourage openness towards educational backgrounds
Angela Scott is a human rights lawyer who found a passion for wine and picked up from her Philadelphia home to get more acquainted with the vine in Napa, California. Studying to be a Master of Wine, she went into an even deeper dive – moving to Hawke's Bay, New Zealand.
"I'm going to take advantage of the scholarship right away and hopefully visit Champagne. I'm really excited about the re-entering the world, seeing it as a whole. Studying wine is such a privilege and I'm so excited to go back and look at books and see people in person."
For Scott, diversity in the wine industry is going to require open minds if it hopes to enrich the wine world with new ideas.
"There are plenty of candidates from diverse backgrounds out there with the qualifications for jobs in the wine industry," said Scott. "It's up to the gatekeepers – those who are making the hiring decisions – to look at a broader set of prospects. I entered the wine industry after a career as a lawyer. It hasn't been easy to convince employers that I had valuable cross over skills."
---

Dr. Erna Blancquaert hopes to inspire students in South Africa
Dr. Erna Blancquaert is a lecturer and researcher in Viticulture at the Department of Viticulture and Oenology at Stellenbosch University in South Africa. Blancquaert was the first female BIPOC (Black, Indigenous, People of Color) to obtain a PhD in Viticulture on the African continent.
Blancquaert sees the scholarship as her opportunity to immerse herself in some of the premiere wines made in the world, an experience that she deems immensely valuable when brought back to her students.
"The young students see wine as a sexy industry, and want to be a part of it," said Blancquart, "but many of them have never even tasted wine before."
Blancquaert hopes to break open the isolation South Africa tends to feel from the rest of the wine world, and at the same time bring diverse, practical experience to her students.
Well known wine educator and author, Jancis Robinson MW, is part of the judges panel for the scholarship offered her thoughts:
"As for Erna Blancquaert, she could provide inspiration for more than 50 million South Africans as the first wine academic of color there. Her achievements are dazzling already, and that in a part of the world where it can be extremely difficult to get to grips with the rest of the wine world. She is a natural leader and a stickler for truth. I wish her every success."
---
Sound exciting? Get ready for next year!
The Golden Vines Diversity Scholarship is awarded yearly and applications for the 2022 year open in March.