Argentina is brimming with delicious wines, rich history, and insight on a beautiful land. So what's the perfect strategy to take in Argentina and expand your palate? Learn By Drinking: Argentina of course!

Let your tastebuds teach you
Our sense of taste is one of the most evocative and powerful tools for gaining a sense of place and for retaining knowledge.
With high altitudes and unique weather, Argentina has a wine variety that is rarely matched around the world.
Using the course and the Argentina region guide together creates a tasting experience that puts your taste buds on the map. It's a great way to tie things like weather, soil, and sun to the wines of a region – with an expert at your side.
---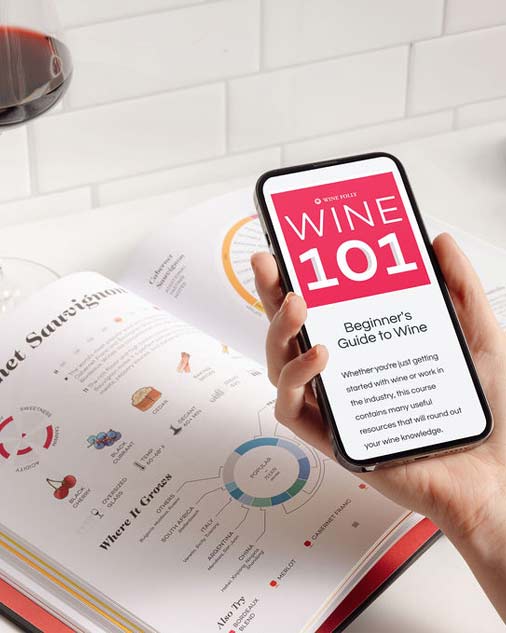 Buy the book, get a course.
Get the Wine 101 Course @ 75% OFF with the purchase of Wine Folly: Magnum Edition.
Shop Now
Course details
The course explores six important wine varieties that grow across Argentina's diverse landscape from Patagonia to Salta. These wines include Argentina's top styles, such as Malbec, Cabernet Sauvignon, and Torrontés.
This course aims to help you:
Know how to identify quality and age-worthiness in Argentina wines.
Know where to look in Argentina to find great wines.
Associate wine flavors with the grape, winemaking method, and terroir.
Expand your palate and taste wine like a pro, with a pro.
The wines of Argentina
Wines are not included with the purchase price of this course. However, tasting is encouraged! Here are the six regional wines we'll be tasting in the course:
Malbec from Lujan de Cuyo
Cabernet Sauvignon from Tupungato
Bonarda from Mendoza
Chardonnay from Uco Valley
Pinot Noir from Patagonia
Torrontés from Salta
Additionally, for US residents, we've partnered with Wine Access to ship you the six wines included in this course.
---

Meet your guide.
Madeline Puckette is a winner of the International Wine and Spirit Competition "Wine Communicator of the Year," a James Beard award-winning author, and 10+ year veteran sommelier in the wine trade.
In this course, Puckette explains in detail tasting strategy, technique, and what to look for when assessing wine while diving into 6 great Argentinian wines.
---
Take the course! Learn by Drinking: Argentina is available now!