Many of us experience challenges taking those first steps into wine. For Tahiirah Habibi those challenges felt exacerbated by a subtle-yet-consistently unwelcoming wine culture. So, what's it like to be a Black professional in wine? And, what can we do to make wine more welcoming?
---

What was your first go-to wine? Odds are that your early sips were sweet nectars that sang to your palate and eased your way into the wine world. As your journey expanded, your palate evolved. But what if a stereotype shamed you when you began exploring wine–and every time after that?
Moscato, the classic starter wine, has become a barrier for many Black persons in the wine world. The idea that all other races can enjoy any wine they like without stereotyping them is innate to the trauma we regularly experience. In that way, wine becomes a weapon.
Let's take a look at how sweet wines create barriers to people of color in the wine world. Then we'll look at how far Black wine pros have come despite those barriers.
It's time to stop weaponizing Moscato against Black people.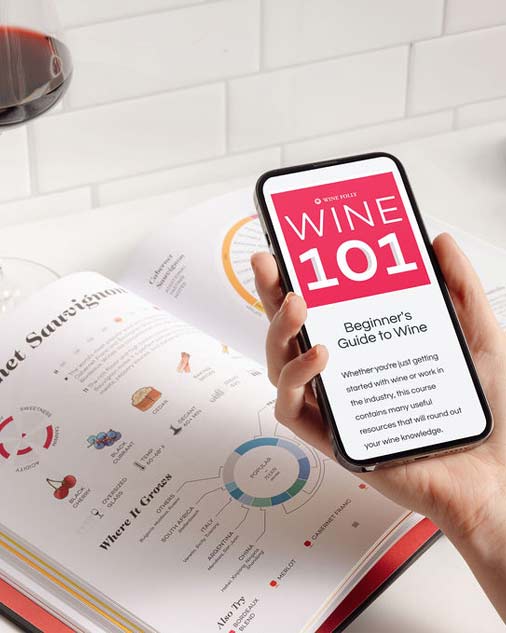 Buy the book, get a course.
Get the Wine 101 Course @ 75% OFF with the purchase of Wine Folly: Magnum Edition.
Shop Now
Moscato's Mark
For many of us, both wine drinking and marginalization in the wine community began with Moscato. Muscat Blanc (aka Moscato) is a great, simple variety with sweeter flavors that are easier to identify. It's perfect for a beginner.
When a white person orders Moscato, no one thinks much of it. But when a person of color orders Moscato, more often than not, it's viewed as confirmation of a stereotype.
When a black person turns to a sommelier for help growing their palate, they get sweet wine recommendations, whether they like it or not.

"It's baffling to me why Black people have been given the stigma of only drinking sweeter wines when in my experience, I've seen most individuals start with a sweeter palate when they start drinking wine and eventually move on to off-dry and dry wines,"
–Larissa Dubose, Founder and Resident Wine Educator at The Lotus & The Vines
---
Microaggressions
"Moscatotyping" is an example of microaggressions that people of color encounter daily in the wine space.
What are microaggressions? Subtle stereotypes, ignorant comments, veiled insults, and unwritten-yet-institutionalized-barriers-to-access that marginalize people's experiences.
What's surprising is even the most successful Black people in the wine industry battle microaggressions regularly.

"I am very knowledgeable about wine," stated Ntsiki Biyela, South Africa's first female winemaker and 2009 Winemaker of the Year. "People seem surprised, and that is irritating for me."
Aniysa Brunner, a sommelier at a country club in Atlanta, said that many of her patrons also assume she is not knowledgeable about wine:
"[They think] that I just blatantly didn't know what I was talking about before I even open my mouth. The assumption is that there is another somm around to help them pick out an amazing wine, rather than to ask me if I could point them in the right direction."
The practice of diminishing Black people is an industry-wide problem extending far beyond the front of house.
Donae Burston, industry vet and CEO/Founder La Fête du Rosé, explained that many white people seem unable to comprehend that he started his own wine brand. Even after introducing himself, he gets the question:
"So how did you get your job with the brand?"
On To The Next One
Luckily the spirit of Black people in this country has proven to be one of perseverance in the face of oppression. Despite these biases, we've thrived.

Femi Oyediran, a Wine Enthusiast 40 under 40 honoree and founder of Graft Wine Shop, spoke to the biggest risk he ever took:
"Starting my own business. Taking the step of operating on your own without the safeguards of a proven institution like where I had worked for years was a big step.

It definitely feels like stepping on air with faith that your feet will touch the ground when you take a leap on the potential of your own creation. The feeling is both terrifying and exciting."

Donae Burston reflected, "The biggest risk was definitely starting a rosé wine label without having any technical still-wine training or winemaking skills. However, I do believe my background in Champagne and knowledge of the industry overall has helped me to mitigate a fair amount of risk."
Now We're Here
Here's a snapshot of what we're drinking these days.

Aniysa Brunner is "still in shock" from a 2004 Domaine De La Romanee Conti La Tache she described as "AMAZING."
Ntsiki Biyela told me about tasting one of 300 bottles in production of Touriga Nacional produced by Micu Narunsky.
Femi Oyediran spoke of 2000 Bollinger Vieilles Vignes Francaises. "It's a rare bottling from Bollinger that came from 3 parcels that hadn't (at the time) succumbed to phylloxera. It was a pretty exceptional experience. Structured, elegant, gorgeous aromatics."
Larissa Dubose recalled fond memories of drinking Opus One during her days as a distributor's rep in Baltimore, "At the time it was highly allocated, and I only had one account in my entire territory that qualified to get one six pack of the new vintage every year."
---

R.E.S.P.E.C.T.
The fact is that Black people are a part of the wine world–and a growing part of that market. Now is the time to start respecting that–and respecting us.
Moscato, one of the oldest grape varieties, deserves respect. Many wine experts would never have lifted a stem if not for Moscato. It may not be the Omega, but it is very much the Alpha.
Breaking down implicit bias in the wine world extends beyond one stereotype. It's past time to include Black images in marketing and communication. Additionally, making certain to train staff to ask questions and make suggestions to people of color as they would anyone else.
Finally, the real change happens when more Black professionals work on your teams: as your writers, management, sommeliers, store associates, beverage directors, decisionmakers, etc.
And, the next time you see a Black person sipping on that good good, remember where you started before you judge.