A great way to explore wine is to look at a map.
Maps show us the location of vineyard areas and tell us where grapes grow best. You can see famous regions as well neighboring wine spots that fly under the radar. Ultimately, the goal is to find and drink better wine.
We've been mapping the world's wine regions for nearly a decade. Enjoy! –Madeline Puckette, Wine Folly

View Maps
---

Italy
Italy is perhaps most famous for the red wines of Tuscany, known most commonly as Chianti, a region that produces Sangiovese wine. However, Italy is very diverse. There are 20 unique regions with over 350 different grape varieties ranging from light and bubbly Prosecco to nearly opaque red Sagrantino.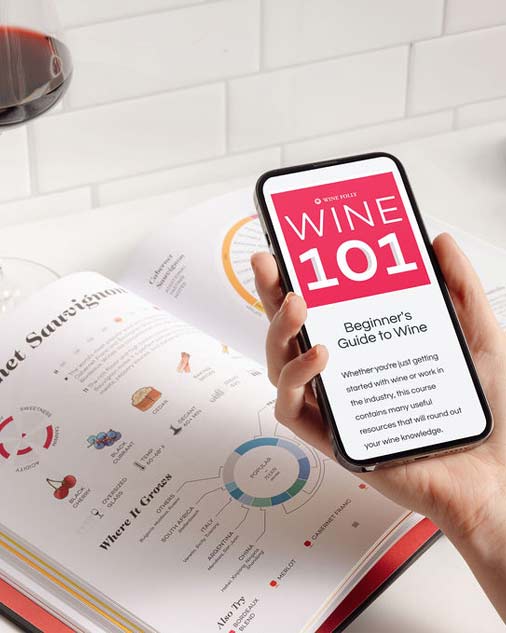 Buy the book, get a course.
Get the Wine 101 Course @ 75% OFF with the purchase of Wine Folly: Magnum Edition.
Shop Now
---

France
France inspired a world of wine with their popular grape varieties like Chardonnay, Merlot, Cabernet Sauvignon, and Pinot Noir.
---

Spain
Spain is the third largest wine producing nation in the world. It is perhaps most famous for its red wines of Rioja using the countries champion Tempranillo grape. Spain produces a diverse range of wine styles from the refreshing sparkling Cava that come from around Barcelona to the nutty and sweet dessert wines from Andalucía in the South.
---

Argentina
Despite the fact that South America is considered a New World wine region, winemaking has been happening in South America since the 1500's. Today you'll find excellent Malbec, Cabernet Sauvignon, and Torrontés in Argentina.
---

Chile
As a new world wine region, with 2,700 miles of coastline along the frigid Pacific Ocean, Chile produces wines that are both fruit-forward and herbaceous.
---

Australia
Australia renamed Syrah to Shiraz in the 1980's in order to differentiate themselves from the US and France. Shiraz is often made in a way that's richer and darker than most Syrah so the new name changed people's perception of the wine. Today, Australia is diversifying its grape varieties and wine styles and there are also an increasing number of small producers.
---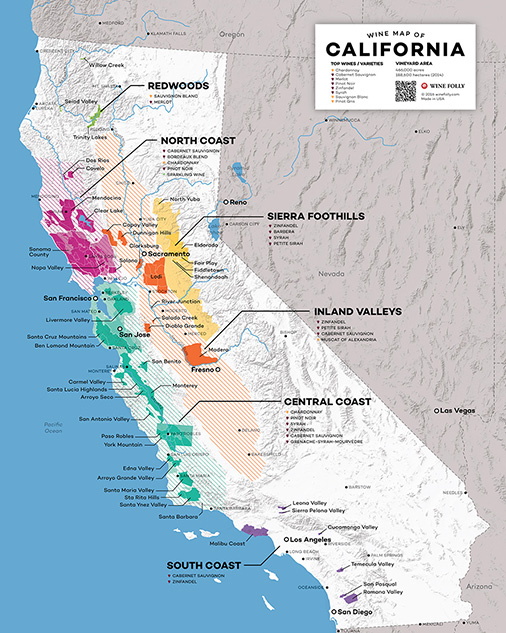 USA: California
California produces the vast majority of US wine. The region is most known for bold, fruit-forward red and white wines.
---

South Africa
The entire country of South Africa started as a pit-stop for the Dutch East India Company en route to India. The South African region built their industry on wines and brandies made with the Chenin Blanc grape. In just the last ten years, South Africa has become more well known for their red wines such as Cabernet Sauvignon and Syrah. The country has prehistoric soils which add a unique rustic flavor to their fruity wines.
---

Germany
Germany loves wine. The country boasts around 100,000 acres of grapes, many of which are at extreme slopes, making it one of the steepest wine countries in the world.
Riesling is the focus here, but there are many other amazing finds including German Sekt (ie sparkling wine!).
---

Portugal
There are more than 250 unique wine varieties found in Portugal. They are delicious, but many are completely unknown-about outside of the country. It makes Portugal one exciting place for quality and value.
---

New Zealand
New Zealand is most known for Sauvignon Blanc. Still, the country does much more than just that. There is Chardonnay, Pinot Noir, and sparkling wines that will blow your mind.
---

Napa Valley
The single most planted grape in Napa Valley is Cabernet Sauvignon. Cabernet is the life blood of this famous California wine region.
---

France: Bordeaux
Bordeaux is the original home of many of our favorite wine varieties like Cabernet Sauvignon and Merlot. The region is known for its elegant and savory red wines that age for decades.
---

France: Burgundy
Burgundy was developed by Cistercian Monks who walled their estates and plots of land for disease protection. They specialized in Chardonnay and Pinot Noir! Burgundy is sliced into 5 unique wine growing areas with unique wine styles. Some of the walled plots are the most valuable wine estates in the world!
---

France: Champagne
Champagne is a frigid area that wouldn't normally be suited for wine growing. Fortunately, the Champenoise saw this as an opportunity with the invention of sparkling wine that they simply called "Champagne." The best sparkling wines of the region are from warmer vintages that age for around 7 years prior to release! Aged Champagne are loved for their nutty biscuity aromas.
---

USA: Washington
Washington State focuses its efforts on red blends of Cabernet Sauvignon and Merlot even though the region also makes terrific dry Riesling. Most people think of gray weather and rain in Seattle, but grapes are grown on the sunny side of Washington in the east. Washington has expanded by leaps and bounds in the last 10 years and is the 2nd largest wine region in the United States.
---
More Guides