How is it possible for a single bottle of golden bubbly to captivate the attention and earn the respect of everyone from Champagne aficionados to reality TV starlets? In 2002, Cristal Champagne received the near-impossible 100-point score from Wine & Spirits Magazine.
Now, with a reputation as one of the world's finest Champagnes, the Prestige Cristal runs for more than $200 a pop and even became Jay-Z's self-proclaimed favorite wine (that is, until he dropped it in 2006!).
So what makes Cristal Champagne so spectacular? And… can we (please) find a great bubbly for less?
Louis Roederer Champagne Brut Cristal

Taste:

dry with creamy bubble finesse; flavors of honey, orange peel, raspberry, white cherry, apple, toast, hazelnut, and white chocolate

Cost:

~$200+

Blend:

about 60% Pinot Noir, 40% Chardonnay

Aging:

6 years and 6–8 months

Sweetness:

brut (10 g/l residual sugar)

ABV:

12–13%

Good Years:

2005, 2004, 2002, 2000, 1999, 1997, 1996, 1995
It all started with an epic dinner in 1867
Cristal was first served in Paris on June 7th, 1867 as a custom-made brew to accompany the Three Emperors' Dinner. This dinner was no small affair. The night involved Wilhelm King of Prussia and the Tsar of Russia enjoying a a 16-course meal served over a period of 8 hours (with cigar breaks). The King gave French Chef, Adolphe Dugléré, a "Carte Blanche" (a blank check) to make the most extravagant and memorable dinner ever. As you can imagine, a meal of this magnitude demanded a wine that was up for the challenge.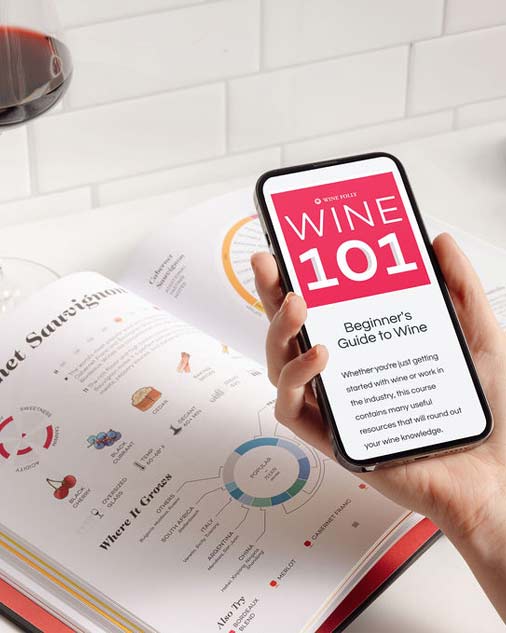 Buy the book, get a course.
Get the Wine 101 Course @ 75% OFF with the purchase of Wine Folly: Magnum Edition.
Shop Now
"served in hand-made clear leaded crystal glass bottles that had a flat bottom in order to show off the wine's deep golden hue."
Frankly put, the wine was special. It was made by grapes from the exalted 1847 vintage and crafted by Louis Roederer himself,–whose namesake today is the largest independent Champagne house. At the time of the noblemen's dinner, the wine would have been 20 years old which meant that it had a very deep golden hue. In order to show off its color, the wine was served in hand-made clear leaded crystal glass bottles that had a flat bottom. And whether it was because the bubbles went straight to his head or because the quality of Cristal won him over the The king must have loved the king requested it be served as a palace wine. Shortly thereafter, in 1876, the wine went into full production and Cristal was born.
FACT:
Cristal still uses clear flat bottom bottles, but they aren't made with leaded crystal. The wines are wrapped in a cellophane wrapper because clear glass won't protect age-worthy white wines from
UV damage.

Cristal is a Veblen Good
Since its kingly inception, Cristal has been what is known as a Veblen good: a high-priced commodity that serves as a public display of economic power. Other Veblen goods include Bugatti sports cars, Louboutin shoes, and Louis Vuitton handbags. They are high priced goods that are desired –in part– for being socially recognized symbols of great wealth.
---

Cristal vs Jay-Z
Cristal Champagne did get the attention of Jay-Z, American rapper and record producer, who rapped about his love for the liquid in 1998. All was going well until 2006, when Jay-Z dropped Cristal from his list at the 40/40 Club in New York and vowed to never drink it again. This fall from grace was a result of Louis Roederer's new director, Frederic Rouzaud, implying that the wine was made for wine aficionados and not high-life clubbing.
Whhhaaatttt?!
Jay-Z believed the comment to be disrespectful of his lifestyle as well as a racist remark. He quickly switched his preference from Cristal to the three-hundred-dollar-per-bottle Armand de Brignac "Ace of Spades," a brand that he now owns.
---
Vintage Champagne vs NV Champagne
"Flavors become more nutty, toasty and creamy with extended aging."
Cristal Champagne is a vintage Champagne.
The primary difference between vintage and non-vintage (NV) champagne is that vintage requires 3 years of aging and NV requires 15 months. Those additional 21 months give Champagne something really special: flavors become more nutty, toasty and creamy. Another major differentiating factor is vintage. Champagne is only from one harvest year, whereas NV Champagne is usually a blend of vintages.
Some producers don't stop at the minimum aging. Top prestige brands including Krug, Cristal, Bollinger, and Pol Roger age for at least 5 years before releasing their wines.
---
Yes, you can find great bubbly for less
Thankfully, you don't have to be a king to drink these golden bubbles. You can drink well for less than $20. Here are some essential tips that every wine drinker should know when choosing a great bubbly.
4 Tips on Finding Awesome Sparkling Wine
---