When you look back on 2020, you may not be able to fight the urge to drink directly from the decanter. No one's judging you.
There's Never Enough Wine – Year of Wine In Review (2020)
You can't hurry through a vintage, even if sometimes you want to hit the "Skip" button and never look back. But, it would be a shame not to reflect on those highs, lows, and hilarious moments that made 2020 such a pivotal year in wine.
Governments are getting their greasy paws all over wine sales.
Getting a great bottle of wine just got a lot more difficult thanks to international trade policies. 😢
---

Total wine sales are up! But, it's not exactly what you think.
Total sales volume for wine during 2020 is up substantially. Sales peaked to nearly 30% more during March–May compared to 2019. What are people buying?
---
Independent wineries had to get creative selling wine this year.
With restaurants closures during COVID wineries had to get creative. There was a massive uptick in virtual tastings, live streams, and online sales in wine this year.
Here are some of the more creative sales efforts: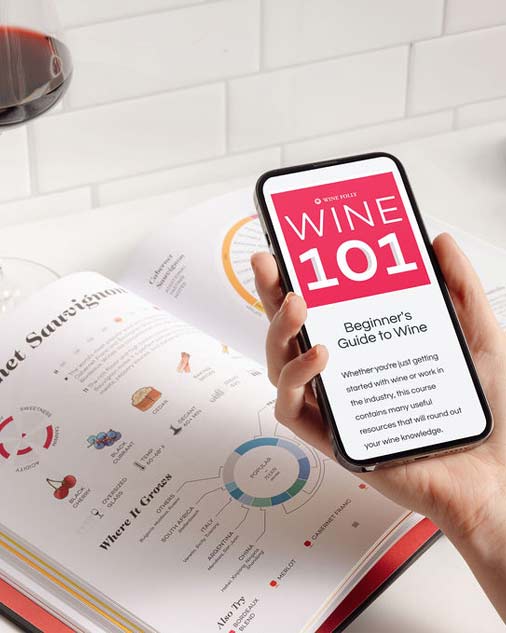 Buy the book, get a course.
Get the Wine 101 Course @ 75% OFF with the purchase of Wine Folly: Magnum Edition.
Shop Now
---

Climate change is in full effect.
Back in 2015 we reported on a climate change study pointing to several wine regions becoming "unsuitable" by year 2050. This year we got to really experience what that actually feels like.
---

A massive surplus of wine leads to a mysterious boon in accidental wine spills and celebrity wines.
We've been swimming in an ocean of wine as of late. It seems like every week there's a new celebrity coming out with a rosé (Post Malone and Kylie Minogue), a "pure" wine (Cameron Diaz), or a bottle of badassery (Snoop Dog and Mary J Blige).
What's weird is all the mysterious reports of wine spills and new wine-based distillates.
---
The wine industry takes a hard look at itself in the mirror… and doesn't like what it sees.
This year, more than ever before in Wine Folly's short decade in the business, we've observed the wine trade take a serious look on racism and sexism within its own ranks. Some big changes are on the horizon, and they were partially inspired by the efforts of a few trail blazers.
---
All in all, everyone has had a serious thirst for wine. And, it got to our heads…
---
Raise a glass to 2020… and wave it goodbye. Let's do a better job in 2021 shall we?
It's been an interesting year, a stressful year, and a year of change. Enjoy a good bottle and see it out the door in style. Got any news from 2020 the world needs to know? Jump in the comments and send over a link.