Podcasts have changed the way we think about audio shows, and wine podcasts are no different! They are a great way to sneak-in some knowledge during our day to day activities. Plus, they're a gateway to information that's otherwise stuck in wine classes.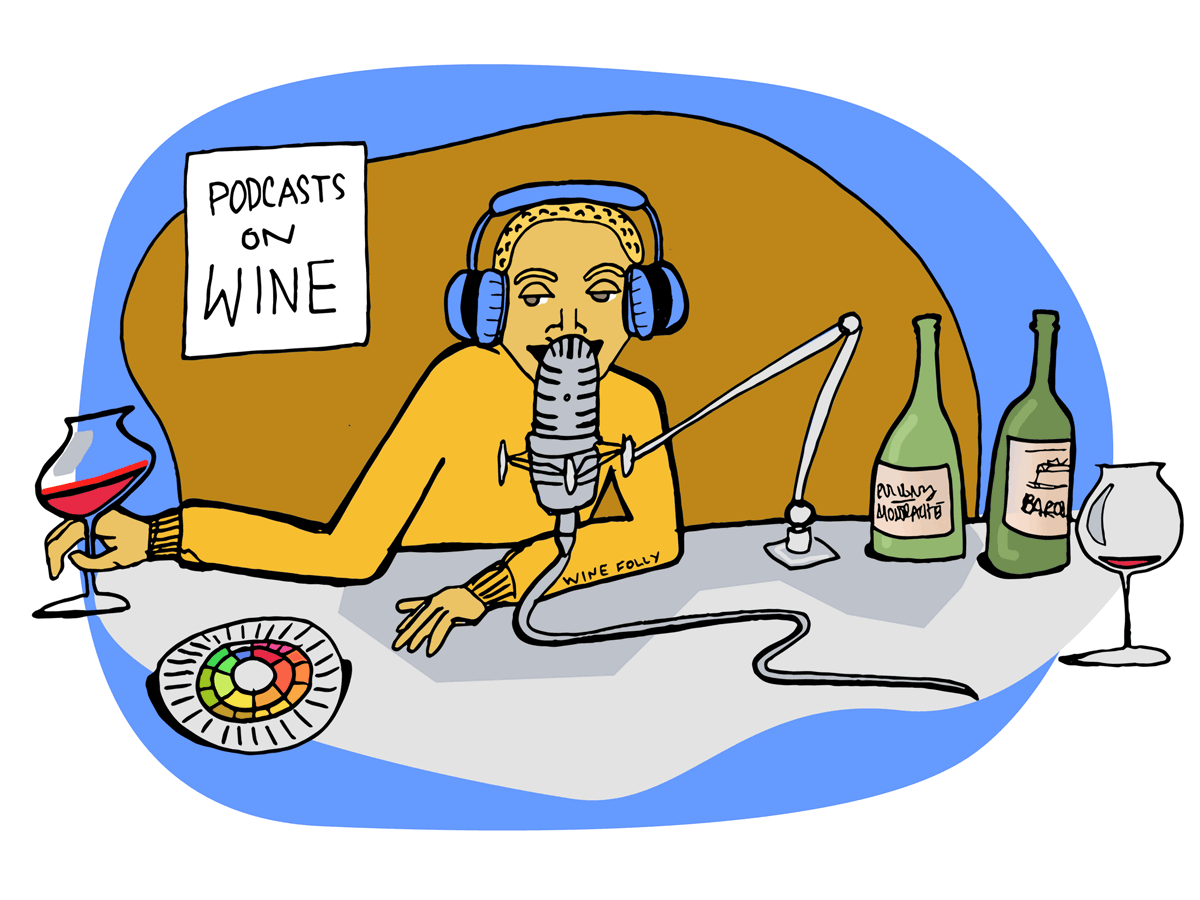 The list below covers eight wine podcasts that range from easy-going chats to jam-packed info sessions. We guarantee you'll find something that suits your needs!
---

Wine for Normal People
Best For: Those of you interested in having a no-fuss conversation about wine
Where To Find It: Overcast, iTunes, Google Play, Libsyn, and their website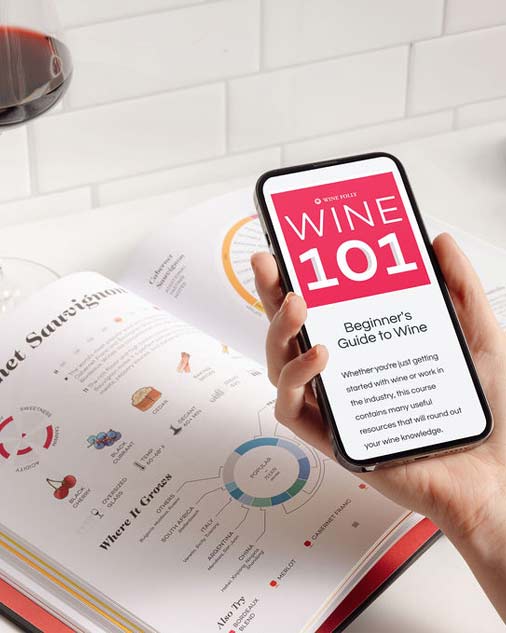 Buy the book, get a course.
Get the Wine 101 Course @ 75% OFF with the purchase of Wine Folly: Magnum Edition.
Shop Now
Length: 45-50 minutes
Sommelier Elizabeth Schneider and wine-loving-normal-person husband M.C. Ice host this wine podcast. It aims to translate wine into terms that anyone can relate to.
Meant for "people who like wine but not the snobbery that goes with it," it's great for amateurs and experts alike.
Wine For Normal People offers information on grape varieties, wine growing regions, and the industry. It also includes a series of laid-back interviews that are super approachable for all wine-lovers out there.
---

I'll Drink To That
Host: Levi Dalton
Best For: Anyone that wants to learn about the people behind the wine
Where To Find It: iTunes, Spotify, Stitcher, Google Play, Pandora, YouTube, SoundCloud, and their website
Length: 60 minutes
Levi Dalton, a former Sommelier, interviews well-known wine personalities from his apartment.
Launched back in 2012 with close to 500 episodes, these fascinating conversations cover a ton.
This includes wine-producing regions, the lives and experiences of winemakers, sommeliers, wine writers, and important people from the business.
It's bound to take you on a personal journey through the stories of the people behind your favorite wines.
---

Swirl Suite
Best For: Audiences interested in the growing topic of Black voices in wine.
Where to Find It: iTunes, Soundcloud, Spotify, Stitcher, and Google Podcasts.
Length: 45 – 75 minutes
Hosts Sarita, Tanisha, Leslie and Glynis discuss the industry with equal parts style, substance, and humor.
The voice of people of color within the wine industry has been a topic that's only grown in importance and notice over the past year. Swirl Suite covers a wide variety of wine topics with industry pros from a point of view that is too often ignored.
---

The SOMM TV Podcast
Host: Jason Wise
Best For: Fans of the SOMM series and industry open-minded people
Where To Find It: iTunes, Spotify, Stitcher and their website
Length: 40 minutes
If you're a fan of the SOMM documentary trilogy and SOMM TV, you can't miss out on this podcast!
Jason Wise, director of the SOMM films, hosts a podcast that's "about everything." And it truly is! He covers everything from their films to wine, spirits, beer, food, tariffs, and celebrities.
This podcast guarantees a good time while covering new interesting and unique material.
---

Wine Blast
Best For: Everyone! And that includes wine beginners and wine pros
Where To Find It: iTunes, Spotify, Stitcher, Google Play and their website
Length: 30 minutes
Married Masters of Wine Susie Barrie and Peter Richards bring to life this recently launched wine podcast (2020).
With a dynamic format, they discuss an array of wine-related topics such as relevant news, travel, food pairings, and interviews.
They manage to deliver each episode in an informative yet entertaining style. And, of course, it includes the inevitable couples' bickering. It's the kind of podcast that'll have you pouring yourself a glass of wine and relaxing.
---

Matthew's World of Wine and Drink
Host: Matthew Gaughan DipWSET
Best For: Wine students and wine enthusiasts that want to expand their knowledge
Where To Find It: PlayerFM, SoundCloud, and their website
Length: 15-20 minutes
DipWSET and Certified WSET Educator Matthew Gaughan is the host of this podcast that caters primarily to wine students.
Each episode dives into one specific topic, covering regions, styles, grape varieties, history, culture, and spirits.
During these short-but-sweet episodes, Matthew covers the key points that wine students must master. It's a great tool for the learning process.
---

Guild of Sommeliers Podcast
Host: Geoff Kruth MS
Best For: Those with previous wine knowledge, aka all you wine-geeks out there!
Where To Find It: iTunes, Spotify, Stitcher, and their website
Length: 50 minutes
This long-running podcast (first launched in 2011) offers in-depth conversations with industry personalities guided by GuildSomm President and Master Sommelier Geoff Kruth.
This wine podcast provides insightful information that supports the study of wine certification programs found worldwide. While access to most content requires a fee, the podcast itself is completely free.
The Guild of Sommeliers Podcast provides students and professionals amazing information on endless topics.
We recommend you set some time aside to devote to this podcast. Have a notepad and pen ready, because you'll definitely want to take some notes!
---

The Unreserved Wine Talk
Host: Natalie MacLean
Best For: People looking for honest conversations and insights about life in the wine world
Where To Find It: iTunes, Spotify, Google Play, Android, iHeartRadio, and their website
Length: 20-40 minutes
Award-winning journalist Natalie MacLean offers genuine conversations with personalities from the wine industry. It also includes personal reflections on her life journey through the wine world.
The Unreserved Wine Talk aims to teach by sharing stories about people and places. It dispels the idea that wine is only for the rich, and covers wine-related details common to our daily lives.
And don't forget their notes with useful links, books, and other resources that are available on their website.
Tune into episode 58 to listen to Madeline's interview where she talks about her experience with wine graphics and the success of Wine Folly!
---
Wine Podcasts: A Tool for Wine Fans All Over
Wine podcasts are a wonderful resource to learn in a dynamic, approachable way that is sure to fill your day with valuable knowledge and a good time!
What are some of your favorite wine podcasts? Comment below!