Pinot Gris (aka Pinot Grigio) is a pinkish grape mutation of Pinot Noir. It's famously known for zesty white wines, but can also create fuller bodied white wines and even be used for rosé. Look to Northern Italy, Alsace, Oregon, and Germany for benchmark examples.
Also known as: Pinot Grigio, Grauburgunder, Ruländer
Primary Flavors
White Peach

Lemon Zest

Cantaloupe

Green Almond

Crushed Gravel
Taste Profile
Pinot Gris is a pink skinned grape with a broad spectrum of wine styles. Influenced by winemaking techniques and ripeness at harvest, it can vary from light and zesty to full-bodied and oily, even extending to late-harvested sweet, orange, and even rosé styles.
On the nose, Pinot Gris typically presents notes of ripe pear, apple, and peach. In cooler climates, it may lean towards citrus and green apple, while late-harvest expressions evoke tropical fruit, honey, and spice. Skin contact can produce an 'orange' wine with deeper, more exotic aromas.
On the palate styles range from light and crisp with high acidity to full-bodied and rich with more moderate acid. Wines can be dry or sweet, especially when late harvested or affected by Noble Rot. Rosé Pinot Gris offers a unique blend of crisp white and light red characteristics. In its multitude of expressions, Pinot Gris encapsulates the art and range of winemaking.
Dry
Medium-light Body
No Tannins
Medium-high Acidity
11.5–13.5% ABV
How to Serve Pinot Gris Wine
In general, Pinot Gris should be served chilled, irrespective of the style. This is particularly true for the light and zesty styles, which benefit from the crispness that a cooler temperature provides. If you have a fuller-bodied, oily Pinot Gris, or a skin contact style, serving it slightly warmer can accentuate its complexity, similar to a Chardonnay.
A white wine glass is suitable for most Pinot Gris, including the rosé versions. The shape of the glass allows the aromas to gather and be appreciated. While certain Pinot Gris wines, especially late-harvested and sweeter styles, can age gracefully, most are intended for immediate enjoyment and don't require decanting.



SERVE

45–55°F / 7-12°C




GLASS TYPE

White


DECANT

No


CELLAR

3-5 Years
Pinot Gris Food Pairing
The versatile Pinot Gris pairs well across a spectrum of dishes. Lighter, zesty styles excel with seafood, salads, and mild cheeses, while full-bodied or orange versions complement rich meats like roast chicken or pork. Sweet, late-harvested Pinot Gris is a perfect match for fruity desserts or even on its own. Pinot Gris rosé is an excellent aperitif and pairs nicely with light pasta, charcuterie, or salty snacks. Its diverse range matches the broad variety of world cuisine.

5 Fun Facts About Pinot Gris
Pinot Gris is actually a color mutation of Pinot Noir, and the grape clusters can exhibit a pinkish-gray hue, which inspired its name, 'gray pine.'
Despite its French origin, the largest producer of Pinot Gris is Italy, where it's known as Pinot Grigio and often exhibits a lighter, zesty style.
When vinified with extended skin contact, Pinot Gris can produce ramato (copper colored wines) with amplified complexity and tannic structure.
Pinot Gris is one of the few grape varieties that can naturally develop botrytis cinerea, which concentrates sugars and flavors, enabling the creation of dessert wines.
In Germany, Pinot Gris is known as Grauburgunder and it produces a rich, full-bodied wine with a balanced, refreshing acidity.

Where it Grows
Originating in France's Burgundy region, Pinot Gris is now grown globally, adapting to a variety of climates and terroirs. Italy, with its popular Pinot Grigio, is the largest producer, while regions like Alsace, Oregon, and Germany also create distinct expressions of the grape. Despite its broad geographical spread, Pinot Gris holds a consistent presence in the wine world, thanks to its versatile nature and range of enticing styles.
Italy: 46,508 acres (18,821 hectares)
USA: 18,439 acres (7,462 hectares)
Germany: 12,076 acres (4,887 hectares)
Australia: 9,024 acres (3,652 hectares)
France: 7,085 acres (2,867 hectares)
New Zealand: 5,985 acres (2,422 hectares)
Total Vineyard Area – 120,020 acres (48,570 hectares) (data from 2016)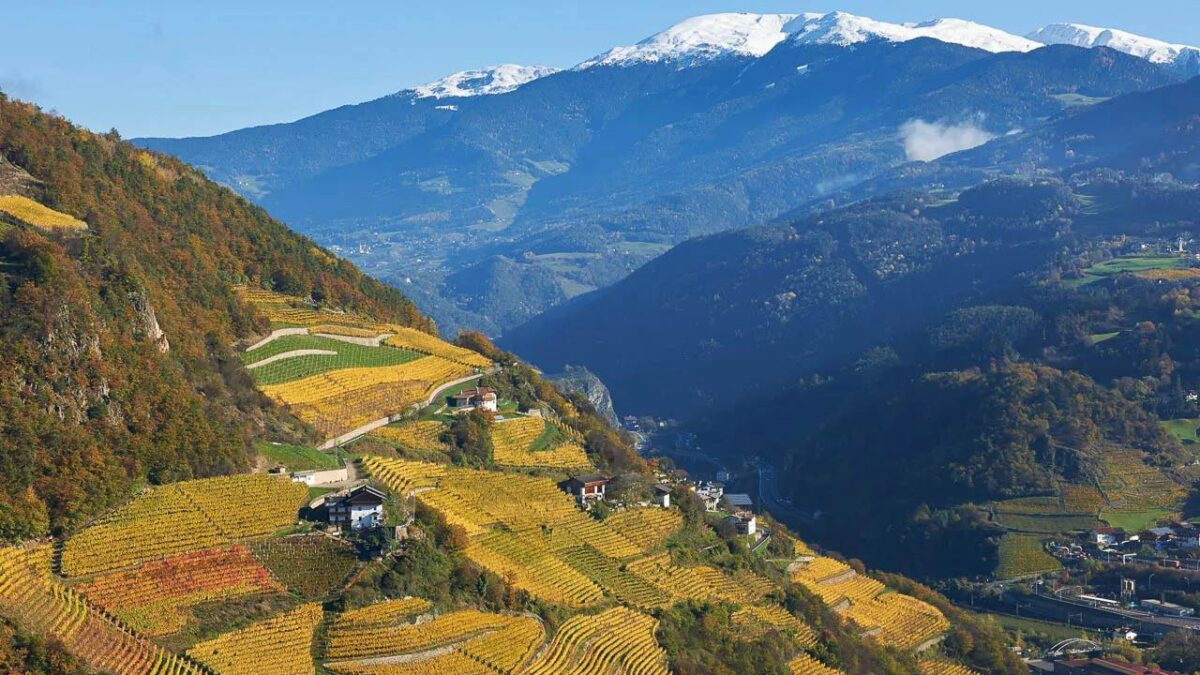 Italy
What to expect: Pinot Gris is called Pinot Grigio in Italy, and it's the world's largest producer. Usually totally dry with brilliant acidity with a bitter almond note, Italian Pinot Grigio is normally considered the lightest and freshest. But, depending on where you look in Italy you can find a number of different styles. The least interesting often come from the flat plains of the Venetian plain so look to the Alpine foothills for the best examples.
Alto Adige: Alto Adige Pinot Grigio is all about ripe stone fruits, heady notes of ginger, floral nuances, and refreshing acidity, paired with weighty body and texture, some even showing some barrel aging aromas of smoke and spice. Alto Adige produces world-class, cellar-worthy Pinot Grigio, and also happens to be one of the world's most beautiful wine regions.
Friuli-Venezia-Giulia: Friuli is known for its textured Pinot Grigio and the unique 'Ramato' style (skin contact wines), Friuli's wines exhibit ripe stone fruits, floral hints, and subtle spice. These, paired with a refreshing acidity and fuller body, showcase the region's exceptional winemaking.

Alsace, France
What to expect: Considered by many to be the homeland of Pinot Gris, Alsace showcases a rich, full-bodied style with ripe orchard and tropical fruit flavors, underscored by refreshing acidity and mineral nuances. It often possesses a delicate smokiness and spice, especially in aged versions, adding depth to the vibrant fruit-forwardness. For the best wines look for "Grand Cru" on the label.
The region is known for its outstanding late-harvest wines, Vendanges Tardives and Selection de Grains Nobles, which offer an extraordinary balance of sweetness and acidity.
Vendanges Tardives: The region is known for its outstanding late-harvest wines, Vendanges Tardives and Selection de Grains Nobles, which offer an extraordinary balance of sweetness and acidity.
Sélection de Grains Nobles: These wines are made from grapes affected by Noble Rot, which further concentrates the sugars and flavors. Expect an exceptional complexity with layers of candied fruits, honey, and spice, while still maintaining a remarkable freshness due to the region's characteristic acidity.

Orgeon, USA
What to expect: American Pinot Gris often has more exaggerated fruit flavors and with less acidity than its European counterparts. Primarily grown in the cool-climate Willamette Valley, it presents a balanced profile of fresh citrus and ripe orchard fruit flavors. The wines are typically medium to full-bodied, with a refreshing acidity and often a hint of mineral or spice. Its versatility and expressive character mirror the region's diverse microclimates and innovative winemaking techniques.

Germany
What to expect: Known as Grauburgunder in Germany, Pinot Gris is characterized by its rich, full-bodied style, balanced by a lively acidity – and can often have oak aging, making it similar to Chardonnay. You'll find expressions with flavors of ripe apples, pears, and a touch of honey, often with a distinctive minerality.
Pfalz: Pfalz's warm climate and diverse soils lead to a ripe, concentrated style of Grauburgunder. Expect flavors of ripe stone fruits and hints of honey, underpinned by a vibrant acidity and a hint of minerality.
Baden: As Germany's warmest wine region, Baden produces Grauburgunder wines with a robust body, ripe tropical fruit flavors, and a distinct nutty or spicy undertone, while maintaining a refreshing acidity that brings balance and structure.

In-Depth Knowledge
Take a deep dive into better understanding Pinot Gris.
A Rosé Pinot Grigio called Ramato
It might surprise you to know that there is also a rosé Pinot Grigio that uses the pale pink skins of the grape to stain the wine a pale copper hue. Producers typically macerate the juice in the skins, just like rosé, for about 24 for 36 hours.
Ramato wines can be found in Friuli, Italy. Depending on the producer in Friuli it may offer up nuances of white raspberry, leather, sour cherry and either a meaty note or a dried cranberry sweetness on the finish. Also, there are a few wineries still experimenting with Pinot Grigio and barrel-aging, often using chestnut barrels which is what is common along the Friuli and Slovenian border.

Mutant Genetics
A prime example of somatic mutation in viticulture, Pinot Gris evolved from a genetic variant of Pinot Noir, whereby a single nucleotide polymorphism (SNP) in the DNA sequence caused the berries to manifest a grayish-blue hue, rather than the black of Pinot Noir.
These mutations, though rare, happen naturally and randomly. This genetic event has enabled Pinot Gris to develop a distinctive profile while retaining a similar genetic code to Pinot Noir. The two grapes share a significant amount of their genetic material, highlighting why there might be overlapping traits in their aroma and flavor profiles.