Merlot can be a bit of a chameleon; ranging from fruity, smooth and easy-going to age-worthy, full-bodied, and sophisticated. Often mistaken for its blending partner, Cabernet Sauvignon, Merlot is not one to be underestimated.
Also known as: Bordeleza Belcha, Petit Merle
Primary Flavors
Cherry

Chocolate

Plum

Bay Leaf

Vanilla
Taste Profile
But there's more to Merlot than being smooth. It's actually a bit of a chameleon, partly because of how Merlot is vinified and mostly because of where it's grown. No matter where it's grown though you can expect these characteristics.
On the nose, Merlot ranges from fresh red plum and cherry in cooler climates to baked blackberry and fruitcake in warmer climates. Top examples from around the world will have vanilla and spice aromas from oak aging. As Merlot ages it becomes chocolatey, meaty, and can have tobacco aromas.
On the palate Merlot is quite smooth compared to its half-sibling, Cabernet Sauvignon. The warmer the climate the smoother the tannins generally and the higher the alcohol and body. Merlot also has refreshing but not overtly high acidity. Think of it as the Smooth Operator of the grapes.
Bone Dry
Medium-full Body
Medium-high Tannins
Medium Acidity
13.5–15% ABV
How to Serve Merlot Wine
Merlot should be enjoyed slightly below room temperature, ideally 60-68°F (15-20°C). This ensures the aromas are emphasized, but not the alcohol.
A large, oversized wine glass is suitable for Merlot. Its shape aids aeration, highlighting the wine's aromas. Decanting for approximately 30 minutes prior to serving allows Merlot to fully open up.
Merlot gains complexity with time, revealing spicy, plummy notes and undertones reminiscent of dark chocolate. Many Merlots will age gracefully for 3-7 years, while exceptional ones can continue to enhance their complexity for 15 years or more.



SERVE

60–68°F / 15-20°C




GLASS TYPE

Oversized


DECANT

30 minutes


CELLAR

10+ Years
Merlot Food Pairing
Merlot is a great wine to play with, as it matches with a wide variety of foods. Don't be afraid to experiment!
For Tuesday night, easy drinking, entry-level Merlot: think pizza, bbq chicken or a penne boscaiola situation (think tomato sauce, creamy, bacony, mushroomy goodness). Keep it simple, easy meals work with easy wines.
For a Merlot-dominant blend (such as entry-level Bordeaux) that has earthy notes, as well as ripeness, think: roast turkey, beef short rib, or a rustic ratatouille. For braised meat pairings, try complementing Merlot's boisterous fruit notes with chimichurri sauce.
Finally, for those full and lush warm climate styles, like in Napa Valley, think rack of lamb, roast veal, or filet mignon with peppercorn sauce.

5 Fun Facts About Merlot
Merlot is the second-most planted grape in the entire world. (Cabernet Sauvignon is number one.)
Merlot is the most planted grape variety in Bordeaux.
Merlot translates to "little blackbird" in an old regional French dialect.
Merlot originates from the Bordeaux area and was mentioned as early as 1783.
Cabernet Franc is the one of the parents of Merlot with the rare Magdeleine Noire des Charentes being the other. This makes Merlot a half sibling of Cabernet Sauvignon.

Where it Grows
Merlot, the world's second most planted red grape, thrives in moderate to warm climates and varied terrains, especially clay soils. It offers a consistent profile of soft texture and ripe fruit flavors, but these can vary based on the region. Major Merlot regions include Bordeaux with rich, velvety wines; Tuscany's full-bodied blends; California's fruity, complex offerings; and Chile's more restrained, medium-bodied wines.
France: 268,067 acres (108,483 hectares)
Italy: 59, 446 acres (24,057 hectares)
USA: 52,512 acres (21,251 hectares)
China: 41,267 acres (16,700 hectares)
Spain: 31,758 acres (12,852 hectares)
Chile: 29,793 acres (12,057 hectares)
Total Vineyard Area – 658,387 acres (266,440 hectares) (data from 2016)

Bordeaux, France
What to expect: The vast majority of Merlot in France is planted in Bordeaux, in fact Merlot makes up 60% of all the grapes planted there. In the Left Bank it's blended with Cabernet Sauvignon to smooth out the wines, but its heartland is on the Right Bank, where it's commonly blended with Cabernet Franc.
So what does Merlot from Bordeaux taste like? You'll find a unique mix of rich plum and distinct earthy notes and herbal nuances. The best wines have smoke and clove notes from oak aging. Here are two great appellations to find age-worthy Merlot.
Pomerol: Close to the Dordogne river, Pomerol's clay-rich soils provide the perfect canvas for Merlot. While you'll find Merlot blended with Cabernet Franc, you can also find some single varietal Merlot too. The wines express deep flavors of black cherry, plum, and subtle truffle notes, while offering a velvety texture. These wines become meaty and chocolatey with age and can improve for decades.
Saint-Emilion: Limestone and clay soils here contribute to structured, complex Merlot wines. Expect blackcurrant and dark cherry, with hints of chocolate and spice. The elegance of these wines results from the perfect blend with Cabernet Franc, influenced by Saint-Emilion's distinctive terroir.

Italy
What to expect: In Italy, especially Tuscany, Merlot is a darling partner to grapes like (surprise!) Cabernet Sauvignon, (alongside Sangiovese) in a style of wine lovingly named "Super Tuscan". Super Tuscans can be a bit like Bordeaux on steroids.
However, the vast majority of Merlot in Italy is grown in Friuli where it produces a range of styles from simple and fruity reds to more full bodied and tannic wines meant for aging.

USA
What to expect: In the United States, Merlot is most well-known growing alongside Cabernet Sauvignon in California and Washington state. Compared to France and Italy, you'll find riper more fruit forward styles in general, but each state and AVA produce different wines based on their unique terroir.
Napa Valley: Thanks to the high levels of sunshine and heat you can expect full bodied, smooth, velvety styles of Merlot with buckets of fruit flavor. Merlot from Napa Valley, whilst bold and rich, can also have a slightly minty note, keeping it fresh and exciting.
Columbia Valley: Merlot performs very well growing on the dry, eastern side of Washington state where nighttime temperatures drop substantially and maintain precious acidity. Look to the regions of Horse Heaven Hills, Yakima Valley, and Walla Walla for quality. You can expect ripe black fruit flavors, fresh acid, and a herbal edge.

Chile
What to expect: Chile is another perfect homeland for Merlot. The wines from here vary from easy-drinking and fruity bottlings of the Central Valley, to more structured and serious examples from Colchagua, Maule Valley, and Maipo.
A fun fact on the history of Merlot in Chile is that in the 1800s, cuttings thought to be Merlot were brought over from Bordeaux and planted in Chilean vineyards. However in 1994, a grape researcher named Jean Michel Boursiquot, realized that they were, in fact, an entirely different variety – Carménère.

In-Depth Knowledge
Take a deep dive into understanding the complex nature of Merlot.
Why so smooth?
Merlot's signature velvety texture is thanks to its particular tannin structure. Merlot has thinner skins and fewer seeds than Cabernet Sauvignon, its half-sibling. Thinner skins mean less tannin extraction during maceration, the process where skins and other solids are in contact with the juice. Fewer seeds matter because seeds contain harsher tannins which, if over-extracted, can lead to a bitter taste.
Furthermore, the tannin molecules in Merlot tend to be smaller and have a different shape than those in Cabernet Sauvignon, resulting in a smoother, less astringent wine. This smoothness doesn't mean a lack of complexity, though. Given enough sunlight, Merlot develops rich fruit flavors and intriguing spice notes, creating a wine that is smooth, but also layered and captivating.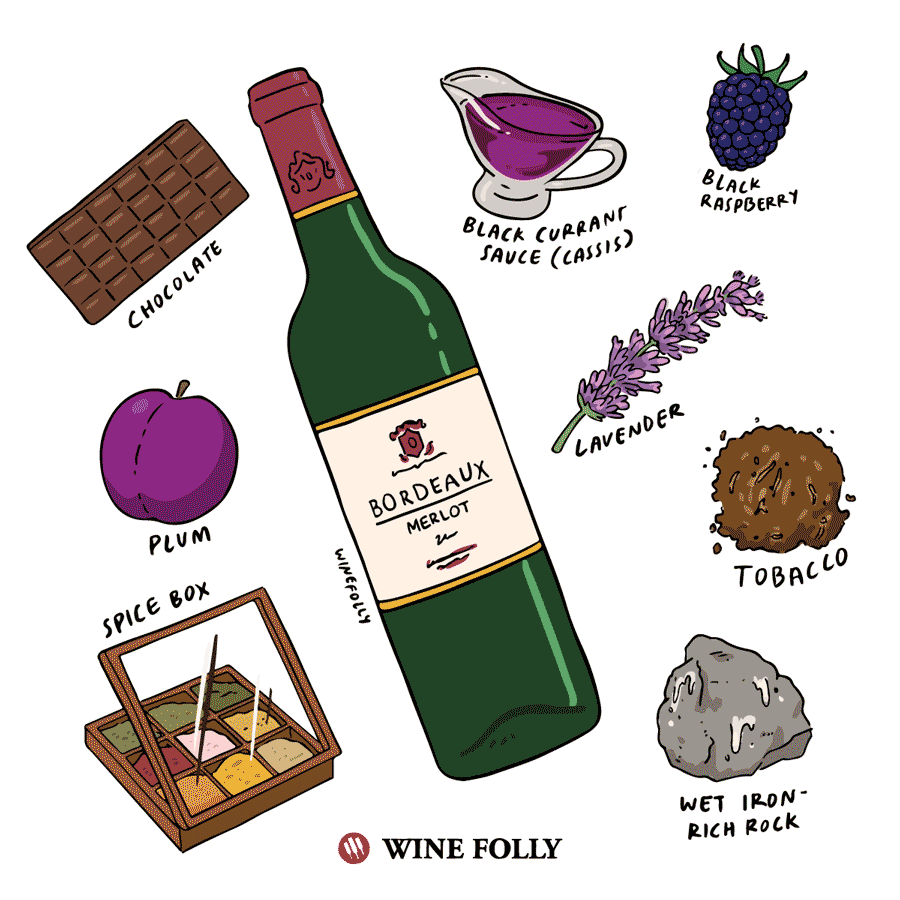 The Underrated Understudy
Despite its impressive qualities, Merlot has often played second fiddle to Cabernet Sauvignon, both in blends and in public opinion—a phenomenon that became particularly pronounced after the infamous 'Sideways effect'.
When a character in the 2004 film 'Sideways' expressed a distinct disdain for Merlot, this unduly influenced perceptions and sales of Merlot dipped while Pinot Noir, the film's favored grape, soared.
This was despite the fact that Merlot had been, and still is, the backbone of some of the world's most exquisite wines. Today, the 'Sideways effect' has largely faded, and Merlot is re-emerging from the shadows, reclaiming its status not merely as a blending grape but as a splendid varietal in its own right, capable of creating wines that are lush, complex, and wonderfully versatile.