Treasured for its intense floral aromas, Gewürztraminer has thrived for centuries in the foothills of the Alps and the Vosges Mountains. Whilst sweet smelling, many are dry and even display a savory side with age.
Also known as: Gewurztraminer, Roter Traminer, Traminac
Primary Flavors
Lychee

Rose

Grapefruit

Tangerine

Ginger
Taste Profile
Gewürztraminer is like the grown-up version of Moscato. It's a very aromatic, and intense grape with a wide range of styles. Most of the wines smell sweet, thanks to it's tropical fruit and floral notes, however, many wines are dry and have little to no sugar.
On the nose, Gewürztraminer has a distinctive lychee and rose aroma. You can also find ginger, orange blossom, honey delicate spiced notes, depending on whether or not the grapes have undergone noble rot.
On the palate Gewürztraminer tends to be full bodied, sometimes viscous and oily, and can have higher levels of alcohol, as it ripens quickly. The acidity levels range from moderate to low, but the best examples always taste fresh and balanced. Depending on the style, wines may be dry all the way to sweet.
Off-Dry
Medium Body
None Tannins
Low Acidity
13.5–15% ABV
How to Serve Gewürztraminer Wine
Gewürztraminer should be served Fridge Cold, around 38-45ºF (4-6 ºC). This will ensure it tastes fresh and preserves its aromas. Whether you have a dry or a sweet style, serving it cold is recommended.
A white wine glass is perfect for Gewürztraminer to funnel all those intense aromas straight to your nose. There's no need to decant this already intense wine.
Most Gewürztraminer wines are not made to be aged. They're best enjoyed young to preserve their fresh aromas. However, a few select wines from the best vintages and vineyards in both Italy and France, can age for a decade or more and become savory and honeyed with time.



SERVE

45–55°F / 7-12°C




GLASS TYPE

White


DECANT

No


CELLAR

3-5 Years
Gewürztraminer Food Pairing
Gewürztraminer pairs well with traditional soft, stinky cheeses such as Munster or Gorgonzola. That works with both the sweet and dry styles. However, when you step outside traditional European cuisine, you'll also find amazing pairings for this highly aromatic grape.
Middle Eastern and Moroccan cuisine, both utilizing nuts and dried fruits with roasted meats, are great examples of the types of cuisine to enjoy with Gewürztraminer wine. When pairing Gewürztraminer with food, think about how the wine's floral aromas and notes of ginger will bring out actual ginger and rose water used in a dish.
Sweet examples of Gewürztraminer are perfect with aromatic desserts, think mango sorbet, or baklava with rose water.

5 Fun Facts About Gewürztraminer
Gewürztraminer's pink hue is due to anthocyanins found in its red-skinned parent grape, Traminer.
Its early ripening in cool climates helps Gewürztraminer maintain its delicate, fruity flavors and aromas.
Gewürztraminer's spiciness stems from terpenes, organic compounds responsible for its complex, heady fragrance.
Its hallmark lychee aroma is attributed to linalool, an aromatic compound also found in the fruit.
Tramin's 11th-century records mention Gewürztraminer, highlighting the grape's enduring presence in European viticulture.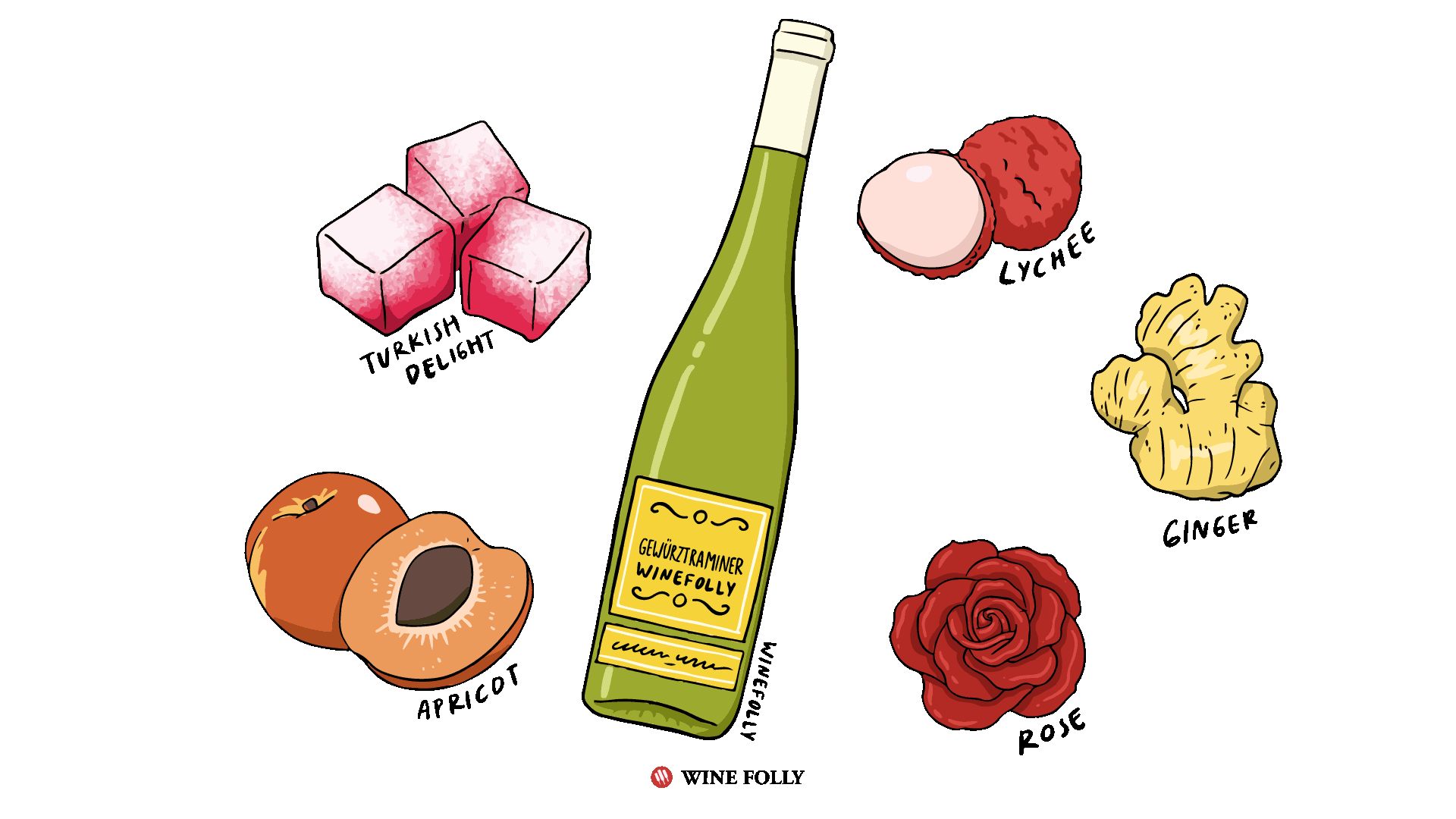 Where it Grows
Gewüztraminer's origins aren't clear but some believe it comes from the town of Tramin in the Alto Adige region of Italy, nestled in the Alps. Today, it makes its home across the globe, but France is now its adopted homeland, specifically in Alsace, where we find over a quarter of the plantings.
France: 8,203 acres (3,320 hectares)
Italy: 3,264 acres (1,321 hectares)
Moldova: 2,715 acres (1,099 hectares)
USA: 2,216 acres (897 hectares)
Germany: 2,036 acres (824 hectares)
Total Vineyard Area – 31,686 acres (12,823 hectares) (data from 2016)

Alsace, France
What to expect: Alsace is the adopted homeland of Gewürztraminer. You can expect a wide range of styles from dry and crisp to lusciously sweet, influenced by factors such as vineyard location, soil type, and winemaking techniques. Thanks to its mosaic of different soil types and microclimates, Alsace offers the whole gamut of what Gewürztraminer has to offer.
Alsace AOC Gewürztraminer: An aromatic white wine with signature lychee, rose petal, and exotic spice aromas, originating from the diverse terroirs of Alsace. Its style ranges from dry to off-dry.
Alsace Grand Cru Gewürztraminer: Hailing from select vineyards with exceptional terroir, producing wines with increased complexity, concentration, and longevity. These wines showcase intense stone fruit, ginger, and honey aromas, with a balanced acidity. Styles range from dry to off-dry. Many are perfect for aging.
Vendanges Tardives Gewürztraminer: A late-harvest wine with enhanced concentration and complexity, characterized by opulent ripe fruit, honeyed, and spicy aromas. To achieve this intensity, the grapes are left on the vine longer, allowing them to accumulate higher sugar levels and develop more robust flavors. Styles range from off-dry to sweet.
Sélections de Grains Nobles Gewürztraminer: An indulgent, sweet wine made from botrytized grapes, offering unparalleled richness and alluring notes of candied fruits, marmalade, and baking spices. The noble rot affects the grapes in the vineyard, concentrating their sugars and flavors, resulting in a wine that exudes opulence and balance. These can age for a decade or more.

Alto Adige, Italy
What to expect: Alto Adige, a beautiful wine region in the foothills of the Italian Alps, is considered by some to be the homeland of Gewürztraminer. It produces Gewürztraminer with bright acidity and a mineral-driven profile, setting it apart from its Alsatian counterparts. The unique Alpine terroir and higher altitude vineyards contribute to wines that exhibit pronounced aromas of rose petal, lychee, and exotic spices, with a leaner, more elegant style that ranges from dry to off-dry.
In Alto Adige, microclimates and varied soil types play a significant role in shaping the style of Gewürztraminer. Vineyards at higher elevations, such as the Valle Isarco result in wines with remarkable freshness and finesse, while those in warmer, more sheltered areas, such as Val Venosta, produce Gewürztraminer with increased intensity, depth, and fruit-forward characteristics.
Overall, Alto Adige Gewürztraminer offers a harmonious balance of vibrant aromatics and refreshing acidity, making it a versatile and food-friendly wine.

In-Depth Knowledge
Take a deep dive into understanding the complex history, aromas, and fungal friendships that Gewürztraminer has.
A Little History
Gewürztraminer has a rich and complicated history, with its origins traced back to the Alto Adige region in Italy. However, the grape's name is derived from the German word "Gewürz," which means "spice," reflecting its spicy character.
Genetic studies have revealed that Gewürztraminer is a mutation of the Traminer grape, also known as Savagnin, a variety native to the Alpine regions of Europe. Over time, the grape has evolved into several distinct clones, with each expressing slightly different characteristics.
A Unique Bouquet
The distinctive aroma of Gewürztraminer can be attributed to its unique composition of aroma compounds. Among these, terpenes are key contributors, providing the characteristic floral and spicy notes. The most notable terpene in Gewürztraminer is linalool, which imparts the signature lychee scent. Other terpenes, such as geraniol (rose), citronellol, and nerol, contribute to the grape's spicy and fruity profile.
Fungal Enhancement
Botrytis cinerea, or noble rot, plays a significant role in shaping the flavors and styles of Gewürztraminer wines. The fungal infection induces a process called enzymatic hydrolysis, which breaks down cell walls within the grape, leading to water evaporation and subsequent concentration of sugar and flavor compounds.
This enhances the grape's characteristic terpenes, such as linalool, geraniol, and citronellol, as well as volatile thiols, resulting in heightened floral, spicy, and fruity aromas.
Additionally, the noble rot produces glycerol, which imparts a viscous texture and increased mouthfeel to the wine. The presence of botrytis in Gewürztraminer grapes allows winemakers to craft rich, opulent dessert wines with remarkable complexity and aging potential.