Chardonnay is one of the world's most popular grapes, thanks to its number of different styles. You'll find everything from lean and chalky to rich, creamy and aged in oak, and even some of the world's finest sparkling wine too.
Also known as: Morillon
Primary Flavors
Lemon

Yellow Apple

Butter

Vanilla

Pineapple
Taste Profile
Chardonnay is noted for its incredible versatility and range of flavors. This diversity can be attributed to the range of winemaking techniques and climates that it is subjected to.
From crisp unoaked versions from cool climates, to full-bodied and oak-aged versions from more moderate climates, and even to sparkling blanc de blancs, the flavors of Chardonnay can vary significantly, while also retaining common characteristics.
On the nose, unoaked, or 'Chablis-style' Chardonnays, tend to offer fragrant notes of green apple, pear, and citrus, with some chalky or mineral-like aromas.
Oaked Chardonnays, particularly those in the 'Burgundian' style, will often present rich aromas of peach, mango, and lemon, accompanied by notes of vanilla, butter, and often a hint of toasted bread or nuttiness due to the influence of oak, malolactic fermentation, and lees stirring.
On the palate Chardonnay offers a broad range of experiences depending on its style. Unoaked Chardonnays are typically lean and crisp, with high acidity, often resembling the freshness of a Sauvignon Blanc but with more body.
Oaked Chardonnays are known for their full-bodied, creamy mouthfeel, moderate acidity, and flavors of butter, vanilla, baking spices overlaying a stone fruit character. Despite the stylistic differences, both types tend to share a characteristic underlying note of apple or citrus. With age, no matter the style, chardonnay tends to develop hazelnut aromas. Most wines range from 12-14%.
Dry
Medium Body
No Tannins
Medium Acidity
13.5–15% ABV
How to Serve Chardonnay Wine
The serving temperature for Chardonnay varies depending on the style. Sparkling Chardonnay should be served very chilled, 38-45°F (3-7°C). Leaner styles, like Chablis, should be served a bit cooler, around 45°F (7°C) whilst oaked styles should be a bit warmer, around 55°F (12°C).
A white wine glass is perfect even for the sparkling versions, but if you want to be technical, a flute is often used for sparkling, a universal white wine glass for the leaner styles, and an aroma collector for the oaked versions.
Most Chardonnay wines do not need decanting, unless they are quite old. Speaking of old Chardonnay, some of the finest examples of all styles can improve with age and become very nutty with time, and even can develop mushroom-like aromas that are heavenly.



SERVE

45–55°F / 7-12°C




GLASS TYPE

Aroma Collector


DECANT

No


CELLAR

5-10 Years
Chardonnay Food Pairing
Thanks to the range of styles that Chardonnay can produce it's safe to say that Chardonnay can pair with almost anything. From shellfish, to creamy sauces, and even white meats like pork and chicken, Chardonnay is very versatile at the dinner table.
Acidity tends to be high in lean styles and sparkling styles of Chardonnay, which works well with creamier dishes, but also pairs well with seafood. Try oysters, sushi, sautéed fish, pâté, Chicken Piccata, vegetable risotto, or moules frites! The crispness, minerality, and delicate flavors crave crisp, delicate foods.
Oaked Chardonnays have more body and tend to pair well with richer foods. Try crab cakes, linguini vongole (clams), halibut, or even pork tenderloin with apples. For vegetarians, lean towards rich or starchy vegetables like corn, pumpkin, or squash. Also, mushrooms are a must!

5 Fun Facts About Chardonnay
Chardonnay is one of the most planted white grapes in the world, with over 494,000 acres ( 200,000 hectares) planted worldwide.
Chardonnay often undergoes a process called malolactic fermentation, which changes sharp malic acid into softer lactic acid, adding butter and yogurt notes.
Wente in California is famous for cloning Chardonnay from Burgundy in 1912. That clone, called the Wente clone, is the source material for nearly 80% of American Chardonnay plantings today.
Chardonnay is said to be a winemaker's grape, as it gets many of its hallmark tasting-notes of butter and vanilla from winemaking methods.
If you see "Blanc de blancs" on a Champagne label, you're almost certainly drinking 100% Chardonnay.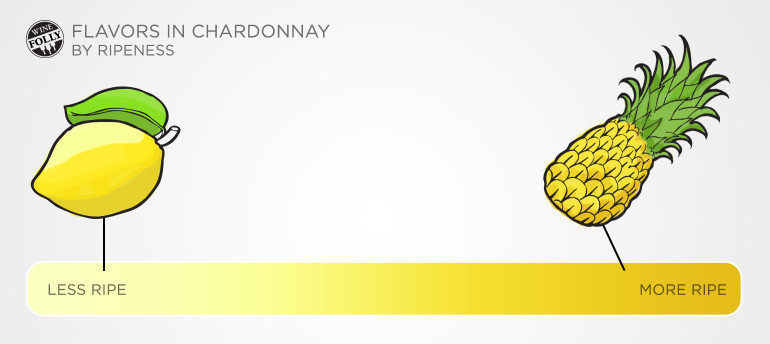 Where it Grows
Chardonnay, found in every winemaking country, originated in Burgundy, France. Styles vary here, from rich, oaked expressions in Meursault to lean, mineral-driven Chablis.
In California, the grape adapts to diverse climates, producing styles from mineral-rich in cool Sonoma Coast to tropical, opulent wines in warmer Napa Valley.
In Australia, cooler climate zones, like the Yarra Valley and Margaret River craft Chardonnays that are fruit-forward but refreshingly acidic. Many are made in a Burgundian style.
France: 117,254 acres (47,451 hectares)
USA: 102,282 acres (41,392 hectares)
Australia: 52,685 acres (21,321 hectares)
Italy: 48,850 acres (19,769 hectares)
Chile: 28,256 acres (11,435 hectares)
Total Vineyard Area – 498,286 acres (201,649 hectares) (data from 2016)

Burgundy, France
What to expect: Burgundy offers a diverse range of wines, showcasing purity of fruit, mineral complexity, and vibrant acidity. Expect flavors from crisp apple and citrus in cooler regions to richer notes of peach, apricot, and toasted almond in warmer ones. Aging in oak adds vanilla, whilst malolactic fermentation adds buttery notes and a creamy mouthfeel.
Chablis: Situated in northern Burgundy, Chablis is recognized for producing lean, steely Chardonnay with a unique flinty-mineral edge, thanks to its Kimmeridgian clay soil. Cooler climate and minimal oak influence emphasize tart green apple, lemon, and oyster shell notes. You'll also find a yogurt aroma coming from malolactic fermentation.
Côte d'Or Some of the world's finest Chardonnays are made here. Most wines undergo oak aging, malolactic fermentation, and lees stirring, creating very complex and rich styles.
The Côte d'Or is warmer as it's further south, yielding fuller, opulent Chardonnays. Limestone-rich soils contribute to the wines' prominent mineral backbone and refreshing acidity. Two important villages in the Côte d'Or are:
Meursault leans towards richer flavors of buttered toast, hazelnut, and ripe stone fruits, complemented by an underlay of minerality and balanced acidity.
Puligny-Montrachet combines elegance and power. Its wines express a harmony of ripe citrus, white flowers, and hazelnut, underscored by a remarkable mineral tension, which is one of its hallmarks.

California, USA
What to expect: California Chardonnay showcases the state's sun-kissed vineyards and expert winemaking, ranging from vibrant citrus and apple to opulent pear, butterscotch, and vanilla flavors. You'll find everything here from simple and fruity, to some of the world's best Chardonnays.
Sonoma Coast: Bright citrus, apple, and pear flavors dominate Sonoma Coast Chardonnay. Thanks to the cooling Pacific influences you'll find leaner, and refreshing styles here. Some will have a minimal oak influence but all have a fine mineral streak.
Napa Valley: Napa Chardonnay leans towards richer stone fruit and tropical tones. The warm climate produces full-bodied wines, while generous oak aging and some malolactic fermentation toasty and buttery nuances. These are some of the richest Chardonnays out there.
Santa Barbara County: Lemon, apple, and pineapple notes take center stage. The area's unique east-west mountain orientation and cool maritime influences from the Pacific make their way directly into the vineyard yielding refreshing, racy, lean styles of Chardonnays. Subtle almond and brioche undertones from oak aging and lees stirring harmonize with the lingering minerality.

Australia
What to expect: Australian Chardonnay is a vibrant showcase of diverse styles, from simple and fruit, to powerful and elegant, reflecting the continent's varied microclimates. With a spectrum spanning from tropical fruit to citrus notes, these wines also offer mineral accents and well-integrated oak nuances.
Yarra Valley: Located in cool-climate Victoria, Yarra Valley produces elegant Chardonnays marked by crisp acidity. They are kind of between Chablis and Meursault styles. The wines are notable for their fresh citrus and green apple flavors. Oak aging introduces undertones of vanilla and toast, without overwhelming the fruit purity.
Margaret River: The warmer climate in Margaret River and gravelly soils, gives birth to Chardonnays with power and finesse. The region's signature style blends intense flavors of ripe stone fruits, melon, and a hint of tropical fruit, but with racy acidity. These are beautifully balanced by creamy textures and toasty notes derived from oak maturation. Expect an underlying minerality which echoes the region's terroir.

In-Depth Knowledge
Take a deep dive into the versatility and complex nature of Chardonnay.
Why do some Chardonnays taste buttery?
The alluring buttery essence of Chardonnay doesn't just miraculously appear. It's the result of a carefully orchestrated biochemical process called malolactic fermentation (MLF). Contrary to the impression the name might give, MLF is not really a fermentation. It's a transformation process where a type of bacteria called Oenococcus oeni converts the tart malic acid (akin to the acid found in apples) into a softer, rounder lactic acid (similar to the acid found in dairy products).
This process softens the wine, creating a creamier, less acidic flavor profile, and a full-bodied, smooth mouthfeel. A noteworthy byproduct of MLF is a compound called diacetyl, which contributes the distinctive buttery character to the Chardonnay. It's important to note that this buttery flavor and texture is not a result of oak aging, but rather, a direct outcome of malolactic fermentation.

How does oak impact Chardonnay?
The intriguing complexity of Chardonnay owes much to oak aging, a process significantly influenced by the barrel's size, type, toast level, and time of aging.
The barrel size influences wine development – smaller barrels mean more wine-to-oak contact, leading to enhanced flavor extraction and tannin integration.
Different types of oak impart varied flavors: American oak gives bold, coconutty notes, French oak offers subtle, spicy nuances, and Hungarian oak strikes a balance between the two.
The barrel's toast level impacts the flavor profile: light toast provides delicate notes, medium toast introduces baking spices, and heavy toast delivers robust, toasted flavors.
Lastly, the aging duration matters; longer periods intensify flavor extraction and deepen oak influences, leading to a more rounded and complex wine. Oak's gift to Chardonnay includes vanilla essence from vanillin, creamy aroma from lactones, and a hint of dill from eugenol. These elements, in harmony with the wine's inherent qualities, create a richly layered sensory experience.

Battonage, aka: Lees Stirring
Another process that contributes to the mouthfeel and complexity of Chardonnay is battonage, also known as lees stirring. "Lees" refers to the dead yeast cells and other particles that settle at the bottom of the barrel after fermentation. Stirring these lees can enhance the wine's texture, giving it a silkier mouthfeel and adding depth to its flavor profile.
During battonage, the lees absorb oxygen, which reduces the wine's exposure to oxidation and preserves its freshness. Furthermore, the yeast cells break down and release mannoproteins and polysaccharides, which contribute to the wine's body, creaminess, and stability. This also can add a brioche, dough, or biscuit flavor. This process, alongside malolactic fermentation and oak aging, constitutes a triumvirate of winemaking techniques that shape the captivating character of Chardonnay.