Cabernet Franc is the parent grape of both Merlot and Cabernet Sauvignon. Complex reds result, with aromas of raspberry, bramble, and bell pepper (pyrazines).
Primary Flavors
Strawberry

Raspberry

Bell Pepper

Crushed Gravel

Chili Pepper
Taste Profile
Dry
Medium Body
Medium-high Tannins
Medium-high Acidity
11.5–13.5% ABV
Handling


SERVE
60–68°F / 15-20°C


GLASS TYPE
Universal

DECANT
30 Minutes

CELLAR
5–10 Years
Food Pairing
Higher acidity makes it possible to pair Cabernet Franc with tomato-based dishes, vinegar-based sauces (smoky BBQ anyone?), or rich legumes like black beluga lentils.
Cabernet Franc's origins likely lie in the Basque region of France (next to Spanish border in the South-West).

Ampelographers (grape researchers) point to South-West as Cab Franc's homeland because it's related to a few other varieties found here. Most notably, Cabernet Franc is the parent grape to Cabernet Sauvignon and Merlot as well as the rare Hondarribi Beltza (found mostly in the Basque Country of Spain).

The Many Tastes of Cabernet Franc Wine
Cabernet Franc has proven to be very robust and produce good quality wines in a variety of climates. This is a clue to its diversity of tastes.
Wines reveal more tart fruit flavors and heightened acidity from cooler climates such as in the Loire Valley of France and Ontario, Canada.
In warmer areas such as the Bolgheri region in Tuscany and the Sierra Foothills of California, you'll find Cabernet Franc delivers more sweet strawberry and dried fruit flavors.
Still, if you're looking for a place that's well known for the "ultimate" Cabernet Franc, you might look into the Libournais (aka "Right Bank") in Bordeaux.
It's here that Cabernet Franc is blended with Merlot to produce some of the most well-known (and highly collectible) wines in the world. The most famous (and highly valued) wines include producers from Pomerol and Saint-Émilion including Château Pétrus, Château Ausone, and Château Angélus.
Bell Pepper Flavors in Cabernet Franc
One fascinating flavor in Cabernet Franc wines is a disarming aroma often described as bell pepper. In warmer climates, the aroma is a bit sweeter like roasted red pepper or cayenne spiced chocolate, but the pepper characteristic is notable.
You'll either love it or hate it.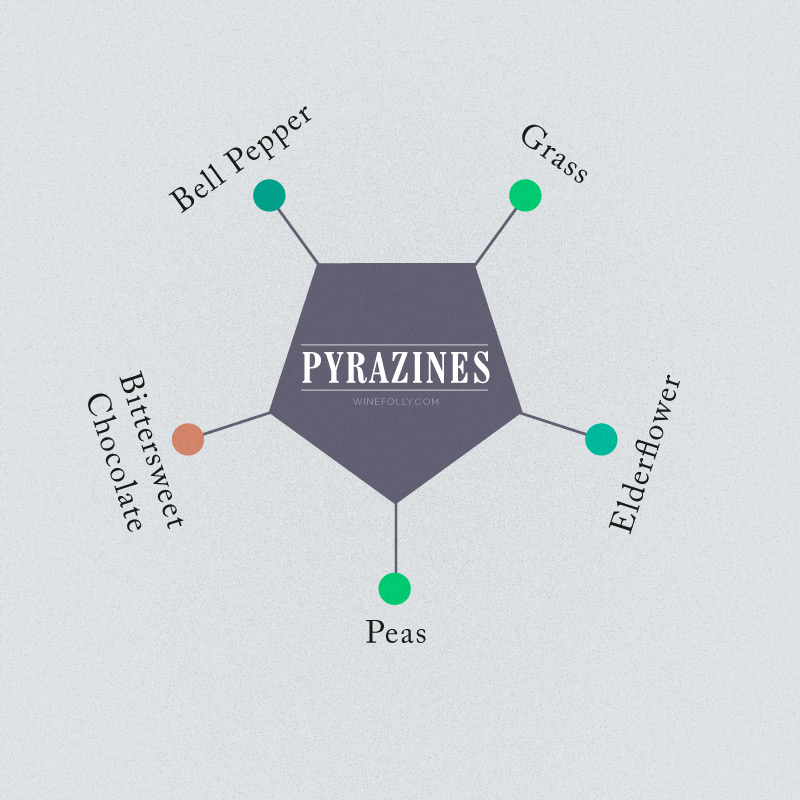 What's cool, is that this flavor is caused by a group of related aroma compounds called methoxypyrazines or "pyrazines" for short.
These compounds occur naturally in Cabernet Franc vines as natural defense system against pests. And, it's part of the reason why this grape successfully grows in such a diverse range of places.
---
Where to Look for Cabernet Franc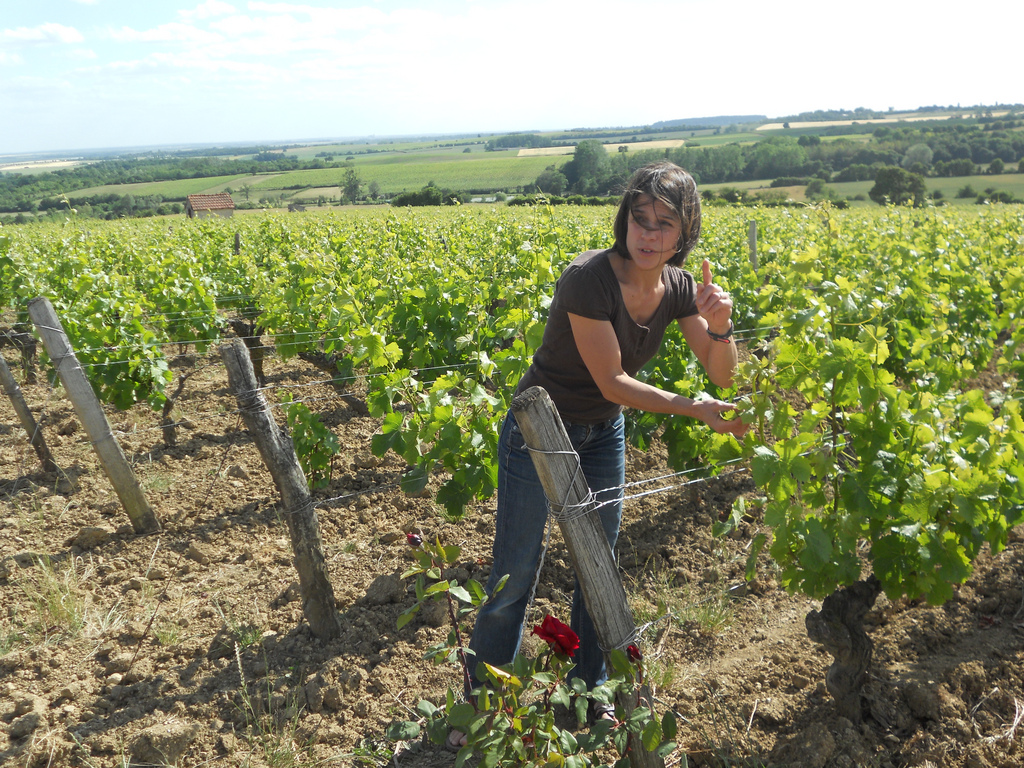 Loire Valley, France
France is the largest producer of Cabernet Franc. It's hugely important in Bordeaux blends, but you can find single-varietal Cabernet Franc wines from the Loire Valley. The two most famous appellations for Cabernet Franc include Chinon and Bourgueil.
Chinon Taste Profile
A great example of Chinon will smell of roasted red pepper, raspberry sauce, jalapeño, sweet raspberry compote, and wet gravel.
On the palate you'll taste moderately high acidity and moderately low tannin. Flavors of sour cherry, smoky tomato, dried oregano, and sweet pepper dominate. The taste will burst through your palate and drop out quickly with a subtle tingle from the acidity.
What to Look For
Seek out a French Cabernet Franc with at least 5–7 years of age. (or cellar them yourself!) This gives the wine enough time in bottle to smooth out the spicy acidity and develop some really lovely smoky flavors and a dried fruit finish. Expect to spend around $20 for decent quality.

Tuscany, Italy
Italy is the second largest producer of Cabernet Franc. Much of it is made in Friuli-Venezia Giulia but perhaps the most well-known Italian Cabernet Franc wines come from Tuscany.
Since Cabernet Franc is not indigenous to Italy and declassified out of the Italian DOCG system these wines are lovingly referred to as "Super Tuscans."
Tuscany Taste Profile
A great example of a "Super Tuscan" Cabernet Franc will have ripe and rich aromas of black cherry, blackberry, cocoa, red pepper flakes and a hint of chalky dry gravel and leather.
On the palate there will be boldness from elevated alcohol with mocha, cinnamon, and plum flavors complimented by medium-high acidity and moderately high tannin. It's common to find Cabernet Franc from Tuscany aged in French oak for additional body and richness.
What to Look For
This wine is highly appreciated and because of this, you'll find the prices to easily jump up to $50–$80 a bottle. The regions within Tuscany that have been receiving the most notoriety for Cabernet Franc wines have been found within the province of Livorno (including Bolgheri and Suvereto).

Sierra Foothills, California
There is Cabernet Franc growing throughout California, but few regions champion it as a single-varietal wine. Enter the Sierra Foothills! This off-the-radar region in the foothills of the Sierra Nevada Mountains typically produces an opulent, fruit-forward style of Cabernet Franc.
Sierra Foothills Taste Profile
A great example of Sierra Foothills Cabernet Franc will have bold aromas of sweet strawberries, raspberry, mint, and roasted jalapeño. On the palate you'll taste bold fruit from elevated alcohol and flavors of chocolate and baking spices from oak-aging.
What to Look For
This wine is best enjoyed within the first few years of release and is usually offered at great prices around $20 a bottle.

Colchagua Valley, Chile
Only recently has Chile started to offer single-varietal Cabernet Franc wines. Before, the wines had always been blended into Chile's ubiquitous Bordeaux blend.
Chile itself is quite hot and sunny but, due to the induction effect Pacific Ocean breezes being sucked in towards the Andes Mountains, Chilean wines often maintain freshness and elegance. That said, the Colchagua Valley is farther inland and offers a riper style of Cabernet Franc.
Chile Taste Profile
A great example of Colchagua Chilean Cabernet Franc will have bolder aromas of black cherry, milk chocolate, and green peppercorn. The taste will burst with an initial bolt of acidity and juicy berry fruit that is smoothed out on the finish with baking spice-like flavors from oak aging. Tannins taste moderately high but ripe.
What to Look For
Look for wines from Colchagua and Maule Valley for richer and riper flavors. Leaner and more elegant Cabernet Franc wines can be found in Cachapoal or Casablanca Valley. Expect to spend anywhere from $20–30 for a great example.