Albariño wine ("alba-reen-yo") is a delightfully refreshing coastal white that grows on the Iberian Peninsula. It's loved for its rich stone fruit flavors, a hint of salinity, and zippy acidity.
Primary Flavors
Lemon Zest

Grapefruit

Honeydew

Nectarine

Saline
Taste Profile
Dry
Light Body
None Tannins
High Acidity
11.5–13.5% ABV
Handling


SERVE
38–45°F / 3-7°C


GLASS TYPE
White

DECANT
No

CELLAR
3–5 Years
Albariño Food Pairing
A friend to all things from the sea, Albariño pairs exceptionally well with white fish and meats as well as leafy green herbs. Try it with fish tacos.
Meat Pairing: Lighter meats, fish, and seafood sing with Albariño. Try it with ceviche, seafood risotto, grilled (or fried) fish tacos, oysters, mussels, and clams.
Cheese Pairing: Soft cheeses like burrata, or semi-hard cheeses such as manchego, gouda and salty feta will be killer alongside these fresh and bright wines.
Vegetable Pairing: The grassy notes of Albariño play well with fresh green herbs, like salsa verde. Try Spanish tapas such as grilled padrón (or shishito) peppers, grilled vegetable dishes, caprese, or even caesar salad.
---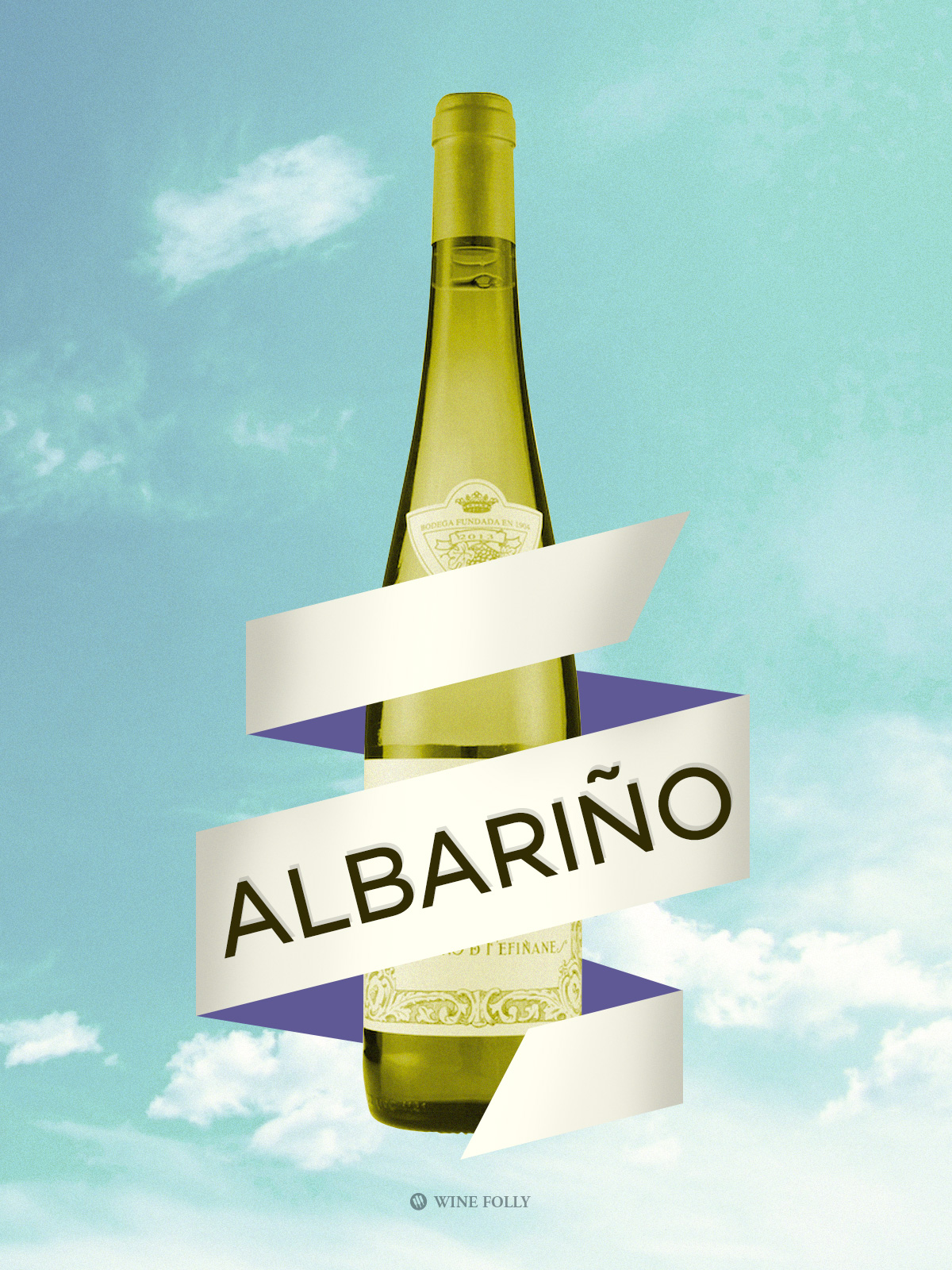 6 Fun Facts About Albariño
On the Wine Day Calendar, August 1st is Albariño Day!
Some of the oldest living vines in the world are Albariño vines and are up to 300 years old. (For comparison, the oldest known grapevine in the world is over 400 years old.)
It's common to see the word "Albariño" on Spanish labels unlike other areas which label by region.
Spanish and Portuguese winemakers have always treasured freshness with Albariño and don't age in oak. Today however, you can find a few producers making rich oak-aged styles with brioche-like aromas.
The grapes are tiny with thick skins. Not only does this make Albariño harder to produce, it also results in a distinct raw-almond or citrus-pith like bitterness from the skin's phenol content.
Most Albariño vineyards have a very different look. Vines are trellised above your head on Pergolas to help keep grapes dry and rot-free.
---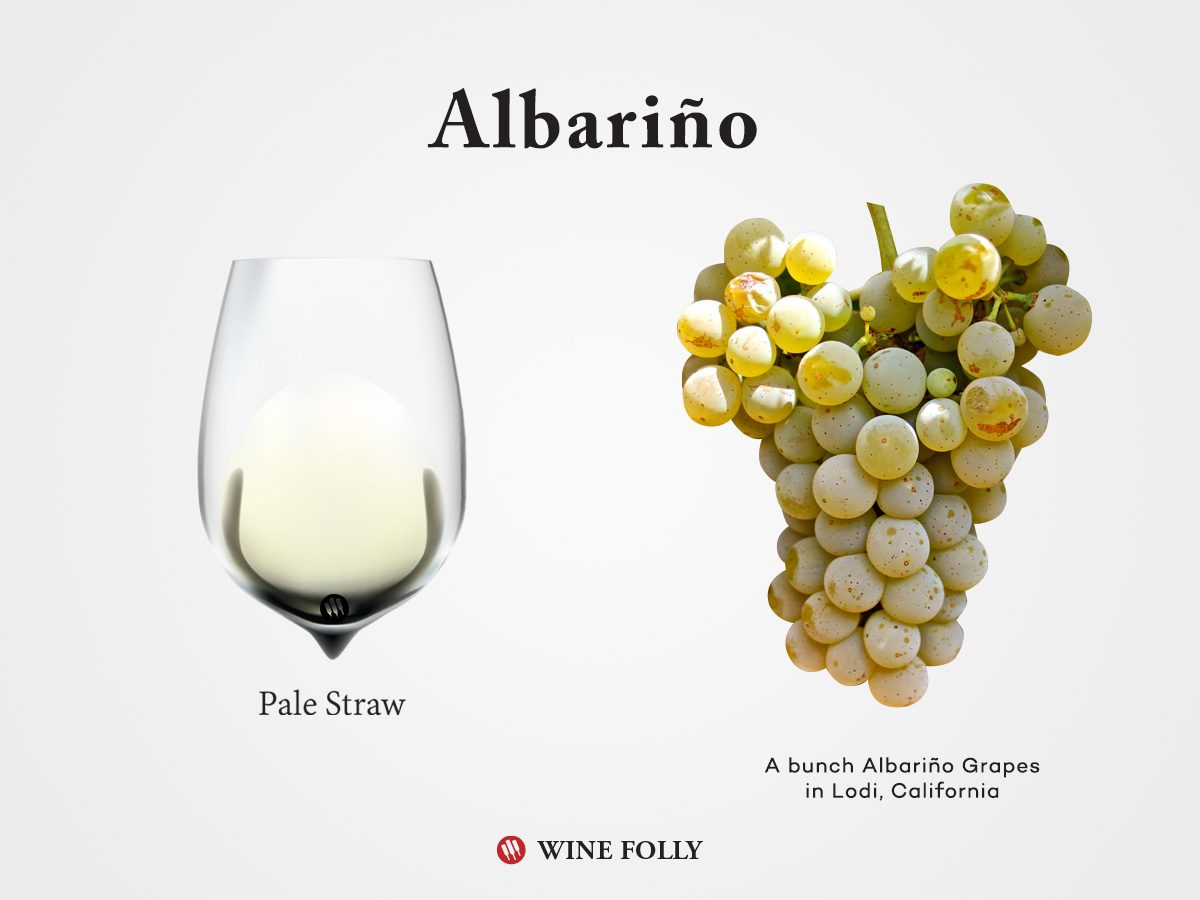 Tasting Albariño
On the nose, expect aromas of nectarine, lime, and grapefruit, with subtle hints of honeysuckle and occasionally beeswax.
On the palate, Albariño wines have a weighty mid-palate and mouth-watering acidity that finishes with salinity and sometimes a subtle bitter note (like green almond or citrus pith).
Most Albariño are drunk young and fresh however, due to the high acidity and phenolic structure (from the grape's thick skins) it has incredible potential for aging.
---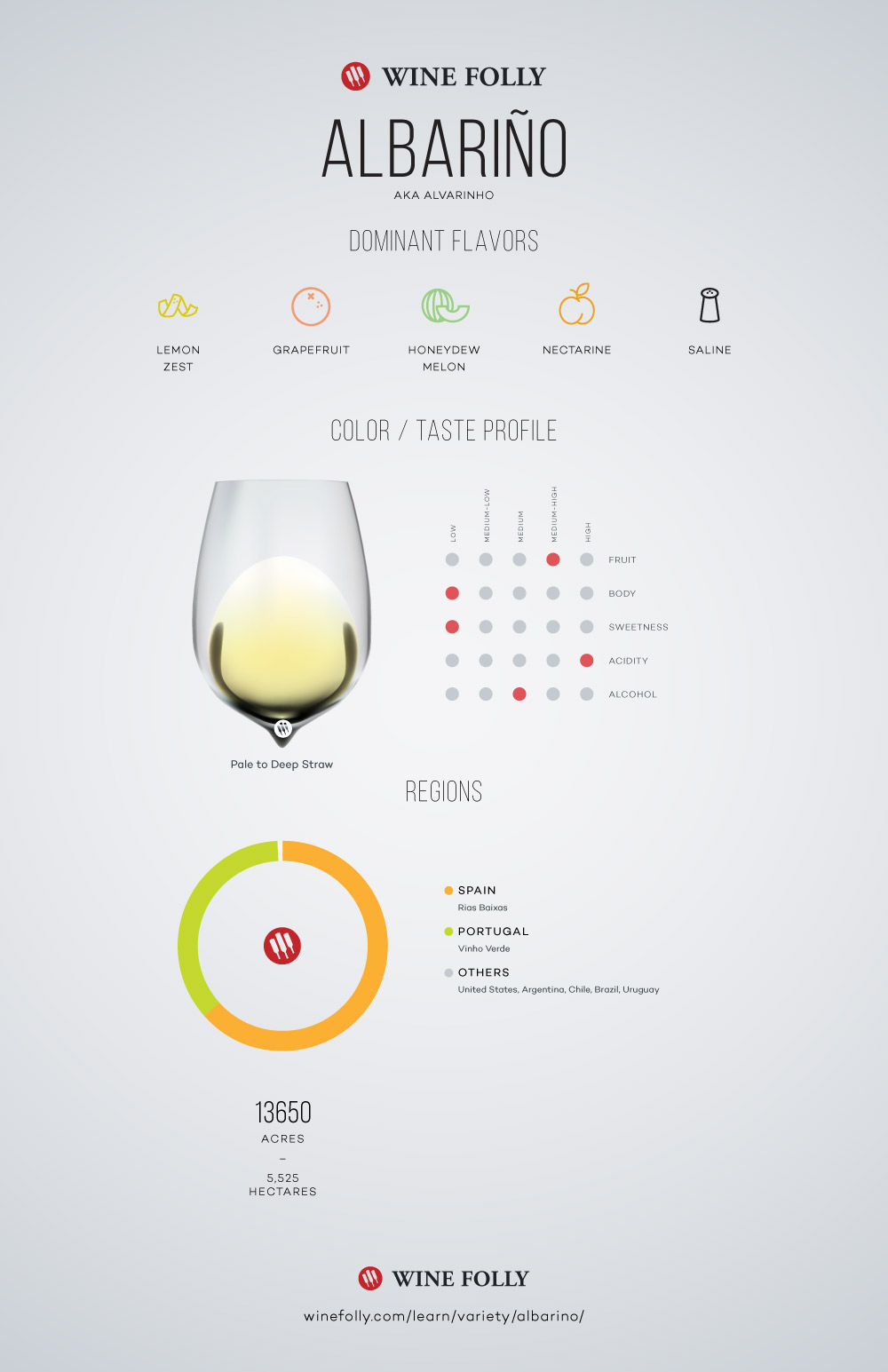 Where Does Albariño Grow?
Spain: ~32,500 acres / 13,150 hectares (Rías Baixas)
Portugal: ~14,300 acres / 5,782 hectares (Minho / Vinho Verde)
California: ~300 acres / 121 hectares (Central Coast)
Uruguay: ~150 acres / 60 hectares
Others: Australia, Argentina, Chile, Brazil
Albariño performs well in cool and intermediate climates such as Galicia which experiences heavy Atlantic storms. Fortunately, the area offers 2000+ hours of growing degree days, making it possible to fully ripen Albariño.
Even with its thick skins and hardy vines, Albariño is sensitive to mildew and rot. Thus, in wet regions it's important to keep the roots dry with well draining soils (such as sandy, granitic soils).
---
Albariño Wine Regions to Explore
There are two main "homes" where Albariño can be widely found: Rías Baixas in Spain, and Vinho Verde in Portugal (where it's called Alvarinho).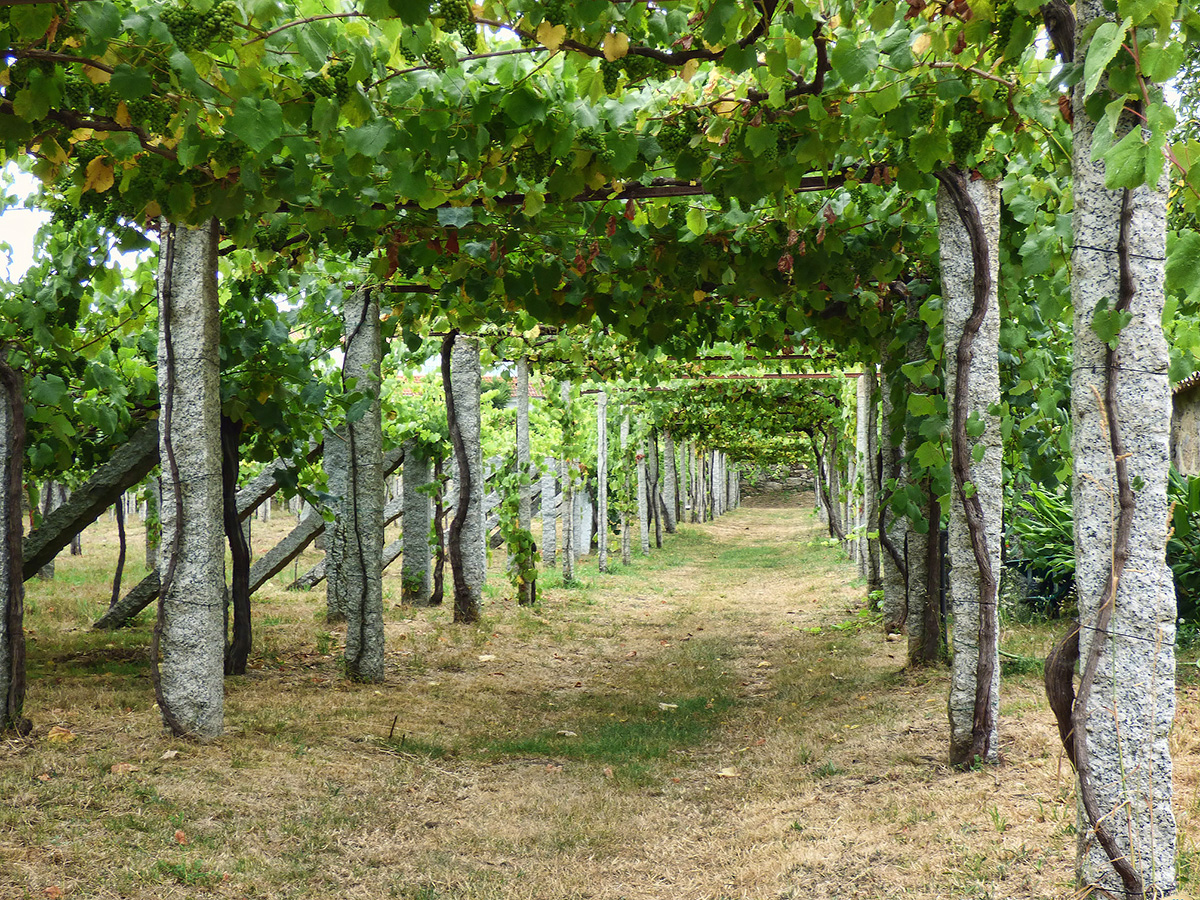 Rías Baixas
Flavors: Apricot, Melon, Peach, Honeysuckle, Grapefruit
The name Rías Baixas is Galician for "Lower Rivers" and there are four main rivers (Muros y Noia, Arousa, Pontevedra, and Vigo). Rías Baixas is divided into five sub-zones:
Ribeira do Ulla: The newest and most northerly subregion. Inland area with fruiter wines because of more moderated weather.
Val do Salnés: Spanish winemakers credit this as the birthplace of Albariño. The region skirts the coast and produces wines with intense minerality and salinity.
Soutomaior: The smallest of the five growing areas on a river estuary. Expect more saline, mineral-driven wines.
Condado do Tea: Named after the river Tea, this region is furthest inland with the most clay content. Thus, wines are often bolder and fruitier.
O Rosal: This region forms the border with Portugal as it opens to the sea.
Each region has its own unique terroir, but all areas share a similar sandy, granitic soil type.
Rías Baixas is controlled by a wine commission called the Consejo Regulador. The Consejo maintains that all wineries and vineyards adhere to specific allowed varieties, methods of pruning and training, vine density (how many vines planted in each area), and how much fruit a vineyard yields.
There is also a strict tasting committee that samples all wines in Rías Baixas for quality assurance. Only wines that pass the Consejo test can be labeled "Rías Baixas."
---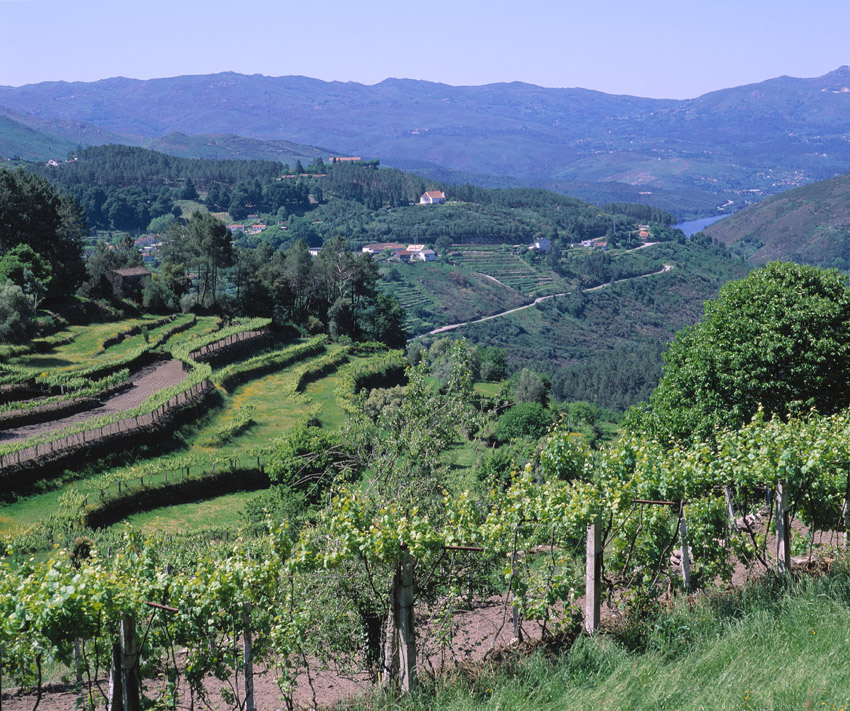 Vinho Verde
Flavors: Honeydew Melon, Lime, Lemon, Honeysuckle, Grapefruit
Most Vinho Verde are bright, dry wines with some spritz (carbonation), and lower alcohol levels ranging between 8.5% – 11.5% ABV.
In this heavily populated region, many locals have vineyards and grow grapes for the regional Vinho Verde wine. There are nearly 20,000 different growers in the region, with tiny plots. Thus, all the different grapes (Loureiro, Avesso, Arinto, etc) are generally thrown in together, so the exact blend for many wines is a mystery.
Because the weather is so cool here, Vinho Verde commonly enlists Pergola training systems to promote airflow. It is also not uncommon to see grapes trained up the sides of trees!
The Vinho Verde DOC has a total of nine sub-regions and Alvarinho does quite well in Monção e Melgaço. This sub-region borders Spain and has a warmer climate because the hills stop heavy rains.
---
Other Regions
California: The San Luis Obispo coast (between Santa Barbera and Monterey) has a similar climate to Albariño's homeland. This cool spot has coastal fog and an ocean breeze that moderates California's heat.
Uruguay: Albariño may be relatively new to Uruguay, but the climate there is eerily similar to that of the Galician coast, and wineries like the popular Bodegas Garzon are making precise, mineral driven wines.