For those who love a rich Chardonnay, Sauvignon Blanc-Sémillon blends are a rare white wine well worth investigating.
In this video we compare two regions (Bordeaux and Washington State) that make Sauvignon Blanc-Sémillon blends into a lusciously rich style.
Most people know Sauvignon Blanc as a light, zippy wine with herbal-yet-tropical flavors. Still, some Sauvignon Blanc get special treatment from fermentation in new oak (and often blended with Sémillon).
The new oak creates a very different texture and flavor than what we're used to with this variety.
Sauvignon Blanc will always be an herbal, nuanced wine but the oak and blending Sémillon adds layers of beeswax, ripe tropical fruit, a creamy mid-palate, and a lusciously long finish. Drool.
In this video, I tasted: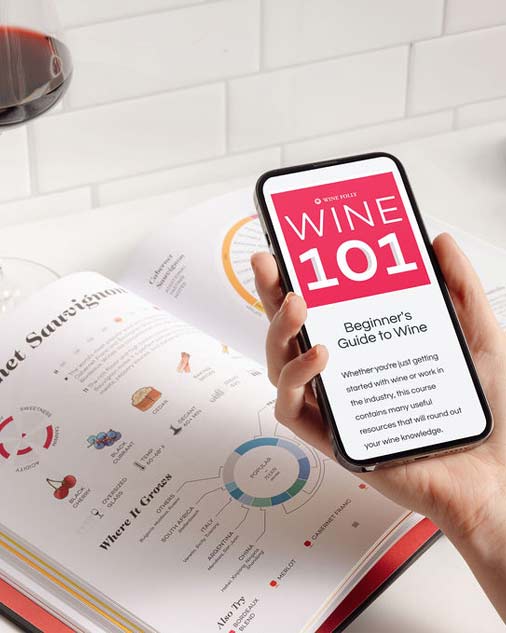 Buy the book, get a course.
Get the Wine 101 Course @ 75% OFF with the purchase of Wine Folly: Magnum Edition.
Shop Now
Château Doisy-Daëne
This winery is in the Sauternes appellation of Bordeaux. This region produces primarily golden-colored sweet white wines with Sauvignon Blanc and Sémillon. However, on vintages when sweet wine production is not optimal producers make dry wines which get declassified to the Bordeaux appellation.
Doisy-Daëne is well-known by students of viticulture and enology in Bordeaux as their owner has a long history in teaching, particularly in the area of white wine production!
Delille Cellars
Washington State might be wet and rainy on the western half of the state, but on the Eastern side it's quite dry! Washington's major wine production region of the Columbia Valley has proven to be an exceptional spot for French wine varieties.
Founded in the 1990s, Delille has taken inspiration from the Bordeaux region producing layered blends. Their most famous wine is a red blend called "D2" but the Chaleur Blanc offers a great example of what Washington State does with this blend.
---

The Story Behind Sauvignon Blanc-Sémillon Blends
Red wine varieties make up more than 90% of the plantings in Bordeaux. But if you search around the region, you'll find some places – like Entre-Deux-Mers, Graves and Sauternes – that focus one white wines made with Sauvignon Blanc and Sémillon.
Following in the tradition of wine production in Bordeaux, many of the white wines are fermented in oak barrels (and sometimes new oak barrels).
In fact, it's been rumored that this white blend was a favorite of Jackie O. who stocked the white house with bottles of Chateau Haut-Brion Blanc. (Today, this wine sells for nearly $900 a bottle!)
Fortunately, you can find these wines produced around the world in places that also produce great Cabernet Sauvignon.
Where to Find Sauvignon Blanc-Sémillon
Here are a few spots that we've seen produce this special wine:
Napa Valley, California: In areas with deep clay soils closer to the river, there is lots of Sauvignon Blanc and Sémillon. These wines have intense richness and minerality from the volcanic-rich soils.
Bordeaux, France: In cooler spots in the Entre-Deux-Mers, Graves, and Pessac-Leognan you'll find producers making great dry whites. Be sure to look into how the wine was produced to verify they have some element of aging in oak.
Hunter Valley, Australia: This region specializes in Sémillon specifically. On first release these wines are exceptionally lean and tart. However, as this wine ages it becomes a deep gold-yellow hue with creamy richness and tarragon notes. Collectors love to lay this wine down in their cellars.
Columbia Valley, Washington State: Even though Sauvignon Blanc and Sémillon aren't the most popular white grapes in this region (Chardonnay is the top white grape), this wine often outperforms. Many producers here follow in the footsteps of Bordeaux with oak aging Sauvignon Blanc to produce and incredibly rich style.
More Special Wines? Have you had a Sauvigon Blanc-Sémillon blend from an unexpected region? Let us know about it in the comments below! (Alberico from Lazio, Italy comes to mind!)