One Argentinean producer making single-vineyard wines uses the term "grand cru" to describe their top wines. Is that okay?
The French might disagree.
In this video interview, Laura Catena from Catena Wines introduces the concept of Grand Cru by showcasing exceptional single-vineyard wines from around the world.
What Does Grand Cru Mean?
A Grand Cru refers to a vineyard parcel or site (typically smaller than 10 acres) that produces a wine with unique characteristics known to age well.
Throughout France, Grand Cru is used legally on bottles as a quality indicator of a wine from a single site. The term is used primarily in Burgundy, Bordeaux, Alsace, and Champagne to classify an exceptional quality vineyard (or in the case of Bordeaux, the producer and vineyard).
Not all Grand Crus Are Created Equal
France uses the term "grand cru" legally on labels, but what you might not know is that there is no standardized system for this. In Bordeaux alone, you'll find three different Grand Cru systems: 1855 Grand Cru Classé, Saint-Émilion Grand Cru Classé, and Graves Grand Cru Classé. Without a rigid system to define it, the term "grand cru" is somewhat open to interpretation and definition.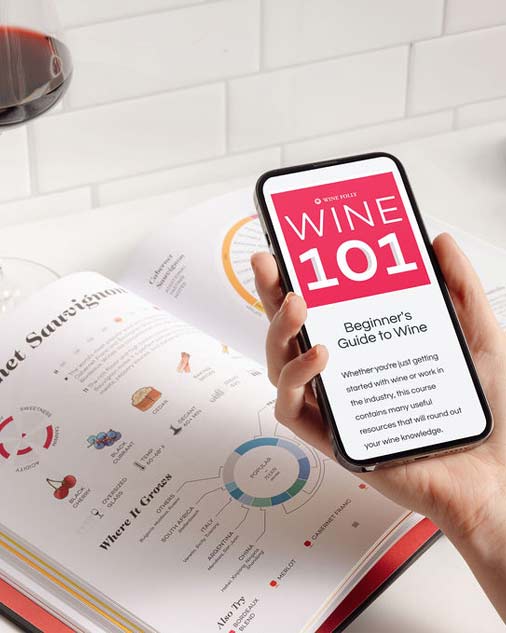 Buy the book, get a course.
Get the Wine 101 Course @ 75% OFF with the purchase of Wine Folly: Magnum Edition.
Shop Now
---
Expanding Grand Cru to outside of France
In Argentina, the term "Grand Parcela" or "great parcel" has been adopted by several wineries. It's a way to describe a single-vineyard wine with unique qualities known to age well. Legally these Argentinean wineries can't place "grand cru" on their bottle label, but they are essentially qualifying the exact same thing.
Laura Catena defends that many French words have been adopted to describe common things not yet named. For example, the word "restaurant" is now internationally adopted to describe a dining establishment. Additionally, the wine community often uses the word "terroir" to describe how terrain, soils, climate and culture shape the taste of wine.
A Great Single Vineyard Wine = Grand Cru
The idea of a single-vineyard wine isn't new. In fact, it's a tradition that can be traced back to named plots or "lieu dits" ("lew deet") in Burgundy, France during the 12th century. Eventually, these plots would earn distinction as people would realize they made special wines.
Today, Burgundy has a layered system of lieu-dits, premier crus, and grand crus to qualify single-vineyard wines from basic to exalted. There are over 2,000 named sites.
---
It's Up To The Critics and Influencers
It's likely that as people discover special vineyard sites in countries outside of France, critics and influencers may refer to them Grand Crus. When that happens, we can assume they are trying to point out what's uniquely remarkable in a wine region. So, perhaps we should just drink it.
Do you have opinions?
Feel free to join in on the the lively discussions on YouTube and Instagram.