If you're exploring Alto Adige (one of Italy's top 20 wine regions!) then you must know about these 4 wines.
What are they? Pinot Grigio, Gewürztraminer, Schiava, and Lagrein. While it's easy to pass judgement on the first two white wines, you haven't had them like this before!
Wine professionals look to Alto Adige as one of the best places to taste highly aromatic versions of Pinot Grigio and Gewürztraminer. What you might not know is that the region also makes remarkable red wines with its local native varieties.
The 4 Wines You Must Know From Alto Adige

Pinot Grigio
Wines made from Alto Adige Pinot Grigio express the terrain in which they're grown. In Alto Adige, you'll essentially find two major styles:
Richer, peachy Pinot Grigio – The region's more full-bodied styles grow in the lower altitudes in areas with lots of sun. Check out wineries from Terlano, Bolzano, and Tramin. This generous style is perfect alongside Thai cuisine.
Leaner, minerally Pinot Grigio – As you climb in elevation, Alto Adige Pinot Grigio is laser-focused, dry, and mineral-driven with citrus notes. Valle Isarco is a great place to source this style. This is oyster wine – all the way.
---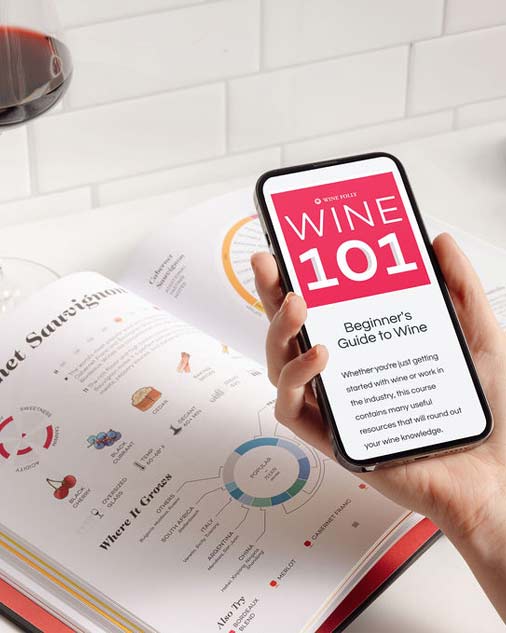 Buy the book, get a course.
Get the Wine 101 Course @ 75% OFF with the purchase of Wine Folly: Magnum Edition.
Shop Now
Gewürztraminer
Love it or hate it, but don't pass judgement until you've had Gewürztraminer from Northern Italy. Wines here have some of the most intense aromatics with notes of roses, lychee, and young coconut.
What's surprising is that many of these wines are made dry, with good acidity (rare for this grape) and a crunchy-like bitterness on the finish that makes this wine taste balanced.
Check out wines from the village of Tramin, which is very much GewürzTRAMINer's emotional home (although technically, it originated in Germany).
---

Schiava
This is the local light-bodied red wine that looks like, and often tastes like Pinot Noir! Schiava (aka Vernatsch in German) delivers an aromatic powerhouse in the glass. Sometimes it exudes aromas of cherries and raspberries with subtle hints of black tea (like Pinot), and other times it smells even more sweet like cotton candy.
Here are two major regions to seek out:
Lago di Caldero (aka Kalterersee) – This was a boomtown region in the 1980s and early 1990s when Schiava was made into a fruity, off-dry red wine. Today, it's regaining its popularity with much more dry styles. Look for Kalterersee Classico Superiore or Kalterersee Auslese Classico for a bump in quality.
Santa Maddalena (aka St Magdalener) – This is an area just outside of Bolzano on south-facing hills making some of the richest styles of Schiava in the market. Often these wines blend with Lagrein to increase the body and color.
---

Lagrein
With all the traits of an age-worthy Bordeaux, Lagrein at its best delivers rich cherry flavors with subtle minty tannins and a long smooth finish. This wine can be likened to a high-quality Merlot with equal age-worthy potential.
As Lagrein ages, the color drops out and the wine delivers dried fruit notes with hints of leather and tobacco. Definitely something to try and try collecting because they're many values out there!
---

Find your next bottle from Alto Adige
The team at Wine Folly, in coordination with Alto Adige, created a guide that's now live! Explore the wineries and wines from this region to your next bottle.
What's surprising about Alto Adige, is there is much more than just these 4 wines. You'll find incredible Chardonnay and Pinot Noir too! You can explore the full list of wines in the guide.
See the Alto Adige Wine Guide