A well-kept secret of the international wine scene, and certainly the most diverse wine growing state in the country, is Victoria, Australia.

Victoria has a largely Mediterranean climate and it's home to the world's most livable city (according to the Economist Intelligence Unit). If your view of Aussie wine is off-dry white from-a-box for warm summer days or full-on reds that turn Aunt Sharon into a one-glass wonder, be prepared for a range of options that compete with top- notch gear from France, the United States, and beyond.
And yes, most of them have screwcaps.
This guide will help you understand the most important wine and wine regions of Victoria, and what you'll want to seek out and taste.
The Wines of Victoria Australia

Lavender and vines at de Bortoli vineyards in Yarra Valley. By Steve Lacy
Port Phillip
The individual regions of Port Phillip vary so dramatically that they are further subdivided based on their soil types, aspect, and varieties planted. This is the home of world-class Pinot Noir, Chardonnay, and Bordeaux Blends.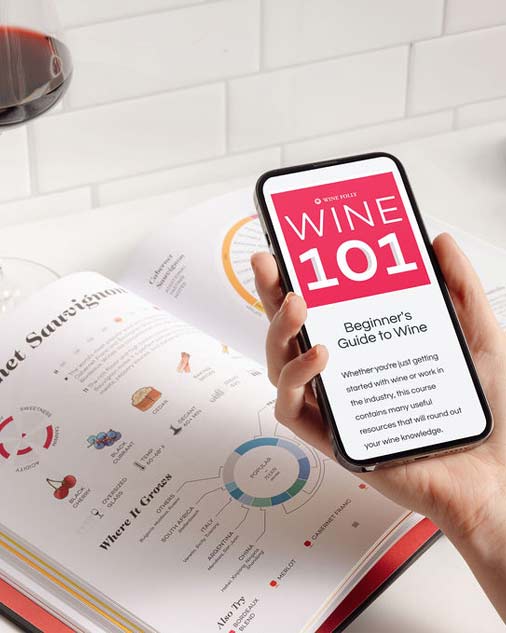 Buy the book, get a course.
Get the Wine 101 Course @ 75% OFF with the purchase of Wine Folly: Magnum Edition.
Shop Now

Sub-Regions of Note: Yarra Valley, Mornington Peninsula, Macedon and Geelong
Yarra Valley
Such a complicated region (think altitude, exposure, variety) makes organization difficult. Red volcanic soils and sandy loam are the two major soil types that produce very different wines, along with a myriad of producer styles. Elegant and ethereal Cabernet Sauvignons reminiscent of Bordeaux are thoughtfully raised, consciously made, and carefully cellared alongside classy Pinot Noir that would give the Côte d'Or a run for its money. The gauntlet varies from elegant Chardonnay and expressive, elegant, complex Pinot Noir to single vineyard Nebbiolo that has become a cult-like icon. Riesling is also gaining ground, with styles ranging from dry to sweet and some producers are playing with skin-contact to create textural, age-worthy wines.
Mornington Peninsula
This is where Melburnians (the state's largest city) come to play on the weekends. Beaches, cafés, fine dining restaurants, and grape vines. The well-ventilated (read: windy) western end of the Peninsula is protected by a giant mound of red dirt (volcanic, ferrous basalt) that creates a centerpiece for the innumerable soil types that would give Alsace a run for its money. The Chardonnays here are elegant and bright, with crunchy acidity supporting generous peach, nectarine, and grapefruit flavors, often with a judicious use of high-quality oak. Pinot Noir is the other superstar. Mornington Pinot is known for its prettiness, supple tannins and bright red-cherry fruit.
Macedon
It is Mornington meeting Yarra in the Pinot Noirs of Macedon, which are famously stylish, sophisticated, and elegant. The emphasis in Macedon has been single-vineyard expressions which have concentrated blackberry, cherry, potpourri flavors and are made in miniscule numbers. Chardonnay is also produced, almost always in a very restrained and mineral-driven style that speaks with a French accent. The aromatics are also produced in Macedon, with textural, floral and white-peach scented Pinot Gris leading the way.
Geelong
Pronounced G'long. A coastal town with a scattering of vineyards as far south as the Otway Hinterland that creates wines of varying different style and varieties, but mostly famous for the Burgundian duo of Pinot Noir and Chardonnay. The most exciting examples of Pinot Noir here are close planted, trained low to their loam/clay soils and are crafted reminiscent of some old-world producers; using whole-bunches to create wines of breadth, structure, and dark black fruits. Chardonnay has changed direction from full-bodied, rich, buttery examples to linear, taut, mineral styles that are fantastic with food.
---
Central Victoria
Beefy reds that demand a juicy steak to racy, dry Riesling, and some of the oldest Marsanne vines in the world.

Sub-Regions of Note: Heathcote and Goulburn Valley/Nagambie Lakes
Heathcote
Some of the oldest soils in the world (Cambrian Basalt–About 500 million years old), sunny warm summers and cool, wet winters create big, juicy red wines (primarily) from Shiraz that always have a savoury, mineral backbone and flavors of plums, dark cherries, with licorice and vanilla. The tannins are sturdy and brooding in their youth, supporting a hefty dose of alcohol (sometimes 15% or more), and often spend a fair lick of time in very high-quality French oak barrels. The results are harmoniously spicy, savory wines that deliver buckets of dense, dark fruit flavor. The kings of the Rhône Valley have also taken note; look out for collaborative efforts between top-notch producers in Heathcote and likes of Michel Chapoutier.
Goulbourn Valley / Nagambie Lakes
Consistent with the Rhône Valley influence, Marsanne, Roussanne, and Viognier steal the show 40 minutes northeast in the Goulbourn Valley. With Marsanne vines planted in the mid-19th century (some of the oldest in the world…BTW) and still producing small quantities of zesty, lively green apple tinged and lemon verbena scented white wines that you can drink at a picnic or age for a decade. Did I mention they're like $18? You can also buy Shiraz from vines planted before Abraham Lincoln was elected that have incredibly dense, dark aromas of black cherries, plums, vanilla, tobacco, and dark chocolate.
---
North Eastern Victoria
Light, dry white wines? Check. Fortified wines older than grandma? Check. Nebbiolo with a decidedly Italian accent? Check.

Sub-Regions of Note: Beechworth and Rutherglen
Beechworth
How does a wildly tannic, tobacco and smoke laden, brooding, dark Nebbiolo sound? Italian perhaps? Nah, this is Beechworth. The styles of wine produced here vary from sturdy Chardonnays with an undeniable oak character, to a clean, bright Petit Manseng made by a superstar viticulturist you'd swear was straight from Jurançon. Even the Shiraz' are light on their feet, with flavors of spice, pepper and ripe cherries. To keep everything interesting, there is also world-class Pinot Noir, made into wines that speak of delicacy, finesse and elegance, often with well-integrated and high-quality French oak barrels rounding out bright bing cherry, raspberry and mocha notes. That Nebbiolo though – an Italian at heart, delivers a fair whack to an unsuspecting dinner guest were it served before it's 20th birthday.
Rutherglen
Often vying for the "oldest family-owned winery" in Australia, the winegrowers of Rutherglen are famous for their fortified wines from Muscat. Times are changing though, because although you can finish a meal with a Muscat from a solera started in 1920, you can start a meal with an Apera that has spent time under flor and re-creates the famous wines of Jerez (because we can't say the s-word…). The new kids on the block are also crafting dry white wines from Ugni Blanc and others that are light and zesty with flavors of apple, lemon verbena and wet stone minerality.
---