If you think all German wine is white, this up-and-coming region will have lots of surprises for you. This place is all about German red wines.
Württemberg is the place to discover distinctive, delicious red wines that span the range from earthy and spicy to lively and floral. This in-depth guide to the wines of Württemberg will let you in on all the secrets.
Württemberg Wine Guide

You may know Mosel, Nahe, and Rheingau as the homes of Germany's legendary vineyards. Surprisingly, Württemberg outproduces all three, but most people have never even heard of it.
The reason? Locals guzzle "all but a small trickle of the wines," as Frank Schoonmaker wrote in his classic 1956 guide, The Wines of Germany. The region has the country's highest per-capita wine consumption.
In the past, Württemberg was, in wine writer Jon Bonné's words, "Germany's great afterthought" — a place for simple, often thin and sweetish wines. But a new generation of gifted young winemakers is changing the tune.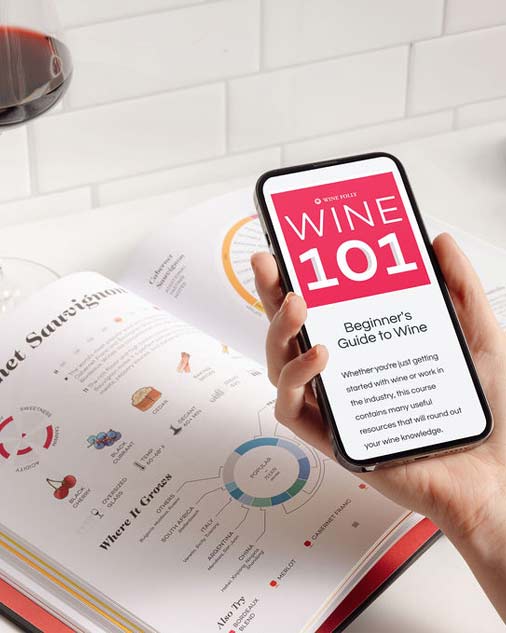 Buy the book, get a course.
Get the Wine 101 Course @ 75% OFF with the purchase of Wine Folly: Magnum Edition.
Shop Now
Now it's "simply too good to overlook," says Bonné.
Critic Stephan Reinhardt notes the wines are "much fresher, purer, dryer, more complex and elegant than in former times." Germans have made Württemberg a happy hunting ground for new red wine discoveries, with a bit of world-class Riesling too.
---
Wines to Know
The region's warm days and cool nights allow red grapes to develop full flavors, while preserving characteristic cool-climate freshness from retained acidity. Climate change has been, if anything, a boon to Württemberg's wine scene. Red grapes routinely reach full ripeness.
The Red Wine Varieties

Trollinger
(Schiava) A light, snappy red wine with flavors of violet, red currants and strawberries.
True to its Alpine roots, Trollinger (the "Swabian national drink") is as refreshing as a bluebird day in the mountains. It's vivacious and light-bodied, with snappy acidity and subdued tannins. In the glass, look for flavors and aromas of violet, red currants, strawberries, sweet or sour red cherries, and sometimes a hint of bitter almond at the finish. Some natural versions are closer to the Poulsard of Jura (imagine a tart, earthy Pinot).
Trollinger tastes great with a range of foods. Definitely consider the hearty local fare of Swabian dumplings and roast suckling pig.


Lemberger
(Blaufränkisch) A smooth, medium-bodied red with flavors of black pepper, marionberry and woodland forest.
The dark, handsome prince of German reds, Blaufränkisch can be best summed up in the words of one fan as "Swabian Bojo": juicy, fresh, and intense, but still only medium bodied, with soft tannins. Loads of black pepper, marionberry, plum, sweet or sour black cherry, and an earthy, woodland character. It can be more savory and herbaceous than fruity. And, it is fast becoming Württemberg's flagship serious red, with excellent aging potential for the best examples.
First documented in the mid-19th century in its Austrian homeland. At that time, in what was then the Kingdom of Württemberg, a "wine improvement society" advocated replacing high-yielding local varieties with Lemberger.

Spätburgunder
(Pinot Noir) wines with tart fruit flavors of rhubarb, sour cherry and spicy acidity.
Less of this Burgundian grape is planted in Württemberg than in neighboring Baden. Notable for its radiant red fruit, rhubarb, sour cherry notes, sometimes with baking or pungent spice accents, fine tannins, palpable minerality, freshness, and intensity.


Schwarzriesling
(Pinot Meunier) A variant of Pinot that ripens slightly sooner making elegant and minerally Pinot Noir-like wines.
Unlike Riesling, this red grape, better known as a player in Champagne blends, is a specialty of Württemberg, where it makes great Schillerwein (the local term for a crisp, light rosé). It finds its way into some sparkling Sekt as well.
The White Wine Varieties

Riesling
Within Württemberg, look to the micro-region: the Remstal. This small side valley, with its higher elevations, cooler temperatures, optimal sunlight hours, and limestone and sandstone soils gives firm, compact, concentrated, deeply expressive Rieslings loaded with stone and citrus fruit, wet rocks, fresh herbs, and often a marked saltiness.
The best of these Rieslings are built to age — in the words of one Württemberg producer — "forever." As in other parts of Germany, Württemberg Rieslings can be bone dry (Trocken) to sweet (look for words like Feinherb or Kabinett to indicate this).


Kerner
A true native! First bred in 1969 in Württemberg and named after a local poet, it is a crossing of Trollinger and Riesling (yes, a red and white). Compared with Riesling, Kerner can be grown in less favorable sites and offers higher yields, explaining why it's the most widely planted modern crossing in Germany. Wines are fresh, racy, and fruity or savory — not unlike Riesling — yet milder in acidity, with subtle notes of apricot and almond.


Sekt
(Sparkling)
Germany's first Sekt winery opened in Esslingen-am-Neckar, Württemberg in 1826. Grapes grown in cooler parts of the region where high levels of acidity are retained are typically the source for these sparkling wines.
---
Fast Facts About Württemberg Wines
Highest red wine production (80% of total) in Germany
Highest per capita wine consumption in Germany
Fourth-largest of Germany's 13 wine growing regions (aka Anbaugebiete)
Growing climate is cool continental: cold winters, warm, balmy, sun-filled summers, and plentiful rainfall
Latitude is roughly 48°N (same as Minnesota and Montana)
Total 27,895 acres / 11,289 hectares of vineyards
Average vineyard size is > 1.2 acres / 0.6 hectares
Most vineyards are on slopes or steep hillsides on some of the highest vineyard land in the country
Highest proportion of cooperatively made wine in Germany: 16,500 winegrowers, of which 14,980 belong to co-ops
The Neckar River (and its tributaries) moderate temperatures and move air to prevent frost and disease
First in Wine Education
Württemberg pioneered the movement to establish viticultural schools in Germany. Weinsberg was the first, founded in 1860. (Geisenheim, in the Rheingau, now better known internationally, was not founded until 1872.) Weinsberg gave the world the white grape Kerner, a Riesling x Trollinger hybrid.

Winemakers to Watch
Even though the vast majority of Württemberg wines are still made at co-ops, several individual producers are worth noting. The following Weingüter (estates in German) represent some of the best of what's coming out of Württemberg right now. (Names you're most likely to encounter outside Germany.)
In no particular order:
How to Find a Great Bottle of Württemberg Wine
Finding good wine from Württemberg can be challenging because only a fistful of producers are being exported. However, there are a few secrets to connecting with a great bottle short of buying a plane ticket:
Check for the grape variety (Trollinger, Lemberger, Spätburgunder, or Riesling)
Search the back label for the region of origin (Württemberg)
Looking for dry red wines? Dry wines are labeled "Trocken."
Feeling fancy? Look for the VDP symbol on the bottleneck as an indicator of something especially high quality and distinctive.
---
Where in the World is Württemberg?
From Stuttgart, Germany's car capital (home to Mercedes, Porsche and Bosch, and factories of Audi), you're just a 10-minute drive from Württemberg's hilly grand cru vineyards. There are thousands of vest pocket vineyards clustered along the region's many river valleys.
This patch of postcard-perfect Germany is usually lumped together with Baden, since the two form one of Germany's federal states.
But in wine terms, Württemberg is the cooler and more productive region. While both regions excel in red wines, Baden's warmer, sunnier climate (much like that of Alsace, which it borders) allows it to specialize in Spätburgunder (Pinot Noir).

Württemberg's relative coolness and soil types suit it best for Trollinger (21% of all plantings), Lemberger (15% and rising) and Schwarzriesling (14%), and, in some areas, Riesling (18%), and a small amount of Spätburgunder (11%).
Württemberg's Grand Crus
Most of Germany's best vineyards are reserved for royalty: Riesling. But in Württemberg, you can find grand cru sites planted with Spätburgunder (Pinot Noir), Lemberger (Blaufränkisch), and other varieties too. Expect exceptional concentration and finesse from these wines, with price tags to match.

Wine Soils of Württemberg
Most of Württemberg is nestled in the foothills of the so-called "Swabian Alb," a highland region that rose up out of the Jurassic Sea millions of years ago. Some of the area's most distinctive soil types are:
Muschelkalk (shell limestone): ancient seabeds that are now the chalky preserves of millions of years worth of fossilized sea life.
Bunter Mergel (colored marls): a crumbly, multihued mix of limestone and clay.
Schilfsandstein (reed sandstone): coarse, compressed sand and silt soil that takes its name from the ancient reeds (Schilf) fossilized within it.
These low-nutrient soils are tough to farm for food crops, but are perfect for vines. They force roots deep into the earth and control vigor, yielding concentrated, expressive wines.
---
If You Go
Besen are a Württemberg specialty. They are seasonal taverns where you can enjoy the wines of that vineyard and sample local dishes. This is a great way to explore the region. Look for a broom (Besen in German) at the door to point the way.