The greatest drink for marking a celebration is Champagne – a classic – but even being a popular and well-known sparkling wine, there are a lot of questions about Champagne.
Should you pair a sweet Champagne with the fantastic meal you've prepared or a dry Brut Champagne with an incredible fragrance? How do you open the wine and start enjoying it? How do you choose which Champagne to pour all over yourself in victory?
In Wine Folly's Handy Champagne Guide, we can get you to the answers, whether it's the simple view of flavors or chopping the bottle open with a saber. Dive in!
Table of Contents
---

Champagne Sweetness
If you're looking for sweet Champagne, get Demi-Sec or Doux.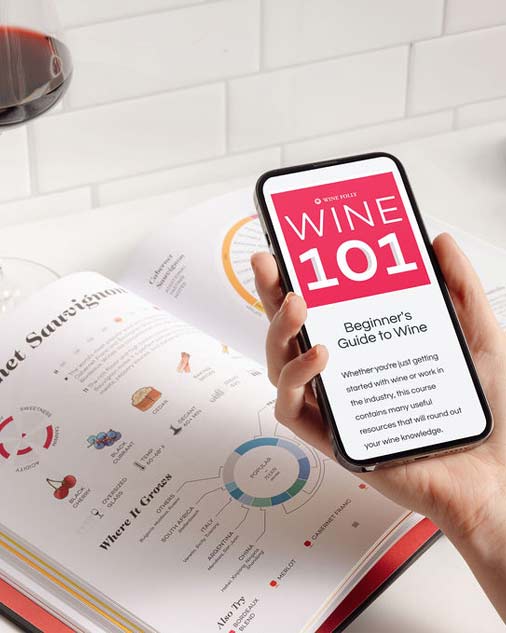 Buy the book, get a course.
Get the Wine 101 Course @ 75% OFF with the purchase of Wine Folly: Magnum Edition.
Shop Now
Champagne runs the gamut from dry as a bone to sweet as a summer night's kiss. But the terminology used to designate the level of sweetness can be a little tough to interpret.
How sweet is a Champagne? And you may wonder how much sugar is in it as well. Get the full details on how to gauge the sweetness of Champagne, and find the right bubbly for you – we've got a detailed breakdown of sugar and sweetness levels.

Champagne Sweetness Scale: From Brut to Doux
Learn what styles of Champagne have the least sugar and compare them to other drinks.
---

Types of Champagne
Champagne's flavor, aroma, and experience on the palate is affected by the three grapes used in making it: Chardonnay, Pinot Noir, and Pinot Meunier. Chardonnay is generally the main grape used in blending Champagne (and nearly all Champagne is a blend), but some versions use only the black grapes.
---

What does Champagne Taste Like?
It's possible to describe dozens of flavors in a single glass of Champagne. Most Champagne wines have citrus and apple-like aromas with subtle notes of brioche or almond pastry. Bookmark this page for the tasting infographic above so you're ready the next time you taste Champagne.
We tasted a Prestige Cuvée Champagne to discover what the best of the best is like.
---
Pairing Food with Champagne
Champagne pairs great with fried foods or even BBQ chicken! We've got your attention now, don't we?

10 Champagne Food Pairings
A list of great pairings to set-off your Champagne choice.
---
How to Open Champagne
This is one of the most important elements of the Champagne experience.
You've probably seen all kinds of ways to open Champagne, and if you've seen a movie made in the past century you've watched a dapper gentleman in a serving jacket with a towel over his arm unleash the cork like a cannonball. This is a really bad idea.
We'll cover a few different strategies for opening up the tasty bubbles.
We understand though that in a world where you can open a bottle of wine with a sword, many people will want to be the person who handles said sword.
So if sabering open a bottle is your dream come true, we can help you do it safely and with a minimum of wine sprayed behind your refrigerator.
---
How to Choose Champagne
Picking the right Champagne for the occasion can be tricky and if you're not careful you might be shelling out big bucks for no good reason.

How to Choose Champagne or Sparkling Wine
There are a few things to consider when hunting for Champagne – you might even find yourself buying something different!
---
Handling & Storing Champagne
All the best practices for handling and storing wine apply to Champagne, although given that the contents are under pressure, it's probably a good idea to be extra careful with your bottles.

Basics for Storing Wine
Handling your wine, keeping it at the proper temperature, and serving it in the right glass is all part of the experience.
---

What is Champagne?
Champagne is a wine region reaching back to the 9th century (and likely older still) when wines from Montagne de Reims and the Marne Valley gained notoriety.
But the sparkling quality of Champagne didn't start its journey until the 16th century when clever monks bottled wines before the fermentation process had finished.
It would take nearly 200 years for glass technology and evolution in the winemaking technique could reliably produce clear wines with intact bottles and lovely bubbles.
The famous "Widow Clicquot" is primarily given credit for shepherding Champagne production into the 20th century and the hands of modern wine-lovers.

Champagne's Leading Lady
Learn about Barbe-Nicole and the rise of clear Champagne.
---

Champagne Region
The Champagne region of France is one of the northernmost grape wine-growing regions on the planet.
Its latitude and unique soil composition – limestone, clay, marl, and chalky earth blessed to them by the Kimmeridgian age, contributes to the terroir of their wines.
Take a deep dive into the Champagne region, its producers, and the delicious characteristics that make this wine so captivating.