Vinho Verde comes from a small region in Northern Portugal known for its super-value whites, reds, and rosés. These wines are loved for mouth-zapping acidity, subtle carbonation, and lower alcohol – making them a great choice for summer.
When you dig into Vinho Verde wine you realize this seemingly cheap, fizzy wine is something truly special. Let's learn more about Portugal's "green wine."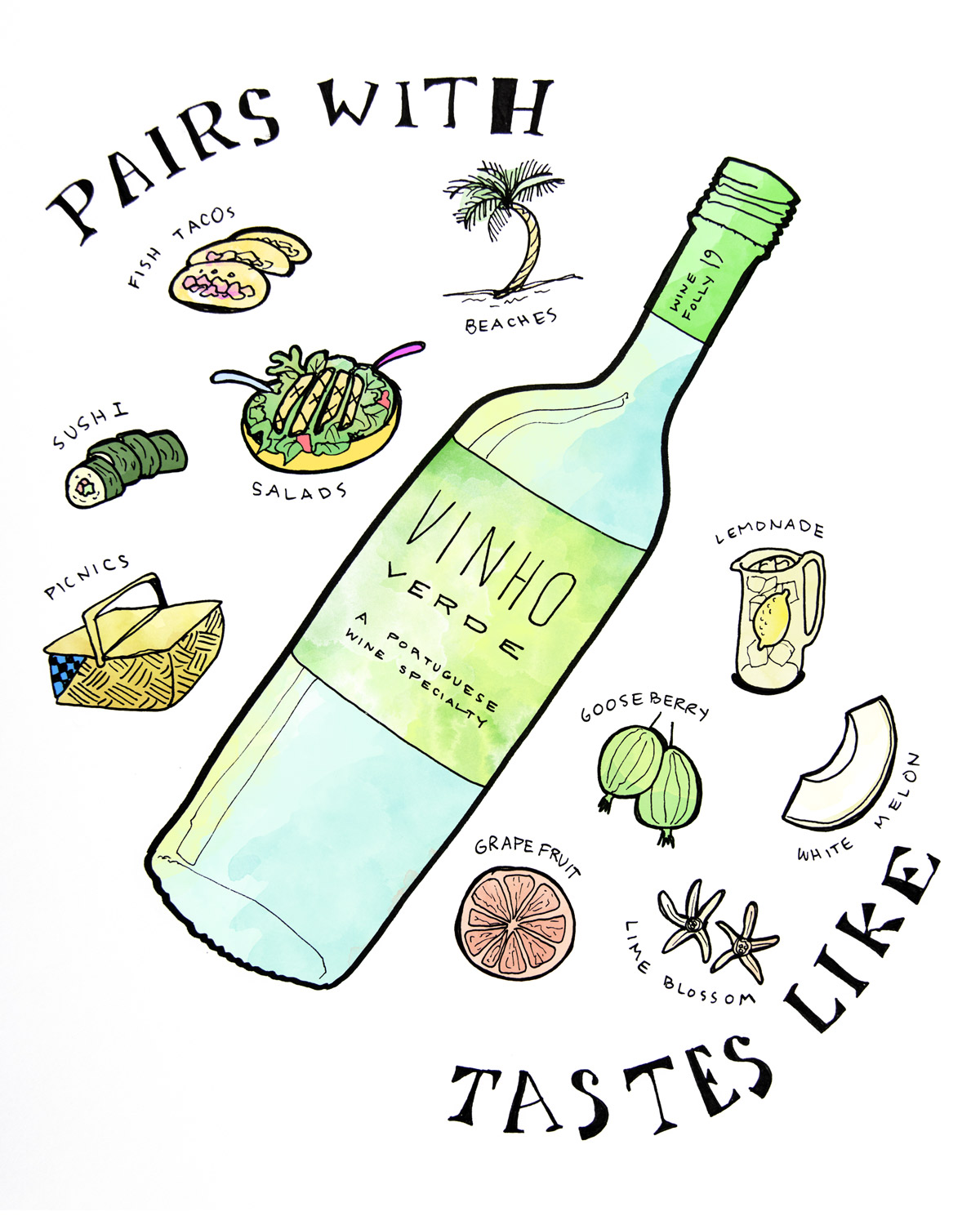 White Vinho Verde
Tasting Notes: Lemonade, White Melon, Gooseberry, Grapefruit, and Lime Blossom
The vast majority of Vinho Verde wines are white. Six grapes (you've never heard of) dominate the regional blend: Alvarinho, Arinto, Azal, Avesso, Loureiro, and Trajadura. Vinho Verde wines range slightly in style, but most are a touch fizzy, mostly dry, and have green fruit notes.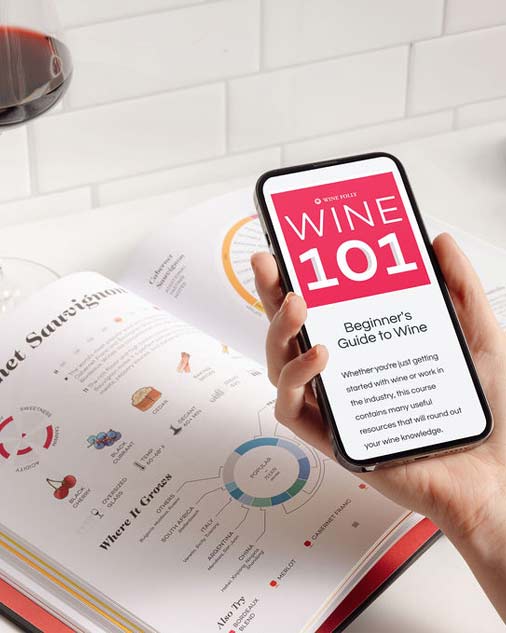 Buy the book, get a course.
Get the Wine 101 Course @ 75% OFF with the purchase of Wine Folly: Magnum Edition.
Shop Now
Azal: This is the highest-acid grape of them all. Lemonade flavors abound!
Arinto: Also called "Pederna," it is arguably Portugal's finest white grape. Expect juicy melon and citrus with some bitter notes on the finish. Great examples can age 7+ years!
Alvarinho: The same grape as Spain's Albariño and produces wines with grapefruit and floral notes. This is another serious grape to watch.
Avesso: Similar to Alvarinho in its flavors of grapefruit and peach, but with a subtle green almond bitter note there is added complexity.
Loureiro: If there were such a thing as "The Riesling of Portugal" this would be it. Look up winemaker Anselmo Mendes for shocking single-varietal wines from the coastal regions.
Trajadura: This grape is a popular blender with Alvarinho. It adds richness and aromas of pear and citrus blossom.
How About That Fizz?
Most Vinho Verde today is artificially carbonated. Originally though, the carbonation happened when winemakers bottled so quickly that the fermentation would finish in the bottle. Today, you'll find higher end producers shying away from carbonation all together. These wines are on par with the best in Europe!
---
Red and Rosé Vinho Verde
Tasting Notes: Sour Plum, Sour Cherry, Pepper, and Peony
The reds and rosé wines from Vihno Verde are much harder to come by. Of course, this makes sense; the Minho region (where Vinho Verde comes from) is quite cool and often rainy, making it hard to ripen red grapes.
So if you get your hands on a bottle – no matter the price, – you are drinking rare juice!
The grape Vinhão (more commonly known as Sousão) is a teinturier grape, and wines are like a spicy, fresh version of Malbec.
The rare grape, Padeiro ("pah-deh-rhee-yo") is the pet project of Amarante region producer Quinta da Raza. They've single-handedly brought this grape back from extinction. Padeiro has such little color, it looks like rosé. It offers up red fruity-juicy notes and ample acidity.
---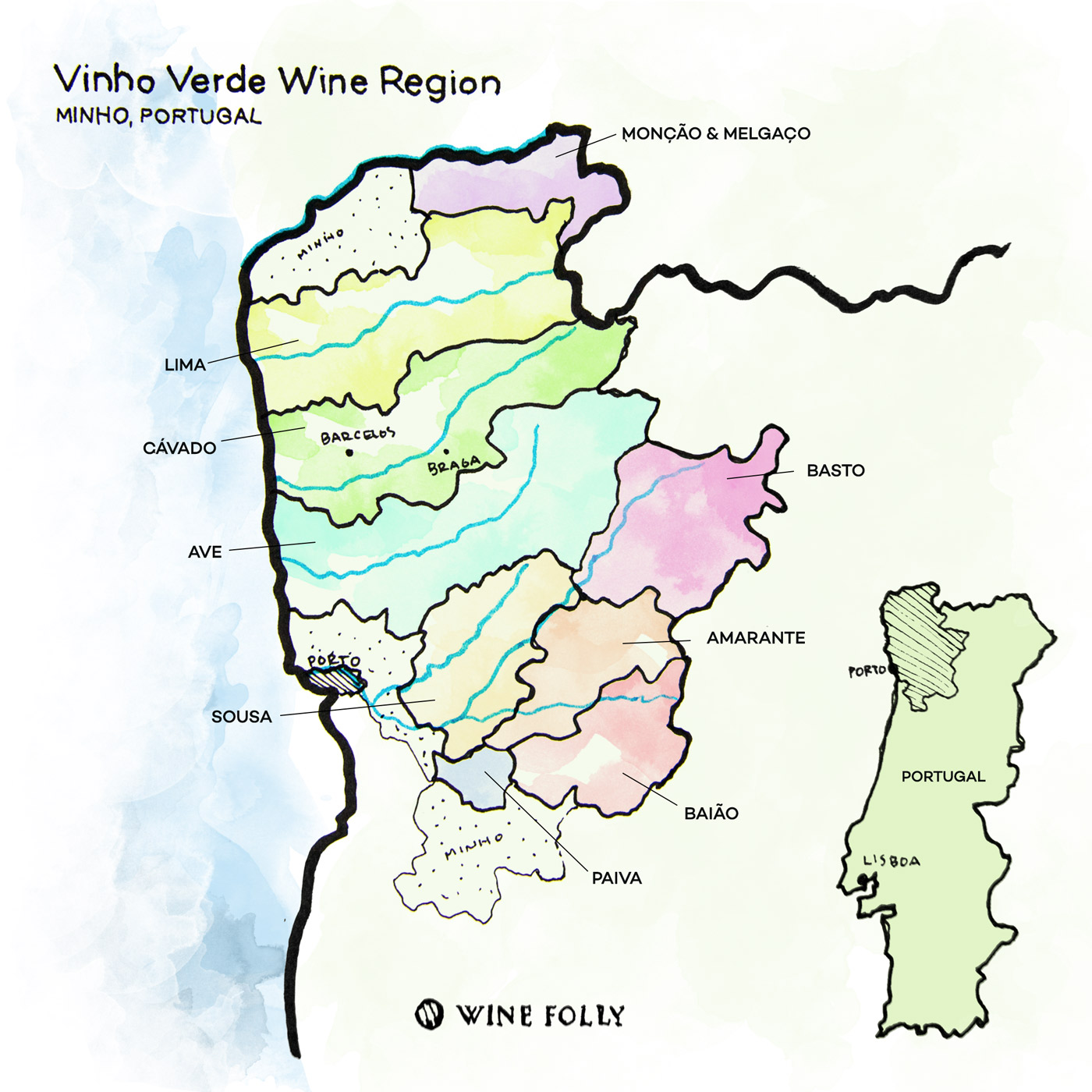 What is the Minho?
Most people picture the Algarve when imagining Portugal. Along the Mediterranean, the Algarve is hot and dry with sandy beaches and idyllic blue waters.
Up North, it's a very different story.
The Minho faces the Atlantic to the west, in all its fury. The nine sub-regions of the Minho can essentially be broken up into groups based on their influence from this rainy, coastal weather.
Monção and Melgaço: Slightly inland and along the border of Spain, this sub-region produces excellent Alvarinho with more elegant, mineral notes due to the well-draining granitic soils.
Lima, Cávado, and Ave: The regions closest to the coast are very rainy and thus make more white wines with Arinto, Loureiro, and Trajadura. You'll find rolling estates and easy drinkers here.
Sousa, Paiva, Baião, and Basto: This area is very mountainous and leads into the Douro valley. It's much more sunny. Thus, there are two harder-to-ripen white grapes: Azal and Avesso, as well as a slew of rare reds: Espadeiro, Vinhão (Sousão), and the rare Padeiro.
---
Traveling the Land of Vinho Verde
Early summer in Minho is an incredible time to visit. The city of Barcelos is a wealthy get-away for Portuguese families and features some of the most stunning, historic wine estates.
When you go inland, it's much more hilly and rugged (and difficult to navigate without a native speaker!). Still for those with a rental car (and good hand-signals), the winemakers are extremely welcoming and generous.
Learn more about the wine regions of Portugal and dive deep into a delicious, beautiful land.