Why Learn About Piedmont Wine?
If you're trying to get a deeper understanding of Italian wine, Piedmont is one of the most useful wine regions to get to know.
For one, Piedmont introduces us to a completely new set of wine grapes to taste and understand – from Nebbiolo to Cortese.
Secondly, Piedmont (Piemonte) is considered a top wine region in Italy (like Tuscany).
And finally, Piedmont is very popular with the locals in the Po River Valley. This area is home to one third of the population of Italy! (including Milan and Turin).

Piedmont Wine Guide
When wine geeks think of Piedmont, they immediately think of Barolo and Barbaresco, which are famous for their Nebbiolo-based wines.
Surprisingly, Barolo and Barbaresco only account for 3% of Piedmont's production, so there's quite a bit more to uncover! Let's get started with Piedmont wine.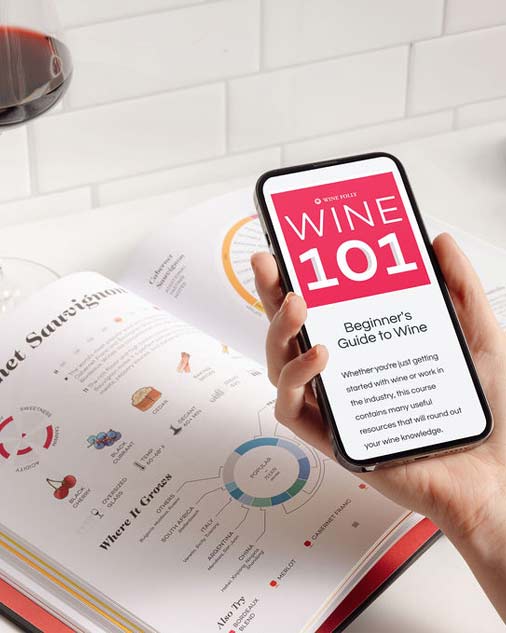 Buy the book, get a course.
Get the Wine 101 Course @ 75% OFF with the purchase of Wine Folly: Magnum Edition.
Shop Now
Piedmont is cupped by the Alps to the North and it looks like something out of a scene in Game of Thrones.
To the South you'll find the Apennines – less stunning – which are more like a set of lumpy hills. Despite their modest stature, the slopes heading towards the Apennines is where you'll find the quality wine production in Piedmont.
TIP – Piedmont vs Piemonte: If you want to sound like an Italian, say "Piemonte" (pee-ay-MON-tay).
Why is Wine Better From the Hills in Piedmont? There are two major features affecting the weather in Piedmont: the ice cold Alps and the warm Mediterranean. The tug-of-war (a.k.a. Diurnal) temperature variation makes the whole area fill up with morning fog that slowly burns off during the day.
This means the land higher up on the hills gets more sun. More sun = happy grapes = good wine. There are good wines to be found north of the Apennines in the foothills of the Alps. But since this area (around Gattinara) is much cooler, expect much lighter tasting, higher acid wines.
Let's take a look at the wines of Piedmont:
Piedmont Wine Basics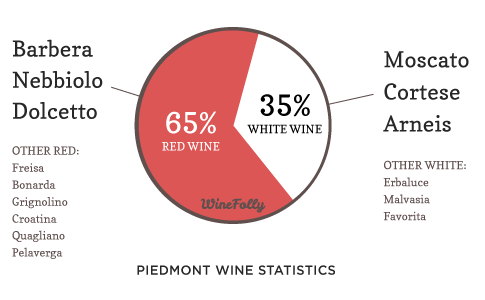 ---

Red Wines of Piedmont
Nebbiolo
Nebbiolo
While the production of Nebbiolo wine is less than Barbera, it's considered to be the greatest wine from Piedmont. Nebbiolo is a high tannin grape with red cherry, tar, and rose flavors, with a clay-like terroir.
When you taste a Nebbiolo wine, you can feel the grippy tannin towards the front of your mouth. At its best, a Piedmont Nebbiolo wine is enjoyed around the 10-15 year mark and has subtle notes of spice, rose, cherry, and fig.
There are many subregions in Piedmont that make Nebbiolo wine and thus there are a few stylistic differences to understand.
"The Nebbiolo grape alone makes up 13 DOC or DOCG certified wines, and the differences between one tiny town and the next are astounding."
–Diana Zahuranec Wine Pass Italy
Barolo DOCG

>$60

Barolo is located southwest of the city of Alba in the Apennines. The only vineyards with Barolo DOCG status are on the southern facing hills.

While the color of the wine is a pale brick red, it has a bold mouth feel with rigid tannin and slightly higher alcohol content (13% minimum). The wines of Barolo are aged for at least 18 months in barrel and are released after a total of 3+ years.

Tip Riserva level Barolo are aged for a minimum of 5 years.
Tip Vigna on a label indicates a single vineyard wine.
Tip The older the better; look for Barolo of 10+ years.

There are eleven different communes of Barolo with two different main taste styles (based on the soil type: limestone vs. sandstone).

The two communes to remember that are lighter in style are La Morra and Barolo with limestone-based soils. The communes of Serralunga d'Alba, Monforte d'Alba, and Castiglione Falletto are usually bolder with sandstone soils.


Barbaresco DOCG

>$40

Barbaresco is located northeast of the city of Alba in the Apennines. Just like in Barolo, Barbaresco awards DOCG status to vineyards on the best south-facing slopes.

Barbaresco vs. Barolo There are two main differences. The soils in Barbaresco are mostly limestone-based soils, which means less tannin (like La Morra and Barolo communes above).

The climate has less of a diurnal shift, which produces grapes that ripen sooner but have thinner skins. This means Barbaresco tends to have less tannin, color, and phenolics (a.k.a. aroma compounds).

Thus, Barbaresco wines are usually lighter tasting and less tannic than Barolo.

Ultimately Barbaresco is more approachable to most drinkers.

Other Nebbiolo Wines

>$20

Barolo and Barberesco are not the only Nebbiolo wines available! You can find excellent Nebbiolo-based wines from all around Piedmont and for usually much less.

Look for Langhe Nebbiolo; it's a region that contains both Barolo and Barbaresco, but includes wines made from "declassified" sites. They are lighter and less tannic, with similarities to Pinot Noir. The following sub-regions also produce Nebbiolo, typically in this lighter style:

Albugnano, Carema, Fara*, Ghemme*, Gattinara*, Langhe Nebbiolo, Lessona*, Nebbiolo d'Alba, Roero Rosso, Sizzano*
*Nebbiolo is known as Spanna in these areas
What the Heck is a DOCG? DOCG and DOC are quality designations for products (like wine and cheese) in Italy. DOCG wines generally have more strict rules and regulations than DOC.
Barbera
Barbera is the most planted red grape variety in Piedmont and it's a little less finicky than Nebbiolo. Barbera wines from Piedmont are dark in color and taste of black cherry, anise, and dried herbs.
Many Piemontese will assert their favorite wine is Barolo, but Barbera (both d'Asti and d'Alba) is the wine that most often fills their glasses. It is versatile, laid-back, satisfyingly robust, pairs with just about anything – and is less expensive.
– Diana Zahuranec Wine Pass Italy
Just like with Nebbiolo, there are some clues to finding good Barbera wines.
First, there are only two DOCGs for Barbera: Barbera d'Asti and Barbera del Monferrato Superiore. The DOCG wines have more regulations "Superiore" labeled wines which include longer aging and a higher minimum alcohol content.
Dolcetto
Dolcetto is a bit of a misnomer because the word means "little sweet one": Dolcetto is neither sweet nor "little." The wines made with Dolcetto grapes are very dark in color with flavors of blackberry, licorice, and tar. The wines are not known to age well because they have low acidity, but offer plenty of mouth-drying tannin.
Many producers in Piedmont are starting to make Dolcetto in a fruit-forward style, attempting to dial back some of the tannin and reveal loads of dark fruit, similar to Merlot.
Tip: 'Vigna' for Dolcetto, usually means that the wine is aged about 20 months.
There are three DOCGs that make quality Dolcetto wine: Dogliani, Dolcetto di Ovada Superiore, and Dolcetto di Diano d'Alba. Just like with Barbera, pay attention to the words "Superiore".
Most of the "Superiore" level Dolcetto wines have 13% alcohol and also have been aged longer, which helps smooth out the tannins.
Other Piedmont Red Wines
The three varieties above make up the majority of the red wines of Piedmont, but there are other more esoteric red varieties! Here's a short list with a very basic description of what they're like:
Brachetto: a deliciously sweet-and-floral light red wine tasting of strawberries, available in a bubbly style called Brachetto d'Acqui.
Freisa: a delicately flavored light-colored wine with spicy, cherry, strawberry notes. Often made in a sparkling style (such as Freisa di Chieri.)
Bonarda: (a.k.a. Uva Rara, Croatina) a darker ruby-colored wine with bold fruit flavors and tannin, commonly used for blending.
Quagliano: a very rare grape variety with strawberry and violet aromas made in a sweet style and a bubbly version called Quagliano Spumante..
Grignolino: a higher tannin wine with strawberry flavors. A US producer exists! Check out Heitz Cellars
Pelaverga: cherries, raspberries, and lots of fruit make a light red wine that's sometimes a bit bubbly. Pelaverga could be compared to Schiava or Gamay.
Vespolina: fruity, spicy, and tannic, and is often blended with Nebbiolo in regions like Gattinara.
Malvasia di Schierano: a highly musky and aromatic slightly-sweet sparkling wine.
Ruché: a very unique wine from the Ruché di Castagnole Monferrato DOCG that often exhibits roses, pepper, black cherries, and cinnamon, with moderately high tannin.
---
White Wines of Piedmont
Moscato Bianco
Most people don't realize that Moscato d'Asti comes from the same region as Barolo. Moscato Bianco is a very ancient grape with intense aromas of roses, mandarin orange, cotton candy, and lychee. There are two main styles found in Piedmont:
Asti Spumante: a fully bubbly sparkling ("Spumante") wine that's sweet with about 9% alcohol.
Moscato d'Asti: a barely bubbly ('Frizzante') wine that's very sweet with about 5% alcohol.
Cortese
Perhaps more famous than the variety name of Cortese is the wine called "Gave," which is the name of the town in the southeast part of Piedmont. Gavi wines are made in a dry style and are known for their lemon-like citrus flavors and tingly acidity. Cortese has the same mouth-zapping refreshing quality as some Pinot Grigio and Chablis wines.
A New Style of "Blanc de Blancs?" Love Blanc de Blancs Champagne? Many producers make a "Metodo Classico" Gavi, which is in the same style.
Arneis
The white wine of Roero DOCG, Arneis is a medium-bodied wine that often has bitter almond notes on the finish. These wines are fresh and grassy and somewhat similar to the Sauvignon Blanc in white Bordeaux.
Other Piedmont White Wines
There are other more esoteric white varieties in Piedmont. Here's a short list with a very basic description of what they're like:
Erbaluce: a brightly acidic wine with high aromatics of spicy herbs.
Favorita: a dry white with a bitter note on the finish.
---
Piedmont Wine and Food Pairings

We asked Wine Guide and Translator Diana Zahuranec to help us understand what it's actually like to live in Piedmont. Naturally, she brought out the local cuisine as one of the not-to-miss items of how Piemontese experience their wines. Below you'll find some regional food pairings suggestions:


Tajarin –the epicly eggy pasta that's well suited for Barbaresco wine– can be found at Eataly (NYC). source
"The traditional cuisine of Piemonte is known for being elegant, flavorful, and rich. In eastern Piemonte, filled fresh-egg pasta known as plin is popularly doused with Dolcetto wine straight from the carafe.

Bagna cauda is a savory, hot dip for raw and cooked vegetables made from olive oil, garlic, and anchovies and pairs well with acidic wines that won't be overpowered, such as Barbera or Grignolino.

Tajarin is another egg-based fresh pasta, often made with an exaggerated amount of egg yolk (such as 30 tuorli –30 yolks–) and finished with butter, sage, and parmigiano.

This pasta pairs beautifully with an elegant Barbaresco or Nebbiolo wine. Expensive, aromatic truffles in the fall are a match made in heaven when served with Barolo."
– Diana Zahuranec Wine Pass Italy
---

Greater Details on Piedmont Wine
Need an even more detailed guide to the wines of Piedmont? Here is a guide that outlines all the DOC/DOCG of Piedmont, with a more detailed map.