Orange wine is a bit of a misnomer. It is not a wine made with oranges, nor is it a Mimosa cocktail (a blend of 1 part orange juice to 2 parts sparkling wine.) Orange wine is something entirely different.
What is an Orange Wine? It's a type of white wine made by leaving the grape skins and seeds in contact with the juice, creating a deep orange-hued finished product.


To make an orange wine, you first take white grapes, mash them up, and then put them in a large vessel (often cement or ceramic). Then, you typically leave the fermenting grapes alone for four days to sometimes over a year with the skins and seeds still attached.
This is a natural process that uses little to no additives, sometimes not even yeast. Because of all this, they taste very different from regular white wines and have a sour taste and nuttiness from oxidation.
---
"Make sure you're sitting down
when you taste your first orange wine."
---
Let's thank Simon Woolf over at Decanter, who found out that British wine importer David Harvey coined the term "Orange Wine" Raeburn Fine Wine . He used it to describe this non-interventionist style of white winemaking.
You may also hear the term "Ramato," which means "auburn," in Italian, and typically refers to Italian Pinot Grigio made in an orange wine style.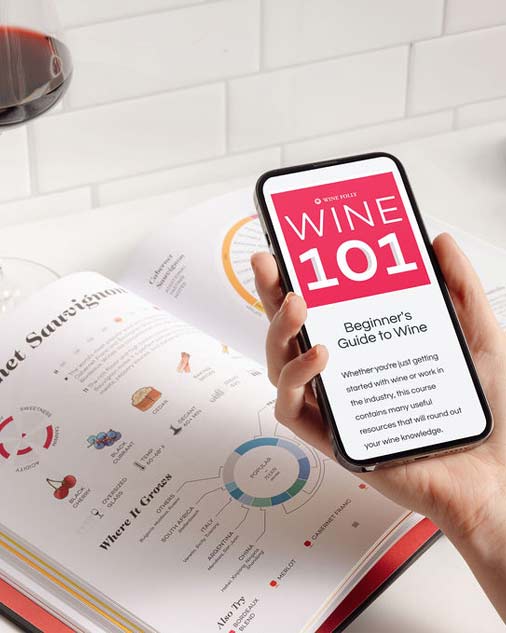 Buy the book, get a course.
Get the Wine 101 Course @ 75% OFF with the purchase of Wine Folly: Magnum Edition.
Shop Now
What Does It Taste Like?

These wines have been described as robust and bold, with honeyed aromas of jackfruit (a fleshy tropical fruit), hazelnut, brazil nut, bruised apple, wood varnish, linseed oil, juniper, sourdough, and dried orange rind.
On the palate, they're big, dry, and even have tannin like a red wine with a sourness similar to fruit beer. Often Orange wines are so intense that you might want to make sure you're sitting down when you first taste them.
TIP: The deep color of orange wine comes from lignin in grapeseeds.
---
Food Pairing with Orange Wines


Orange wine paired with food at Klinec in Goriška Brda, Slovenia
Because of their boldness, Orange wines pair well with equally bold foods, including curry dishes, Moroccan cuisine, Ethiopian cuisine (like those spongelike pancakes called Injera), Korean dishes with fermented kimchi (Bibimbap), and traditional Japanese cuisine, including fermented soybeans (Natto). Due to the high phenolic content (tannin and bitterness) and the nutty tartness they exhibit, orange wines pair with a wide variety of meats, ranging from beef to fish.
---
Where Does it Come From?
The process of making Orange wine is ancient, but the reinvigoration of this process has only resurfaced in the last 20 odd years. Many modern-day winemakers look as far back as 5000 years in Caucasus (modern-day Georgia,–not the state) where wines fermented in large subterranean vessels called Qvevri ("Kev-ree") that were originally closed with stones and sealed with beeswax.


Orange wine served traditionally with food at Klinec in Goriška Brda, Slovenia
Orange wines are still rare, but many countries have a growing interest in this natural winemaking style.

Italy
Most orange winemaking can be found in northeastern Italy, along the border of Slovenia in Friuli-Venezia Giulia. Here you can find orange wines produced with the indigenous grapes of the region, including Sauvignon Vert (Friulano), Ribolla Gialla, and Pinot Grigio. The orange wine process was popularized in Italy by winemaker Josko Gravner who first attempted an orange wine in 1997.
Example Italian Orange Wine Producers:
---
Slovenia
Just over the border from Friuli-Venezia Giulia in Italy is the region of Goriška Brda ("Gore-eesh-kah Barda") in Slovenia, which has a long history of orange winemaking. The wine is very well-integrated here, and you'll often see wines poured in standard glasses, like beer. There is another odd wine to be found here too, called Motnik. It is made in a natural method, in barrels that are disinfected by smoking herbs like rosemary, bay leaves, and sage.
Example Slovenian Orange Wine Producers:
---
Georgia


A Kvevri is an ancient Georgian fermentation vessel that is buried in the ground to control the temperature.
Georgia is most famous for its qvevri-aged wines. Qvevri (aka Kvevri) were the first vessels ever to be used for wine fermentation, with archaeological findings supposedly dating back to 6000 BC. Qvevri are clay vessels lined with beeswax and completely buried under the ground where the temperature stays consistent throughout the year, allowing the wines to ferment in the natural coolness of the earth. The grape of choice from Georgia for natural qvevri wines is called Rkatsiteli ("Awr-kat-seh-telly"), which is known to produce wine with a deep red-orange hue.
Example Georgian Orange Wine Producers:
---

Look! An Orange Wine Book
Remember how we mentioned Simon J. Woolf at the beginning of this article? In 2018 he launched a fantastic book about all things orange called Amber Revolution.
The book follows his journey into learning the mysteries of this bizarre-but-wonderful beverage. It also has a great producers guide to know and try. So, if you're into skin contact white wines (or working on your MS), this is a must!
---
United States
Some of the more experimental producers are starting to make natural wines and are experimenting with the orange wine technique, particularly in New York, where the Rkatsiteli ("Awr-kat-seh-telly") grape variety is grown.
Example United States Orange Wine Producers:
---
Australia
The more progressive Aussie winemakers have started to make orange wines primarily with Sauvignon Blanc, which works wonders in this style.
Example Australian Orange Wine Producers:
---
France
In France, there is a region east of Burgundy that produces rich orange-hued wines. The Jura region (famous for Comté cheese) makes nutty-tart wines called Vin Jaune and Côtes du Jura, which both use the oxidative style of winemaking with a rare grape called Savagnin (and sometimes Chardonnay). While these wines use a slightly different winemaking method (pressing off the skins), the wines have a similar taste to orange wines.
Example French Orange Wines:
---

South Africa
The progressive winemakers in South Africa can be found mostly in the Swartland region in the Western Cape, where the vineyards are quite old and have less popular grapes.
Example South African Orange Wine Producers:
---
Austria
Example Austrian Orange Wine Producers:
---
What do you think?
Have you tasted an orange wine before? Tell us about it, and if you think this winemaking style is delicious enough for generations to come. Submit your comments below!